John Deere Gators™ can provide all the functions and amenities you would expect in a UTV. They are known for their ease of use, impressive durability, and unmatched productivity. That's because these pieces of equipment are built for many different tasks such as residential yard work, landscaping tasks, golf course upkeep, and even turf maintenance. Let's explore what a John Deere Gator is, the different kinds of Gators there are, and how they can be used.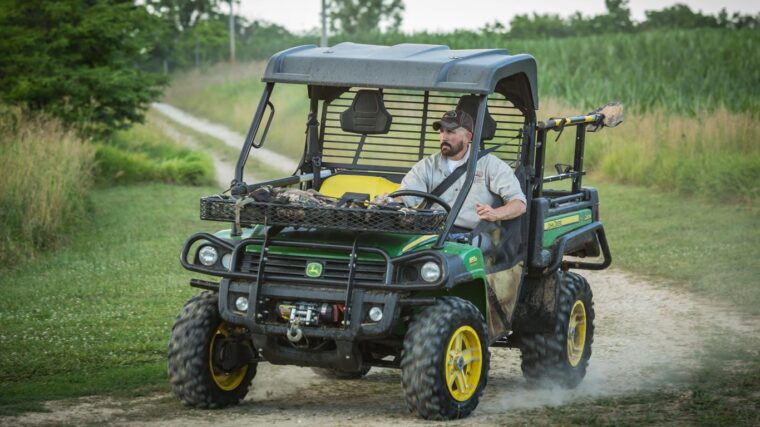 What Is a John Deere Gator and What Are the Types?
A John Deere Gator is a utility vehicle that is designed to help property owners haul material and travel across terrain ranging from smooth, to very rough. Deere's current offerings all feature a cargo box in the rear for storage. The number of wheels on the Gators ranges from 4 to 6 and depending on the model, they can host up to four occupants.
John Deere currently offers four different series of Gators, which includes:
High-Performance Utility Vehicles
Produced in Deere's Horicon, Wisconsin factory, these models are both fast and powerful. While offering higher speeds and performance capabilities, they also adhere to Deere's quality, safety, and durability standards.
Crossover Utility Vehicles
This Gator family is made up of full-size XUVs and mid-size XUVs. The full-size models are engineered to handle large payloads with powerful engines. The mid-size models can now travel at speeds exceeding more than 45 mph and offer enough grit to tackle a variety of projects around the property. Each model in this family can be used for working, hunting, fishing, camping, and more.
Traditional Utility Vehicles
Deere's Traditional Utility Vehicles are worksite-ready. These models can haul up to 1,000 pounds of cargo and have enough strength to drive over rocks, mud, or other unfavorable conditions. This lineup is where buyers will find low center of gravity models that provide added stability while remaining light on the surface being worked on.
Military Utility Vehicles
John Deere offers a family of Gators that are ready for deployment. From taking on hills to hauling supplies, these SAE and OSHA ROPS-certified models are ready to take on varying conditions.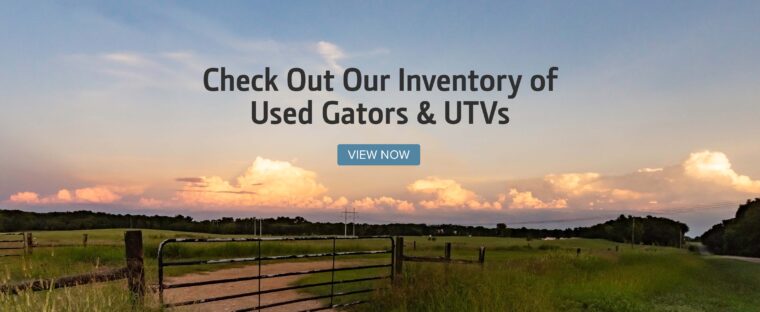 HPX615E/ HPX815E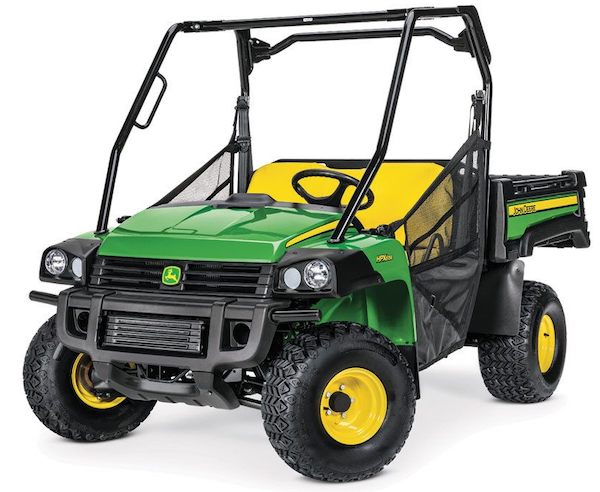 The HPX series includes the HPX615E and HPX815E models. These two models have a large payload and towing capacity, as well as a heavy-duty deluxe cargo box, and an enhanced 4-wheel suspension. The HPX series also utilizes tailgate lights, has a 2-in (5 cm) receiver hitch, and contains an easy-to-dump cargo box that has a standard gas-assist or optional automatic power lift. These are just a few features of the HPX that stand out from other models in The Work Series.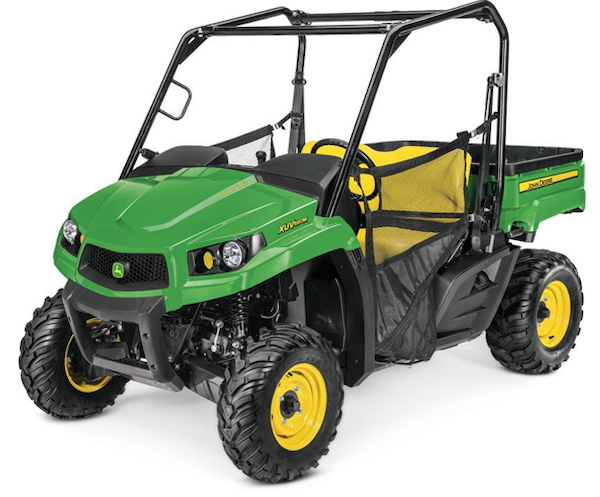 XUV590
When you go to select a new John Deere Gator, you'll want to think about all of the possibilities and opportunities that one can provide. Customers typically buy UTVs when they have a specific purpose in mind, but then quickly realize they can use this equipment for so much more. The XUV560 and XUV590 models have the storage, speed, and power you'll want in your vehicle for off-roading with friends or hauling across a ranch.
Additional available models include:
Engine Type: 4 cycle gas, electronic fuel injection (EFI)
Cab Size: 2 passengers or 4 passengers
Maximum Speed: 0-45 mph High Forward, 0-28 mph Low Forward, 0-22 mph Reverse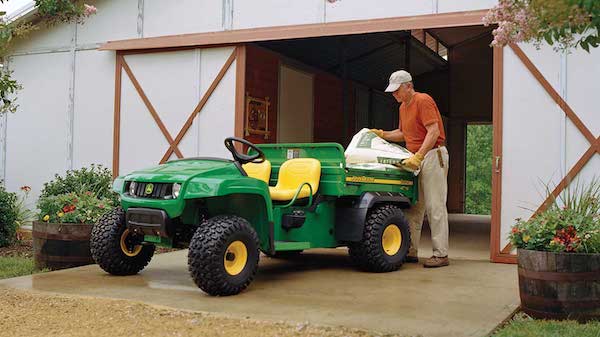 XUV560E
The John Deere XUV560E is powered by a V-twin gasoline engine that allows operators to reach 28 MPH with 16 horsepower. The Gator can reach 15 MPH within the first 3.5 seconds and is optimized for quick cold-weather startups. It also has a cargo box created from a high-density polyethylene copolymer composite material so it can resist rust and dents. Additionally, the John Deere XUV560E has premium braking, multiple tire options, a four-wheel independent suspension, and more.
Additional available models include:
Engine Type: 4 cycle gas, dynamically tuned carb
Cab Size: 2-person or 4-person cab
Maximum Speed: 0-28 mph High Forward, 0-17 mph Low Forward, 0-20 mph Reverse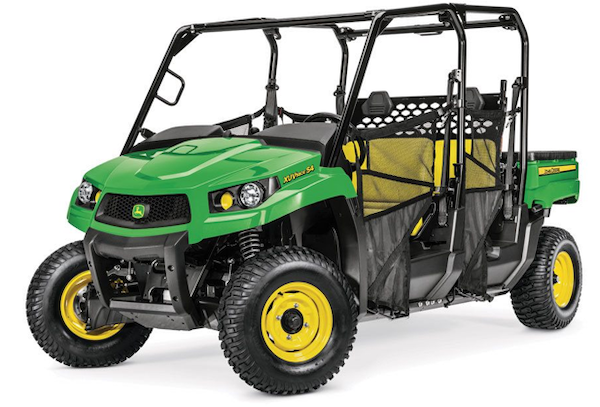 XUV825
John Deere Gator crossover UTVs, especially the 825i, are known as the 'fastest and most powerful Gator[s] ever.' The 825i tops out at speeds of 44 MPH and has a carrying capacity of 1400 pounds, a fact that was unheard of in this XUV class prior to the introduction of this model.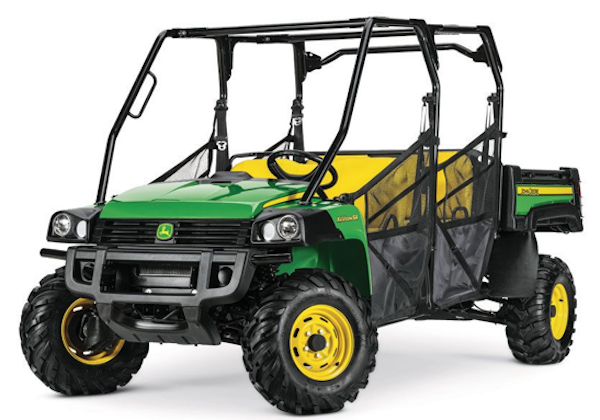 Additional available models include:
Engine Type: 4-cycle gas, with Electronic Fuel Injection
Cab Size: 2-person or 4-person cab
Maximum Speed: 0-44 High Forward, 0-17 Low Forward, 0-20 mph Reverse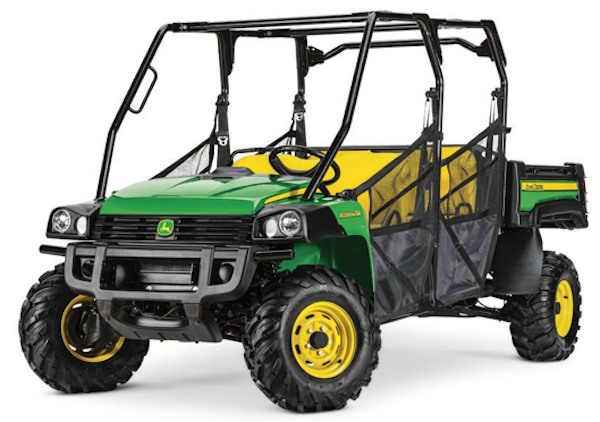 XUV855
The XUV 855 has multi-passenger capability for four people, as well as easier shifting, with integrated park position, an electronic switch for instant 4WD engagement and a diesel engine with improved power steering.
Additional available models include:
Engine Types: 4-cycle diesel – 854cc's that generate 23 HP
Cab Size: 2-person or 4-person cab
Maximum Speed: 0-32 High Forward, 0-15 Low Forward, 0-17 mph Reverse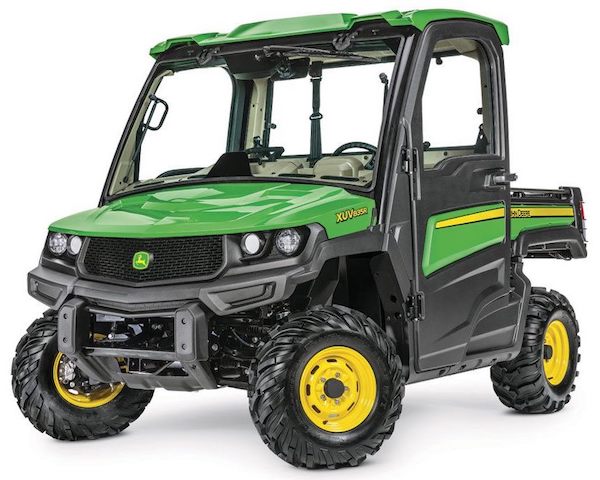 XUV835
The XUV835R utilizes a three-person cockpit, as well as high-power steering for enhanced maneuverability, and LED lights for work before or after the sun is lighting the sky. It also has heat and A/C in order to provide year-round comfort. Powered with a gas engine, this UTV can produce 54 hp, and reach speeds that exceed 45 mph. Additionally, with its 11-gallon fuel tank, operators have the opportunity to keep the machine running for lengthy periods of time in between tank refills.
Additional available models include:
Engine Type: 4-cycle gas, Electronic Fuel Injection (EFI), 54 HP (40 kW)
Cab Size: Three Across
Maximum Speed: 0-45+ High Forward, 0-29 Low Forward, 0-33 mph Reverse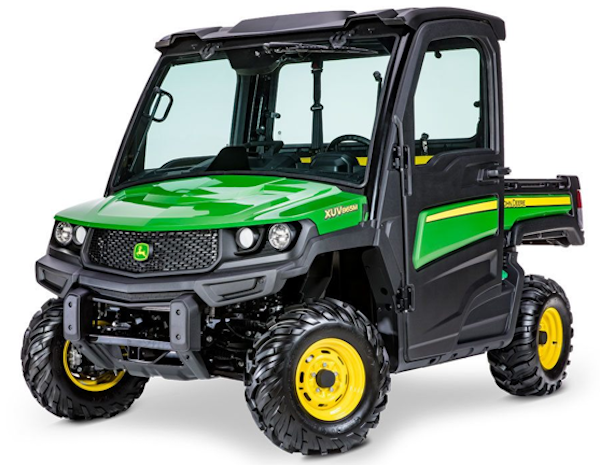 XUV865
The XUV865R utilizes many standard features like those of the XUV835R, however, it is powered by a diesel engine that provides 22.8 hp and top speeds which exceed 30 mph. With its towing capacity of up to 2000 lb. as well as 16 gallons of storage, XUV865R operators can haul much more material in less time.
Additional available models include:
Engine Type: 4-cycle diesel – 854cc's that generate 23 HP
Cab Size: Three Across
Maximum Speed: 0-32 High Forward, 0-15 Low Forward, 0-18 mph Reverse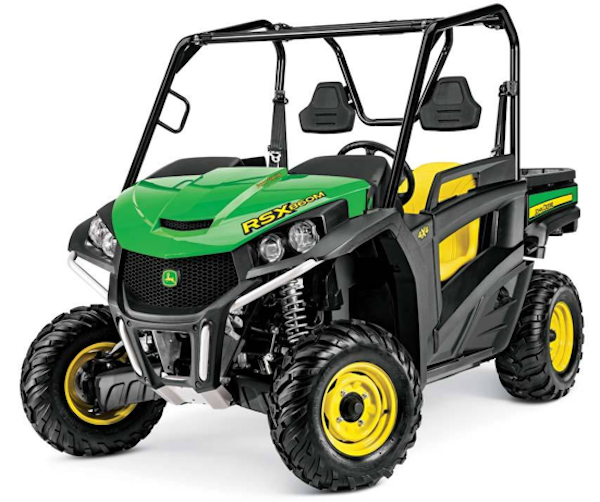 RSX860E / RSX860M
A work vehicle needs to have excellent towing capacity in order to function as you need it to. The RSX860 models can tow heavy loads up to 1,200lbs and run on 63 HP, allowing you to go from 0-30 MPH in 3.0 seconds. Towing heavy loads across your property or worksite will never be a problem for these Gators. The cargo box also holds up to 400lbs and carries your load with you wherever you go.
Additional available models include:
Engine Type: 4-cycle gas, Electronic Fuel Injection (EFI) – Closed Loop System
Cab Size: 2 person cab
Maximum Speed: High range 0-60 (0-97), Low range 0-30 (0-48.3)
Gator TH 6×4 Diesel
The TH 6×4 is usually seen as the "problem solver," and for good reasons. The diesel model offers 200 lbs. more when it comes to weight capacity (1200 lbs. total) as compared to the gas-powered counterpart, which makes it one of the best Gators for storage. Additionally, with an extremely low load height, spread across six wheels, the operator's feet will always be on the ground, even through rough terrain.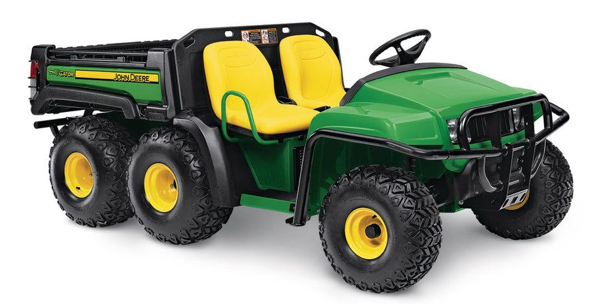 Gator TH 6×4 Gas
As part of the original line of Gators, the TH 6X4 was built perfectly for residential yard work, as well as golf course maintenance, turf upkeep, and other landscaping tasks. Complete with a large cargo box, as well as 6 durable wheels, and even 4WD, the Gator TH 6×4 was made for hauling materials.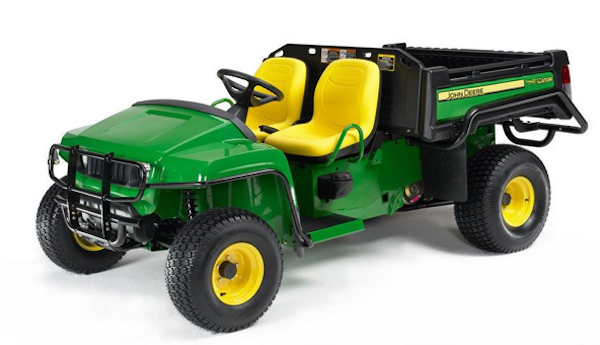 Gator TX 4×2
Not all UTVs are made for treading lightly on turf, but John Deere has a massive array of machines so you can manage landscaping easily. The John Deere Gator TX Turf is one example of a UTV that can help you travel across the delicate terrain of a golf course without concern. It has flotation tires, a fuel-efficient engine, a precision-engineered drive system, a backup alarm, hydraulic disc braking and a deluxe cargo box, all meant to make maintaining turf a breeze.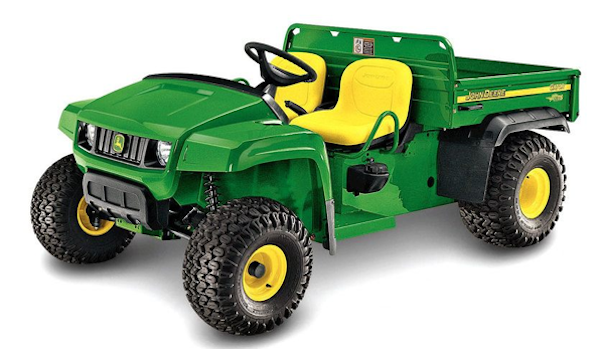 Gator TS 4×2
The John Deere Gator TS 4×2 is a piece of equipment often used amongst property owners. Its abilities range from hauling a large amount of cargo to riding along turf at speeds up to 20 MPH, making it a unique type of workhorse. It also has a helpful cargo box, as well as a well-known drive system and an operating station.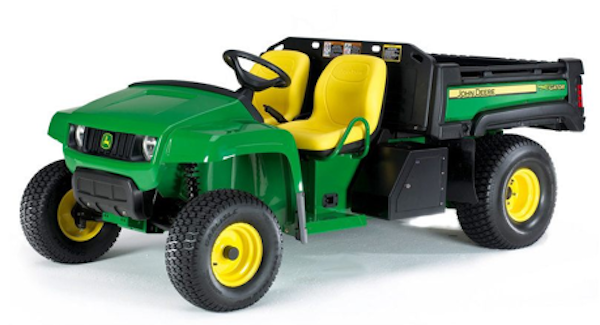 Gator TE 4×2 Electric
Known as the TE 4×2 Gator, this machine is powered by a 48-V electrical system and also includes some additional features designed to make outdoor property work a breeze.
Gator 855D
If you're interested in a John Deere UTV that can make it easier to tackle more difficult jobs, the John Deere Gator XUV 855D may be your answer. This UTV model is part of the John Deere Gator line, meaning it's designed with the utmost practicality and toughness in mind.
ProGator
The John Deere ProGator helps to significantly simplify golf course maintenance and helps you make sure all 18 holes look just as perfectly trimmed as the next. In terms of performance, John Deere ProGators have a gas or diesel engine designed to take on any condition. They also have heavy hauling capabilities, lots of power, versatility and more.
Popular Gator Attachments
John Deere Gator attachments can help to add more functions, higher levels of comfort, and improved safety to your UTV. For the Work Series of Gators in particular, the following attachments can help to improve the operator experience and add functionality:
For the XUVs, the following attachments add more comfort, increase the functionality of the vehicle, and enforce safety:
Rear bumper
High-back bucket seats for added comfort
Cargo box wall extensions
Utility carts that can help with hauling capabilities
Front hood rack
Deluxe cabs that also add comfort
Tire options
Underseat storage so you can bring the supplies you need out for a job
Front brush guards
Seatbelt comfort strap so you can buckle up comfortably
Windshields to protect you from unforseen weather conditions
A winch
For a complete list of all John Deere Gator attachments broken down by function, check out this page.
Uses for Your John Deere Gator
As we've alluded to, there are many different uses for the John Deere Gator, including:
1. ​​Carry Large Amounts of Heavy Supplies
The cargo box behind most Gators is big, strong, and reinforced by steel and critical stress points, thereby ensuring a Gator box won't buckle under even the biggest loads. This is important because it means you can haul heavy loads, making this a great machine for those looking to handle commercial jobs or turf maintenance.
2. Plowing
Attaching a plow blade to your Gator allows you to plow your driveway that may be hiding beneath two feet of packed winter snow. Additionally, you can use the plow for backyard details, such as an ice rink.
3. Driving Through Mud
With the John Deere Gator tires, rack-and-pinion steering, and four-wheel drive you can get through any sticky mud. Gator UTVs can tackle any kind of terrain and ensure no job goes unfinished.
4. Drive Quickly
Some Gator models can reach speeds of up to 25 MPH. These Gators can also maintain this speed through different terrains. With effortless steering, as well as a choice of a gas or diesel engine, all-wheel-drive hydraulic disk brake, these Gators can maintain some serious momentum.
Final Thoughts
All John Deere Gators are built with a specific task in mind, and it is up to you to decide which features you need the most. The Work Series, XUV models, and RSX models all cover the basics of hauling, towing, and carting, but John Deere also has models specifically for military and turf. No matter what your plans are, John Deere Gators are designed to offer all of the functions, features, and attachments you'll need.
If you have any questions about John Deere used Gators, you can contact your local John Deere dealer.

If you enjoyed this post or want to read others, feel free to connect with us on Facebook, Pinterest, Twitter, or Instagram!
You might also like: