Whether you're using your John Deere Gator for recreational, traditional, cross-over, or military purposes, it's important that you outfit your vehicle with the proper accessories in order to get the job done right. But, with more than 100 John Deere Gator accessories to choose from, it can feel daunting to narrow the list down to what you need for your specific purposes.
We're here to help! The following is a list of accessories for your John Deere Gator (broken down by category):
Blades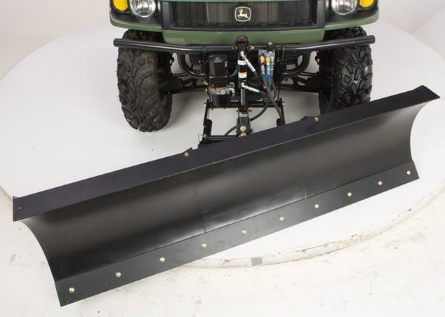 The POWERtach heavy-duty 72-in blade featured above is just one example of the type of blade attachments that John Deere offers. Everything from yellow markers, to rubber squeegees, to skid shoes can help you weather the elements when you're hard at work and in need of a little assistance.
Cabs, Roofs & Windshields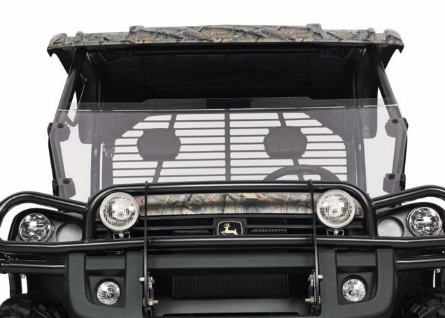 When it comes to cabs, roofs, and windshields, John Deere offers a variety of accessories to make your ride that much smoother. The OPS Half Poly Windshield, for example, is made from a high-impact strength polycarbonate material that offers additional protection for both the operator and passenger. To customize the JD Gator, operators can also choose from a SIRIUS & iPod-ready stereo, sun canopy, full folding windshield, exterior mirror kit, and more!
Camo & Hunting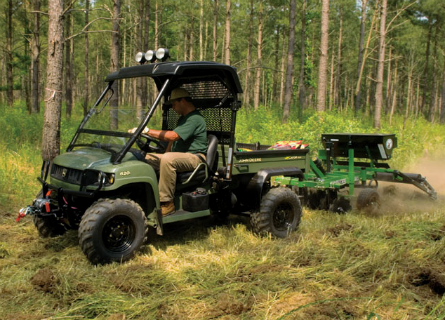 Looking to lay the groundwork for a successful hunting season? The plot seeder attachment can disc, furrow, and deposit the seed of your choice, cover the seed, and smooth the soil over the seed simultaneously. Operators looking to maximize the hunting season may also benefit from a gear organizer, gun mount, or vehicle cover, all of which are available in camo coloring.
Cargo Box & Storage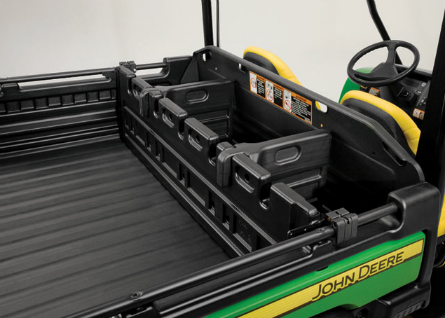 Accessories such as the cargo box divider featured above can help you keep your cargo box organized and instead focus on the task at hand. Other storage options available from John Deere include cargo box side extensions, a front hood rack, a tool box, a side tool rack, and much more.
Carts, Hitches & Winches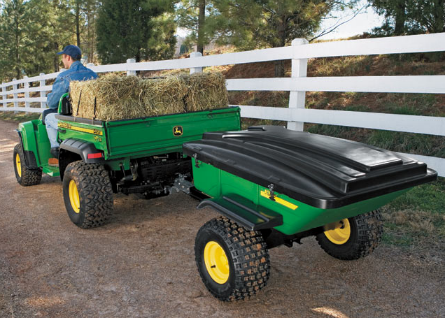 Carts, hitches, and winches, oh my! Whether you're looking for speed (up to 30 mph) with the 10 AT utility cart shown above, you're looking to dump a heavy load, or you need proper mounts and hitches to carry off the job, John Deere's collection of attachments has the right tool for the right job.
Lights & Signals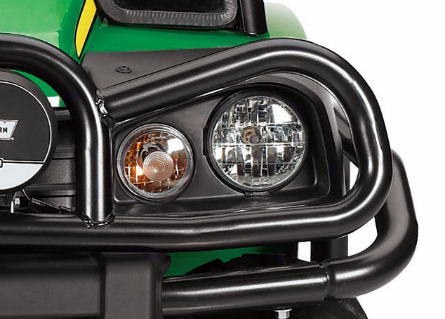 If you should happen to find yourself behind the wheel of an 825i John Deere Gator, this deluxe signal light kit, complete with turn signals and four-way flashers, can help you maintain your speed without forgetting about safety. Other light & signal accessories offered in the JD line include the brake/tail light kit, horn kit, mid-range light kit, and long-range light kit, among others.
Sprayers & Pressure Washers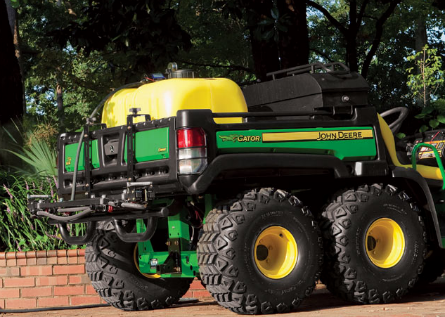 The 45-gallon bed sprayer above comes complete with a 43″ boom that sprays a 120″ swatch; it's also equipped with a 19-foot hose and a spray wand for spot spraying lawns, shrubs, trees, etc. John Deere offers a variety of additional sprayers and pressure washers for you to attach to your gator, including the 25-gallon portable sprayer, the 90-gallon high-perf sprayer, the 270 cc pressure washer, and more.
As you look to add John Deere Gator accessories to make it your own, be sure to consider the attachments that will help enhance your vehicle and make your job that much easier. What attachments and accessories have you found most helpful for maximizing the performance of your utility vehicle?
If you enjoyed this post or want to read others, feel free to connect with us on Facebook, Twitter or Google+!
You might also like: