We already know that the John Deere Gator™ HPX offers everything from lawn care to off-roading capabilities. However, did you know there's a series of accessories available to bring your Gator HPX to the next level of productivity and excitement?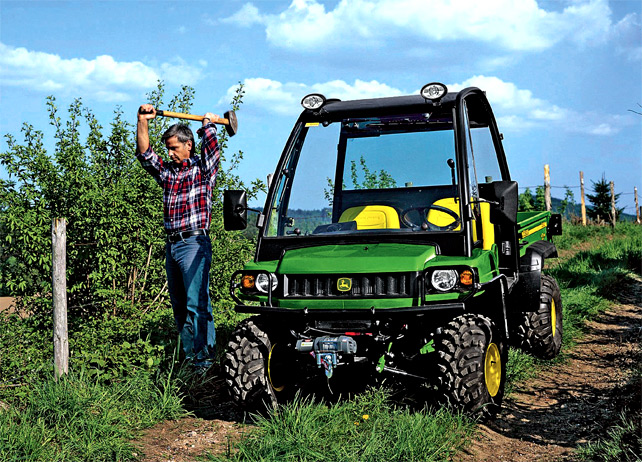 Whether you're looking to add to your fleet of attachments or make your first purchasing decision, here's a complete list of John Deere Gator HPX accessories to consider.
Operator Environment
Thanks to the cell phone mounting kit, Gator HPX operators don't have to worry about their phones falling out of their pockets or sliding off the seat while operating the vehicle. For Gator owners that have an operator protection system (OPS) in place, a rearview mirror can also be added to the operator environment to expand visibility and improve productivity.
Vehicle Protection
You'll want to make sure you do everything possible to protect your Gator investment, and John Deere can help you do so. Deere offers a bedliner for the cargo box, CV guards, brush guards, seat covers, OPS rear screens, vehicle covers and more, which are all designed to keep your vehicle healthy and looking brand new.
Sprayers and Pressure Washers
There are a number of accessories available for operators that want to use their Gator HPX to spray or wash. The available bed or tow-behind sprayers range from 25 to 90 gallons and the Honda/Subaru GatorPal pressure washers range from 2700 to 300 psi. For those looking to take on spraying projects, a 150 in. precision boom can be quickly attached to cover ground in a timely manner.
Spreaders
The Gator HPX can also be highly-effective as a spreading vehicle. Deere offers 3 cu. ft. fertilizer and salt spreaders that can be easily attached to the vehicle after hitch and control kits have been added. The hitch frames make it simple to attach and detach due to their spring-loaded design.
Blades
This Gator model can be turned into a plowing powerhouse with the addition of the heavy-duty 72 in. POWERtach blade. Deflector shields, blade markers, poly wear bars, rubber squeegees, and skid shoes can all be easily added to enhance the blade.
Protection from Elements
The John Deere Gator HPX is designed to be a workhorse regardless of the time of year or weather conditions. To make operating in tough climates more comfortable for drivers, John Deere offers HPX owners a series of accessories, including a cab heater, deluxe cab frame, poly/glass door, windshield, and a variety of roof options.
Storage
To expand storage and efficiency on the job, Deere offers a cargo box power lift, side extension kit, front hood rack, tool box, soft rear screen and organizer and much more. Each of these accessories allow operators plenty of space for the tools they need to take on the day's work.
Carts
If the storage areas on the Gator aren't enough for your tasks, simply attach a 10AT or 17AT Gator cart for even more carrying capacity. These carts' copolymer polypropylene material make them durable attachments, but there is also a steel utility cart option that can be added.
High Performance
We all want to have a little fun with our Gators. With this in mind, operators can add a series of high performance attachments to their machines to kick excitement into overdrive. The HPX can be equipped with heavy-duty front suspension, a high-capacity alternator, a seat-belt comfort strap and a stereo mounting kit.
Lights and Signals
The day doesn't have to end when the sun goes down. Beacon lights, tail lights and a series of other lighting kit options are available to keep the working zone illuminated regardless of the natural light being (or not being) provided.
If you enjoyed this post or want to read others, feel free to connect with us on Facebook, or Twitter!
You might also like: