Have you ever wondered how large, 18-hole golf courses can keep every inch of their fairway and greens perfectly trimmed? Powerful golf course equipment, of course. With the help of John Deere golf and turf equipment, including the turf-friendly Gator UTV, landscaping crews curate this look with ease. From material hauling to mowing, John Deere golf course equipment can become your go-to vehicle for any golf course project.
In this post, we explore all of the different kinds of John Deere golf course equipment and highlight how it can help you improve processes.
All-Purpose Golf Course Equipment & Mowers
All-purpose John Deere golf course turf equipment can help take your greens to an entirely new level. Let's take a look at some of this equipment and how it can help make your turf management a bit easier.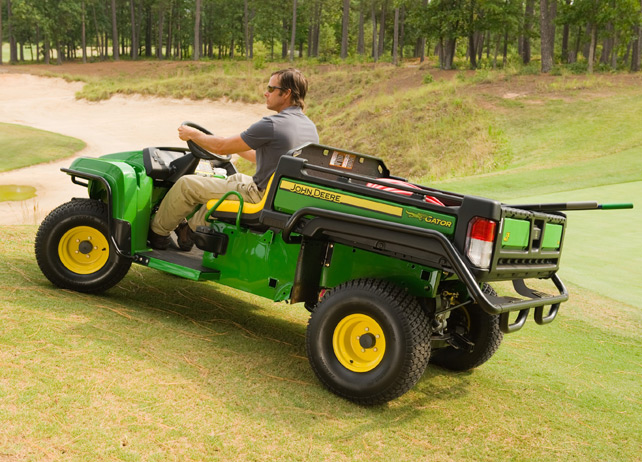 Gator TX Turf
All machines are not necessarily designed to tread lightly on turf. However, John Deere has an array of machines that allow you to do so while also managing the landscape. The John Deere Gator TX Turf is an example of a machine that can help you travel through delicate terrain without concern. These vehicles include flotation tires, a fuel-efficient engine, a precision-engineered drive system, a backup alarm, hydraulic disc braking, rack and pinion steering, a low center of gravity, and more.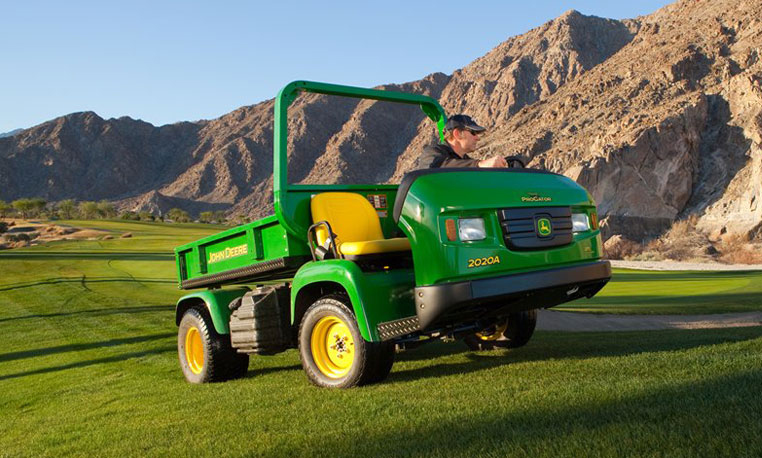 ProGator
The John Deere ProGator can help simplify the golf course maintenance process – ensuring each of the 18 holes looks just as healthy as the next. They come with either powerful gas or diesel engine capabilities that are designed to take on any condition It also has a seven-gauge steel frame that's engineered to endure heavy-load scenarios on the course.
Gator TE 4X2 Electric
Also known as the TE 4×2 Gator, the Gator TE 4X2 Electric has power that comes from its 48-V electrical system, which includes a number of features designed to make work on your property or in other parts of the outdoors a breeze.
Fairway Equipment
Paired with careful turf management planning and the appropriate manpower, John Deere golf and turf equipment is the perfect sidekick, keeping the course looking great and its players feeling great. Discover the fairway-specific equipment that can help your gold course look its best.
6080A E-Cut™ Hybrid & PrecisionCut™ Fairway Mowers
The 6080A E-Cut Hybrid Fairway Mower has a 24.7 horsepower diesel engine, which is used to provide power and boost overall efficiency. It also has three-wheel smooth tire configurations and an extremely durable mower chassis. In terms of 6080A specs, it has 18-inch QA5 cutting units, providing an 80-inch width of cut. Operators can now tackle a large area in a short amount of time. The 6080A comes standard with hydraulic wet disk brakes, which eliminate linkage adjustments and grease points within the brake system.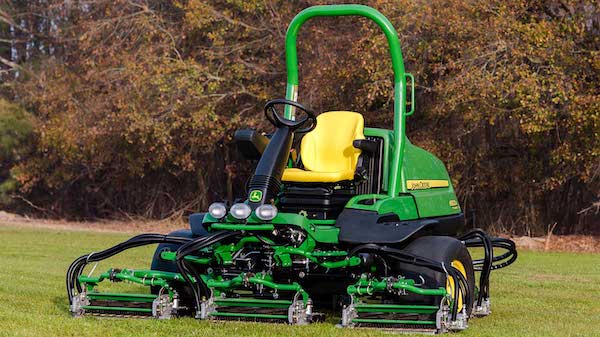 6500A E-Cut™ Hybrid & PrecisionCut™ Fairway Mowers
Like the 6080A, the 6500A E-Cut Hybrid Fairway Mower has a 24.7 horsepower diesel engine and three-wheel smooth tire configuration. However, there are some differences that separate the two. For instance, the 6500A features 22-inch QA5 cutting units that provide a 100-inch width of cut. It also features hydraulic wet disk brakes and a TechControl display so turf managers and technicians can send commands to the machines from afar. Last but not least, its hybrid reel drive system provides a significant amount of power for the all-wheel-drive traction system.
6700A PrecisionCut™ Fairway Mower
The 6700A model has the same technologies as the A Model family of fairway mowers from John Deere. It was designed with budget control in mind and also has a powerful 24.7 horsepower diesel engine, three-wheel smooth tire configurations, and even enhanced comfort features for those long days on the job.
Riding Greens Mowers
Riding greens mower equipment makes the task of maintaining golf courses simple and enjoyable. This type of equipment provides precision and ease of use for operators. With riding greens mowers, users will have peace of mind when they know they're utilizing some of the best technology on the market.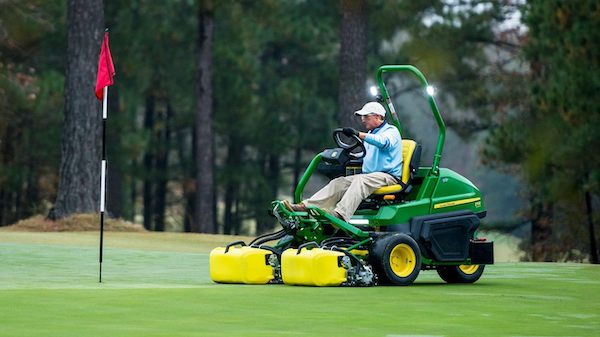 2700 Triplex Mower
The 2700 PrecisionCut™ and E-Cut™ Hybrid Triplex Mowers help maximize productivity and enhance cut quality. The most notable feature of 2700 mowers is its TechControl™ system, where you can input commands, controlling the operator's performance. This may include the frequency of clip, the turn speed, clean-up pass speed, and how fast the cutting units can raise and lower.
2500B Riding Greens Mowers
The 2500B Riding Greens Mowers is available in both gas and diesel versions. Those who choose a diesel engine will not have to worry about noise since the engine is made to operate at a quiet level. They also have different tire options designed to handle a wide variety of mowing conditions.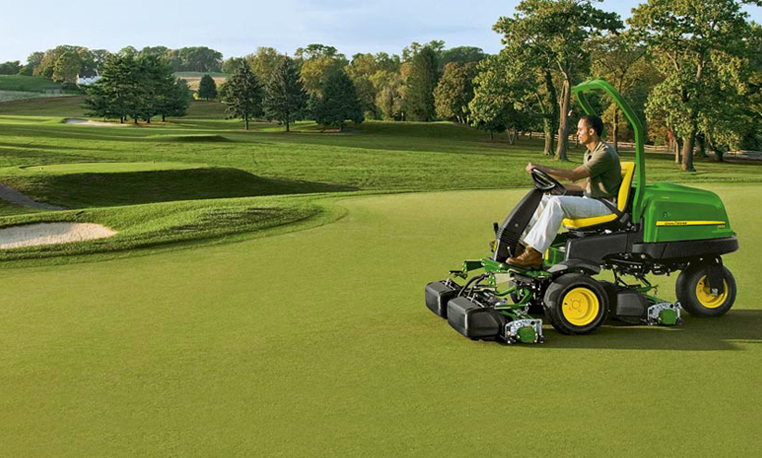 2500E Riding Greens Mowers
The 2500E E-Cut Hybrid Riding Greens Mowers are available in diesel and gas versions. The 2500E mowers with diesel engines can operate quietly and smoothly. It also has a 7.9-gallon tank to extend riding time without the need to refuel. The 2500E Riding Green Mower has an electric reel drive system, eliminating 102 leak points and reducing the risk of leaks while operating.
2750 Triplex Mower
The development of the 2750 Triplex Mower was designed with customer needs in mind – this includes the difficulty customers face when trying to find quality labor with tight operating budgets. With this in mind, Triplex mowers utilize an advanced TechControl system which allows superintendents, technicians, and other trusted supervisors to input commands. This can help to control nearly everything regarding the operator's performance. The 2750 Triplex Mowers has a 62-inch mowing width and mowing speeds up to six mph for increased productivity.
2400 Triplex Mower
The 2400 Triplex Mower is perfect for customers who have tight operating budgets thanks to its KOHLER Command PRO® EFI ECH630 air-cooled gasoline engine. The 2400 PrecisionCut mower also features an innovative offset design to avoid turf compaction and on-board diagnostics, among other benefits.
2550 Triplex Mower
The 2550 Triplex mower is perfect for users looking to optimize the performance of their mowing. The 2550 E-Cut Hybrid mower features an electric reel drive system and is designed to reduce fuel consumption and sound levels.
Rough Trim and Surround Mowers
When maintaining the reputation of a top golf course in the country (or world), the margin of error is minuscule. Less than optimal turf conditions may harm a course's standing in the public eye, resulting in a ripple effect on business. Let's take a look at some of the rough trim and surround mowers that can help keep these courses in top shape.
2653B PrecisionCut™
The 2653B PrecisionCut™ Trim and Surrounds Mower has a full-time 3WD hydrostatic traction system that directs hydrostatic oil flow to wheels with traction in tough terrain. This means that if an operator's wheel begins to slip, the hydrostatic system of the 2653b can supply fluid to the other two wheels, providing traction power.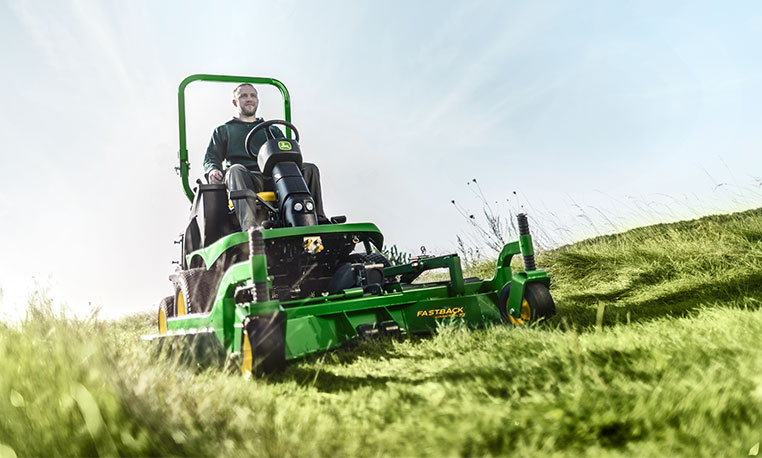 7400A and 7200A PrecisionCut™
The 7400A TerrainCut and 7200A PrecisionCut mowers also have a lot of the same features as the John Deere Golf fairway mowers. Both the 7400A and 7200A are equipped with larger eHydro and wheel motors to increase displacement, improving performance in traction and hill climbing.
8800A TerrainCut™
The 8800A TerrainCut™ Rough Mower has five 53.3-cm (21-in.) rotary decks to ensure superior contour-following ability and cut quality. This minimizes scalping opportunities for desirable golf course roughs. Strong, 10-gauge shell construction is an important part of this durable deck. What's more, surrounding the deck is a tough frame that is designed to protect the deck shell.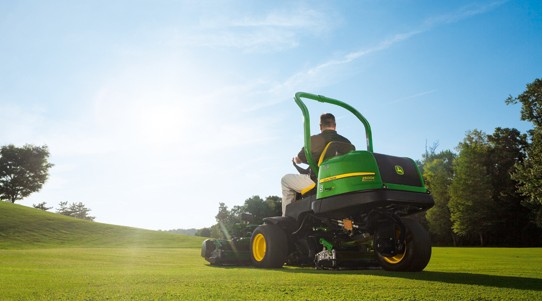 9009A TerrainCut™
The 9009A has five, 27-in. rotary decks that have a 9-foot cutting width. In addition, it also has a deep shell deck design with an exclusive rear discharge chute, as well as a no-tool notch system for easy height-of-cut adjustments and LoadMatch™ for excellent climbing and cut quality.
Walking Greens Mowers
When it comes to maintaining a golf course, you will need the right machinery in order to get the job done efficiently. This is where John Deere comes into play. With a wide range of golf and turf equipment, John Deere is prepared to take on any challenge, including PGA TOUR events.
180 PrecisionCut™ & E-Cut™ Hybrid
Having an 18-in. cutting width, the 180 E-Cut™ Hybrid walking greens mower offers unparalleled abilities to follow contours and steer around the cleanup pass. Its signature ball joint mounting system allows for the cutting unit to rotate in any direction, and the frequency of the clip can be adjusted via a simple dial. It can also be mechanically locked to prevent further changes.
220 PrecisionCut™ & E-Cut™ Hybrid
The 220 Hybrid has easy reel maintenance for quick and easy troubleshooting, as well as maximized comfort, control, and quick release to disengage traction.
260SL PrecisionCut™
The 260 SL PrecisionCut Mower has an adjustable, loop-style handlebar to ensure maximum comfort and control. It also has rubber isolators for reduced vibration. The 260 SL has dual traction rolls for straight tracking and excellent maneuverability, and also includes a wide range of roller options, including grooved, smooth, and spiral rollers.
How Do You Maintain a Golf Course?
In addition to having the right piece of equipment, such as those listed above, those working to maintain golf courses should keep other important factors top of mind.
Mow Fairways and Greens Properly
When mowing turfgrass, it is crucial to consider the different kinds of grass and the local climate. If it's rainy, you'll need more irrigation to keep surfaces dry. If you face a dry climate, you'll need more water to ensure nothing dries out. Monitoring turf density can also help assess mowing height – for example, poor turf density results in very low mowing height.
Roll Turf Regularly
If you use turf, it can become much healthier when it is mowed and rolled regularly. Rolling frequently does not cause any kind of compaction but rather can be a great way to get smoother, faster greens.
Cultivate Your Greens Frequently
Cultivating greens helps create high-quality putting surfaces for your course. Aerification helps build the firmness and smoothness of the green. Performing these procedures can result in well-drained, faster putting surfaces, which are perfect for a great round of golf.
Apply Regulators for Turf Growth
Turf growth regulators can help build higher-quality putting greens. This aids in the process of improving the putting green's surface density, resulting in an overall smoother surface.
Water & Fertilize Properly
Utilizing deep irrigation and hand watering specific hot spots on the course helps reduce a putting green's surface irrigation. You'll want to separately water the greens around putting surfaces. These items can help improve your turf's health, increase the earth's firmness, reduce plant succulence, and conserve water overall.
Fertilization is also important to the point where it meets the plant's requirements. Using too much fertilizer can cause an excess in nitrogen, causing decreased drought and wear tolerance, as well as an increased chance of disease.
Final Thoughts
The thought of buying used golf equipment can seem daunting, but with the guide above, you can find the machine you need with ease. Equipment like used John Deere used golf equipment can help lessen the physical strain of landscaping, hauling, and more, while also improving your efficiency.
If you have any questions about John Deere golf equipment, you can contact your local John Deere dealer.
If you enjoyed this post or want to read others, feel free to connect with us on Facebook, Pinterest, Twitter, or Instagram!
You might also like: