As most of us know, John Deere produces gas and diesel-powered equipment of all sizes to get jobs done in agriculture, construction, around the yard, on the golf course, and much more. However, did you know John Deere also produces equipment that's powered by electricity? One such piece of equipment is the John Deere Electric Gator™.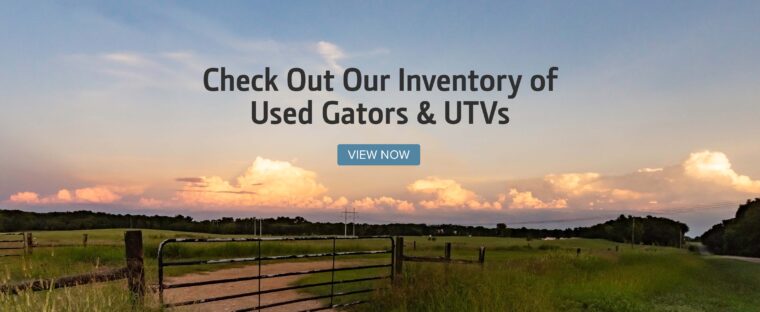 What is the John Deere Electric Gator?
Most commonly known as the TE 4×2 Gator, this John Deere electric utility vehicle is powered by a 48-V electrical system and includes a number of features that are designed to make work on the property or in other parts of the outdoors a breeze.
What are the Benefits of Electric Utility Vehicles?
Electric utility vehicles are the new way to get the job done sustainably, without compromising efficiency. Electric utility vehicles do not produce fuel emissions and have zero fuel consumption, making them just as green as the John Deere exterior. In addition, without the cost of fuel, you'll have extra cash to spend on other business ventures. And not to mention, their quiet electric operation allows you to get your work done without disrupting others — so if you're thinking about purchasing an electric utility vehicle for your golf course, your players will thank you later!
What are the Key Specs & Features of the John Deere Electric Gator?
The John Deere Electric Gator offers a host of new and sustainable features that make it a great purchase for farms, golf courses, and more. Let's take a closer look at some of the features and benefits of the John Deere Electric Gator.
Durable Frame and Cargo Box
This model's arc-welded uni-body design provides the strength and longevity needed when taking on tough jobs. The deluxe cargo box is also made from a durable material (15 percent glass-filled polypropylene composite) that guards against dents and rust while eliminating the overall noise that's produced during machine operation. The box's tailgate can be lowered or completely removed from the equipment to make unloading material or cleaning out the box a breeze. When the cargo box is elevated, a prop rod (which is provided) can be used to hold it in place.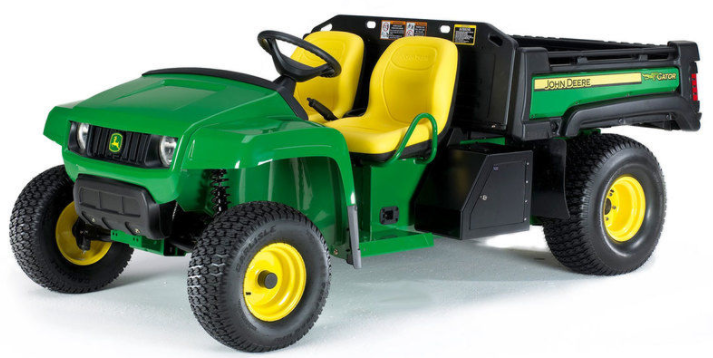 Powerful Drive System
As mentioned earlier, the TE 4×2 is powered by a 48-V electrical system that gives the unit the power needed to accelerate rapidly, climb inclined terrain, and haul cargo loads with consistent performance. Thanks to the separately excited controller, the Gator allows for:
Dynamic braking
Overspeed and roll away control
Reduced reverse speed
Anti-rollback
Regeneration
Diagnostics
Speed control
Key-off control
Directional change control
Battery Charger
Those thinking about investing in the John Deere Electric Gator may be asking "what happens when it runs out of battery?" For this reason, the TE 4×2 has an Underwriters Laboratories Inc. (UL)-approved charging device under the passenger seat. This means the operator can charge their Electric Gator at any wall receptacle, improving uptime and eliminating the need to travel back to equipment headquarters.
A vehicle ignition interlock system prevents the Electric Gator from being driven while plugged into a charging station and the battery will automatically stop charging when it reaches full charge.
Operating Conveniences
Improved sustainability doesn't compromise the operation of this Gator. The John Deere Electric Gator includes a number of the standard Gator comfort features, including:
Side-by-side seating comfortably fits the operator and one passenger.
Hip restraints that can be used as handrails when the terrain gets tough.
High-back seat cushions that are adjustable and provide added comfort.
Driver and passenger seats that both tilt forward for dry storage underneath.
Glove box in the dash.
Automotive-style controls.
Key switch in the center of the platform.
Where Can One Buy a John Deere Electric Gator?
The next time you're thinking about what Gator might be right for you, think about the electric option. If you need more help deciding which model might be best or if you simply want to learn more about Gators, contact your local John Deere dealer.If you enjoyed this post or want to read others, feel free to connect with us on Facebook, Pinterest, Twitter, or Instagram!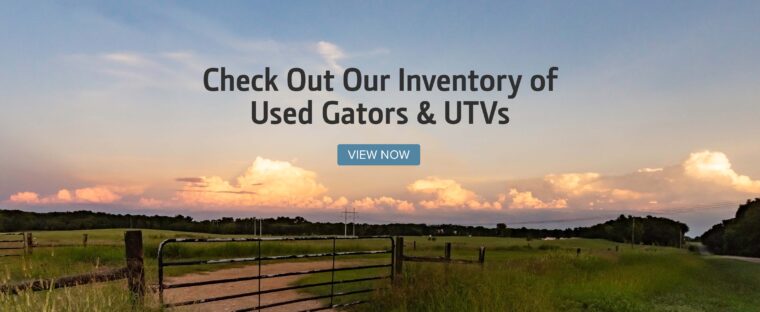 You might also like: