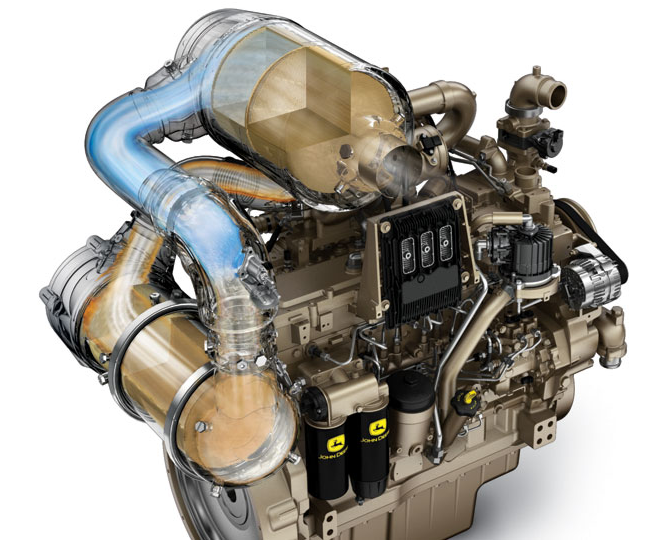 This is the fourth blog post in a four-part series from the John Deere Emissions Hub highlighting key moments in the history of John Deere engines. For more historical context, check out our earlier blog posts in the History of John Deere Engines series: Our Early Engines, Our Diesel Debut and A New Generation of Power.

In the 1990s, the Environmental Protection Agency (EPA) presented off-highway diesel engine manufacturers with what would become a complex challenge: drastically reduce emissions. The first EPA emissions regulations for new off-highway engines above 37 kW (50 hp) began in 1996. Since then, several tiers of increasingly stringent regulations have been phased in. The last regulatory tier — Final Tier 4 — will be fully implemented by 2015.
John Deere had been working to monitor engine emissions since 1967, when we first installed emissions measuring equipment — years before governments recognized the need for emissions regulations.
In 1996, we rolled out a new breed of engines, called PowerTech™, to comply with Tier 1 standards. In the years since, we have followed a building-block approach to meeting each new regulatory Tier — systematically adopting technologies for the PowerTech platform.
We introduced cooled exhaust gas recirculation (EGR) and variable geometry turbocharger (VGT) technologies in 2005 with the start of Tier 3 regulations, becoming the first engine manufacturer to widely commercialize these technologies for off-highway equipment.  For Interim Tier 4, John Deere added an exhaust filter made up of a diesel oxidation catalyst (DOC) and a diesel particulate filter (DPF).
To meet the challenging requirements of Final Tier 4, we have developed the Integrated Emissions Control system, which optimizes engine performance, operating efficiency and reliability. For engines 56kW (75 hp) and above, the Integrated Emissions Control system will consist of a DOC, DPF and a selective catalytic reduction (SCR) system specifically designed to meet the harsh demands of off-highway applications.
The complete implementation of Final Tier 4 represents a major effort for all involved. Regardless of the challenges the future may hold, John Deere remains committed to maintaining its heritage of continually providing customers with reliable and dependable off-highway solutions.
You might also like: