It's no secret that the Deere product line is expansive, but did you know there is equipment designed specifically for combat situations? A line of equipment for military and federal buyers was created by Deere and Company to meet real life war-fighter requirements.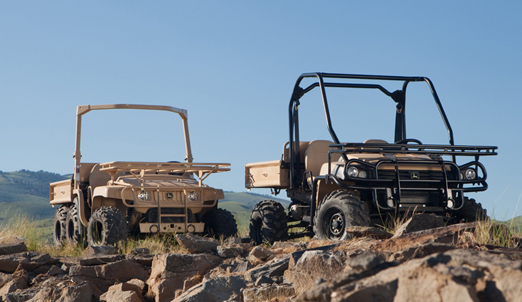 The John Deere Military Gator in particular is intended for military use and offers unique features that aren't found on any other utility vehicle. A military utility vehicle must meet certain standards in order to be used on the front lines. Not only are JD Military Gators manufactured with the same quality guarantee that applies to all Deere equipment, but each model also comes standard with extensive terrain capabilities and operator protective systems. Check out these intricate features that set the Military Gator apart from the rest in order to be an effective military vehicle.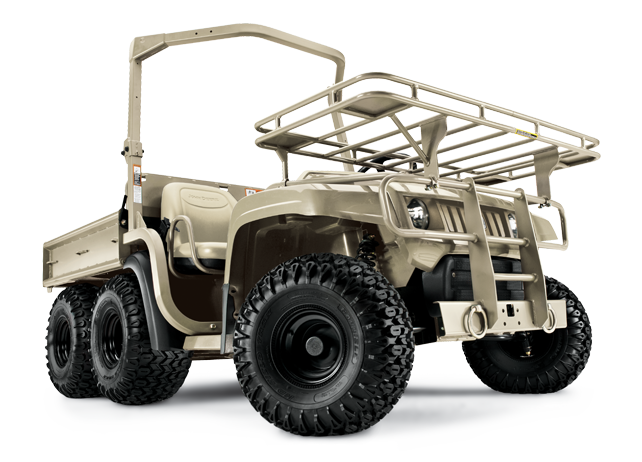 Blackout Light Kit: As part of the Deluxe Garrison Light Kit the blackout light option is available as an addition to the standard light kit. This light kit is designed for vehicle lighting on bases, in convoy, and in search and rescue operations. The blackout light allows operators to remain concealed at night while still being able to navigate; on the Military Gator, the blackout light will stay on when all other lights are turned out.
Operator Protection System (OPS): To prevent rollovers and operator injury, the OPS of the John Deere Military Gator includes three-point seat belts for both the operator and passenger to keep them in their seats over rough terrain. In addition to the OPS there is also a fire extinguisher that comes standard in every Military Gator should the need arise.
Rifle Mount System: In front of the passenger seat and attached to the glove compartment is a mount for the butt of a rifle. This attachment is compatible for both M4 and M16 rifles and provides operators with quick access to their weapon in combat situations.
Keyless Ignition: In situations where time is of the essence, it can be hugely beneficial to simply jump in a vehicle and GO. The keyless ignition feature of the Military Gators shaves off critical seconds in a time of need. Operators aren't burdened with keys that can be lost, stolen, or misplaced; instead the vehicle is ready and waiting at all times.
Each of these unique features gives the John Deere Military Gator the extra edge to be suitable for combat situations and official military use. The acute attention to detail is what puts Deere above other utility vehicles when it comes to developing equipment that is guaranteed to perform.
If you enjoyed this post read more like it on our Facebook page!
You might also like: