A beautiful clubhouse and immaculate green fairways can often times overshadow the hard work done, and powerful equipment used, to make an aesthetically pleasing golf course a reality. From material hauling to spraying, John Deere ProGators have the capabilities and power to become the superintendent's go-to vehicle for any project around the course.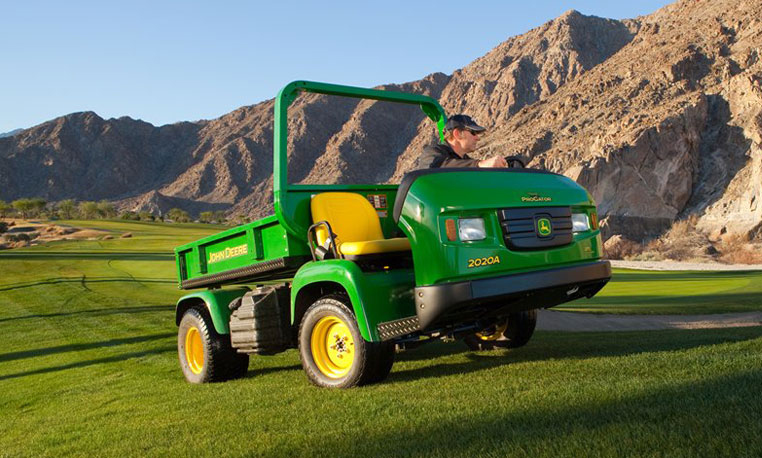 Let's take a look at a few key features of the John Deere ProGator that simplify the golf course maintenance process and ensure each of the 18 holes looks just as healthy as the next.
Performance: John Deere ProGators come with either powerful gas or diesel engine capabilities that are designed to take on any condition. The 2020A model comes standard with the industry's only four-cylinder electronic fuel injected gas engine, designed to provide greater torque, improved hauling power and the ability to handle heavy payloads.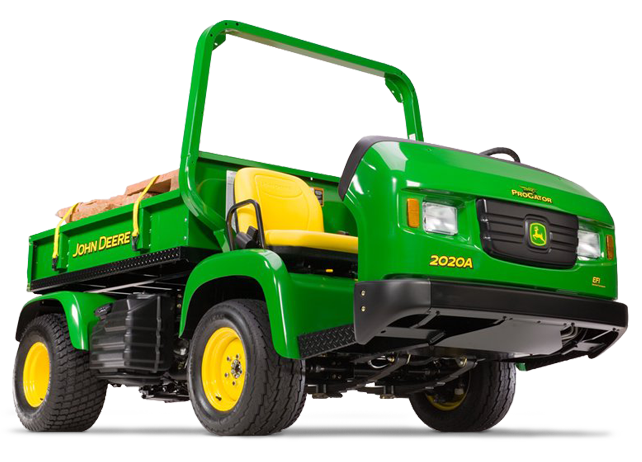 For an added burst, the John Deere 2030A comes equipped with a diesel engine and four-wheel hydraulic brakes that provide exceptional stopping power when activated. When carrying a heavy load and extra traction is needed, the operator can choose to manually select the four-wheel drive option.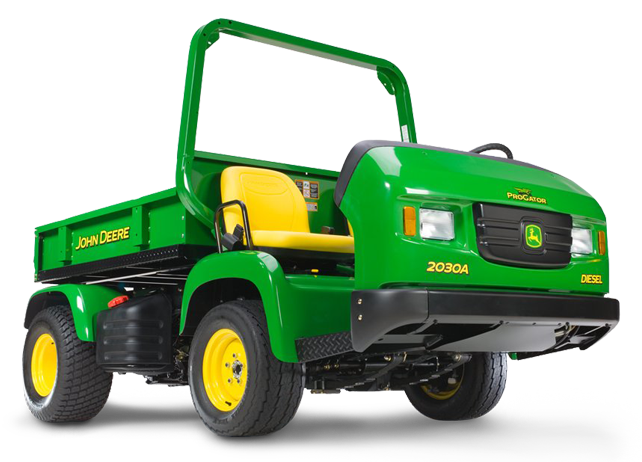 Hauling and Power: Both John Deere ProGator models are supported by a seven-gauge steel frame that's engineered to endure heavy-load scenarios on the course. The ability to haul 1,930 kgs (4,255 lbs) is paired with ample ground clearance and front and rear leaf springs leave the operator with a smooth ride.
Versatility: From adding or removing sand from bunkers, to transporting material to build a new tee box, to spraying fairways with nutrients or pesticides, there are a number of unique and recurring projects that need to be done around the course. All of these projects are simplified due to the ProGators' ability to transform from a hauling vehicle to a sprayer and vice versa in just minutes, without tools.
Maintenance: The layout of the John Deere ProGator is very clean and easy to manage, so anything that needs to be checked after a hard day's work can be simply accessed. Operators won't find any grease points on the 2WD ProGator and only three on the 4WD version. From the ground up, ProGators are designed to be serviced with minimal effort.
Each of these capabilities make the green grass seen on golf courses possible. Versatile and powerful, John Deere Gators, especially the ProGator models, have what it takes to become the superintendent's go-to piece of equipment for any project. If you enjoyed this post or want to read others, feel free to connect with us on Facebook or Google+!
You might also like: