John Deere offers ProGator Turf Utility Vehicles, as we've explored in the used golf course equipment guide. With this in mind, we pulled together some of the most popular articles that highlight features, attachments, and more about the ProGator UTVs. Take a look and see how you can start using your ProGator model to your advantage!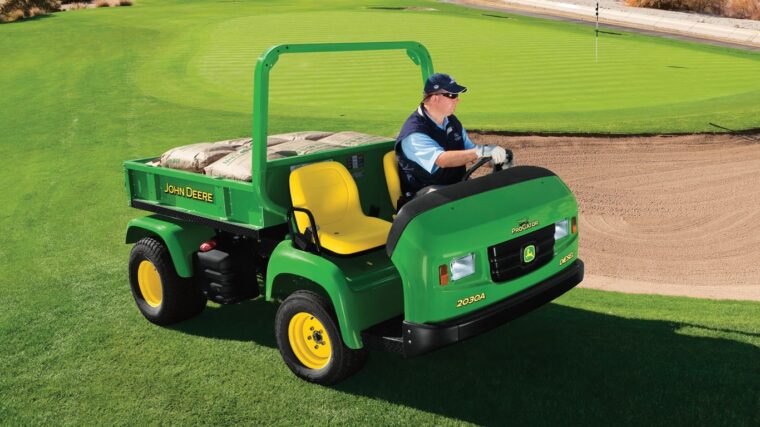 Keeping the Golf Course Pristine with 3 John Deere Gator Turf Vehicles
The John Deere ProGator™ UTV can be used for golf courses made up of large hills, slopes, and other forms of uneven terrain. This vehicle is a powerful, strong Gator model, yet it drives like a car over obstacles the course may offer. With a heavy, 4251-lbs. payload capacity, the ProGator can haul very large loads. For difficult landscaping jobs that need heavy equipment, such as aerators or seeders, this UTV has the ability to transport cargo without putting strain on the vehicle's frame. Further, thanks to its hydraulic disk brakes, as well as the front and rear end suspension, there will be no disruption to the ProGator maintaining speed and stopping on a dime.
7 John Deere Golf Parts to Consider Adding to Your Fleet
The weather may vary in different parts of the country, which can impact when outdoor activities can take place, but for many, the beginning of golf season starts sometime around the annual Masters Tournament. When March arrives and the Masters is around the corner, it's a good time to look at John Deere golf parts that can help superintendents prepare the course for another year of success.
Keep Your Course Looking Great with John Deere Golf & Turf Equipment
Do you know how large, 18-hole golf courses can keep every single inch of fairway and green perfectly trimmed? Gorgeous clubhouses and perfect greens and fairways tend to garner more attention than what is actually being done to create that aesthetic. Powerful golf equipment is utilized to curate this immaculate look, which includes a wide range of equipment, such as turf-friendly Gator UTVs. John Deere Gators have the capability and power to haul materials, spray your course, and more. Read more about how this may become your go-to vehicle for any golf course project.
Bringing Muscle to the Golf Course with the John Deere ProGator
When golfers or tournament attendees visit a course, they often do not consider the hard work that is put into curating immaculate green fairways. So why work harder when you can work smarter? Powerful equipment can make an aesthetically pleasing golf course a reality. From the powerful material hauling to easy spraying, John Deere ProGators will likely become the superintendent's go-to vehicle for any project around the course.
Video Gallery: Maintaining the Course with John Deere Golf Equipment
With golf season seemingly always around the corner for nearly all parts of the United States, groundskeepers and golf course superintendents need to make sure they are prepared by cleaning up the tee boxes, fairways, and greens. Without the proper machines as well as the addition of manpower, this process can be extremely difficult.
In the article below, we've compiled a video gallery of different types of John Deere golf equipment to show these machines in action, while also keying in on specific features that make them a grounds crew's dream.
Final Thoughts
With all the features, attachments, and add-ons the ProGator Turf Utility Vehicle has to offer, utilizing this series of machines can help make owners less nervous. In the gallery above, you can explore all aspects of the ProGator Turf Utility machines so that you make the most of your vehicle.
If you have any questions about John Deere ProGator Turf Utility Vehicle models, you can contact your local John Deere dealer.
If you enjoyed this post or want to read others, feel free to connect with us on Facebook, Pinterest, Twitter, or Instagram!
You might also like: