When you need a utility vehicle that can take on a wide range of terrain conditions, the John Deere HPX815E can stand up to the test. This work series utility vehicle from Deere comes standard with four-wheel drive and has a powerful diesel engine. It also has a large cargo box and a pickup-style tailgate for all of your towing needs.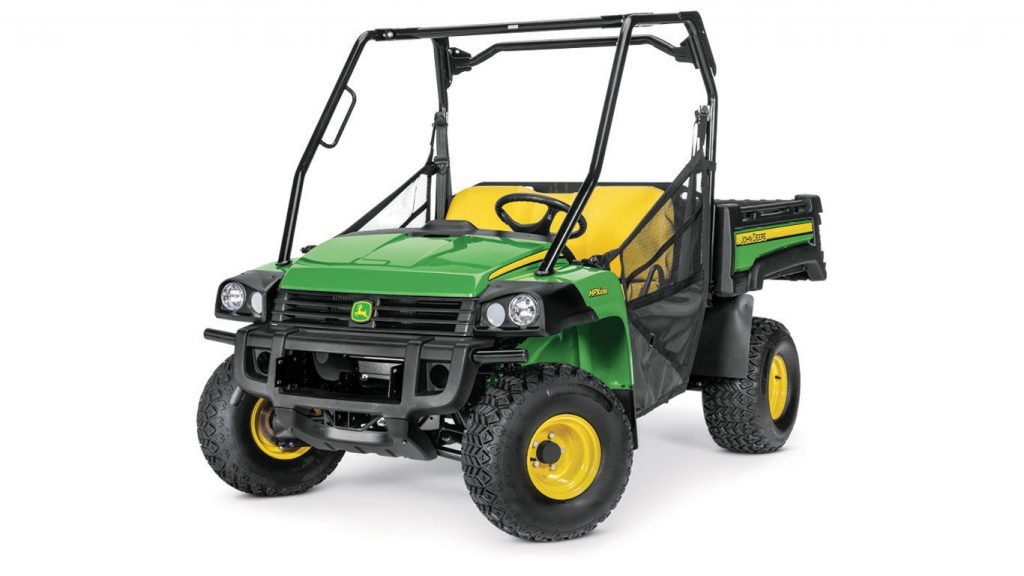 Let's take a look at the highlights of the John Deere HPX815E.
Operator Conveniences
The John Deere HPX815E has several operator conveniences that customers will love. The operator's station has 18-inch high-back bucket seats. There are also cup holders, a glove box, and a 12-volt outlet. Both seats tilt forward for ease of service, and the driver's seat is mounted on a slide-rail system that allows for fore-aft positioning. The 3-inch diameter fuel tank fill opening makes it easy to fill up without spilling.
Deluxe Cargo Box
The cargo box of the John Deere HPX815E is made of a 15 percent glass-filled polypropylene composite material, specifically designed to resist rust and dents. The tailgate of the John Deere HPX815E can be opened or removed for easy cleanout. When operators want to tilt the cargo box, it can be easily unlatched, raised and lowered as necessary.
Occupant Protective Structure (OPS)
The John Deere HPX815E is configured at the factory with OPS and standard occupant side retention nets. The OPS is certified to meet Society of Automotive Engineers (SAE) J219 standards. Glass doors can be installed to create an enclosed cab as well.
Nets
Nets come standard on the John Deere HPX815E. They offer enhanced visibility, and they can be operated with one hand. In addition, it is easy to enter and exit the vehicle with the nets.
Heavy-duty Suspension
The John Deere HPX815E comes with heavy-duty, coil-over shock rear suspension. This makes for a comfortable ride, regardless of terrain conditions.
Precision-engineered Drive System
This utility vehicle has a precision-engineered drivetrain system that improves acceleration, hauling, towing, and hill-climbing capabilities. Power is transmitted directly from the engine through the clutch system to the transaxle.
Engine
The John Deere HPX815E comes with a three-cylinder, four-cycle diesel engine. It has a liquid cooling system and can operate at up to 18.2 horsepower.
If you have any questions about the John Deere HPX815E or its features, you can contact your local John Deere dealer.
If you enjoyed this post or want to read others, feel free to connect with us on Facebook, Pinterest, or Twitter!
You might also like: