Not all machines are made to tread lightly on turf, but John Deere has a wide array of machines that allow you to do so while managing the landscape. The John Deere Gator TX Turf is one example that can help you travel across delicate terrain without concern.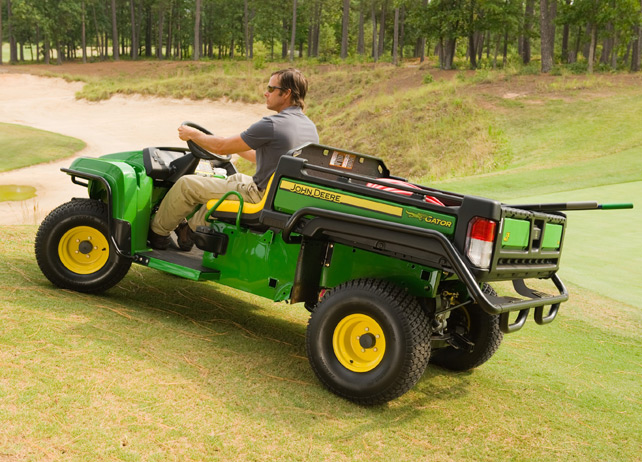 Here are some of the key features of the John Deere Gator TX Turf and how they could help you on the job.
Flotation Tires
These tires are puncture-resistant and have low PSI, meaning they have sufficient flotation on manicured terrain. Additionally, they are designed to provide adequate traction on mud, sand, or other damp areas.
Fuel-Efficient Engine
The John Deere Gator TX Turf is powered by a 13.5-hp fuel-efficient engine gas engine. Because it requires little fuel, operators can get more done without needing to stop for more gas.
Precision-Engineered Drive System
The John Deere Gator TX Turf's power is transmitted from the engine through a variable clutch system to a transaxle. This gives it variable speed drive, meaning operators have a wide range of options to use while on the move.
Backup Alarm
The machine has a backup alarm that sounds when it is put into reverse, alerting nearby pedestrians and ensuring safety.
Hydraulic Disc Braking
The John Deere Gator TX Turf has all-wheel hydraulic disc braking. This means that it engages smoothly, and its stainless-steel brake lines provide lasting durability. For additional convenience, operators can enable a mechanical park brake system through the shifting of a lever.
Rack and Pinion Steering
The automotive rack and pinion steering of the John Deere Gator TX Turf provides smooth operation, as well as a tight turning radius (12 ft.). This means that users can maneuver the vehicle easily over any terrain.
Low Center of Gravity
Through its low center of gravity, the Gator has enhanced passenger and operator stability. This means that every ride is comfortable and enjoyable.
Deluxe Cargo Box
Transporting items is simple with the John Deere Gator TX Turf. Its deluxe cargo box is composed of a polypropylene composite material that reduces noise while resisting rust and dents. Additionally, it has a tailgate that can be lowered for easier loading, and it can be tilted with a prop rod for quick unloading.
Operator Comfort
The John Deere Gator TX Turf has high-back seats, cup holders, and a 12-V outlet for the ultimate convenience and comfort. Users can also choose to for a model that includes an adjustable driver seat.
If you enjoyed this post or want to read others, feel free to connect with us on Facebook, or Twitter!
You might also like: