When you're hitting the links, you know how important it is to be able to play on a course that has been well maintained. The condition of the grass can be the difference between achieving an optimal score on the course or falling short. Luckily, John Deere has several pieces of landscaping equipment to help golf course maintenance crews keep everything in check. The Gator TX Turf is one example that can help course managers maintain optimal greens, roughs, and fairways.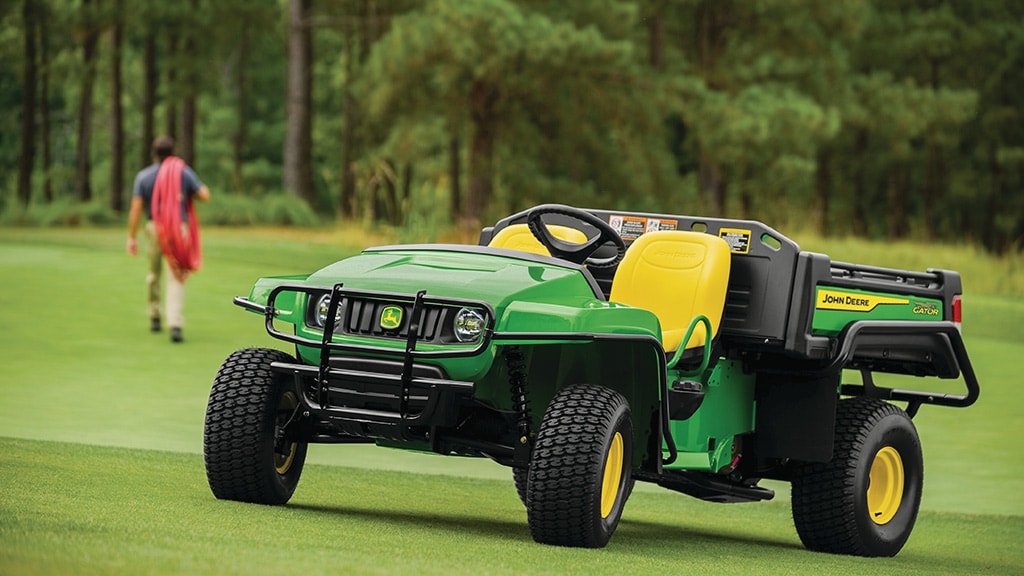 Why is a Well-Groomed Golf Turf Important?
In order to provide a competitive playing course, golf turf needs to be meticulously maintained year-round. This means ensuring that grass is cut at the right height while keeping the turf healthy. In turn, golfers can enjoy a firmer, faster playing surface and focus on their game. Overall, a well-groomed course can improve the golfing experience and give players a reason to come back for more.
How Does the John Deere Gator TX Turf Improve Golf Course Landscaping?
The John Deere Gator TX Turf can be one of the most beneficial pieces of course management equipment you ever own. This product from Deere is specifically designed to allow you to travel on delicate terrain without leaving damage behind. Let's take a look at some of its features and how it can potentially help you manage the turf on your own course.
Precision-Engineered Drive System
The precision-engineered drive system of the Gator TX Turf transmits power from the engine through a variable clutch system. This moves to the transaxle before finally making it to the rear axle. In turn, operators have several options to choose from while on the go.
Variable Speed Drive
The variable speed drive is made up of two clutches that are connected by a drive belt. The drive belt is then attached to and rotated by the engine, and the driven clutch is attached to and drives the transaxle. As a result, operators have multiple speeds to choose from, and no shifting is necessary as adjustments are made. Furthermore, the clutches are tuned to provide engine braking while moving downhill when the throttle is engaged.
Flotation Tires
The flotation tires of the Gator TX Turf minimize ground compaction, meaning operators never have to worry about ruining terrain while taking care of their greens and fairways. The tires themselves are four-ply rated and feature extreme puncture resistance while offering maximum traction. They are also designed to be inflated at low psi and flex over bumps for a smoother ride.
Four-Cycle Gas Engine
The four-cycle gas engine of the Gator TX Turf provides up to 13.5 horsepower and is designed to be fuel-efficient. As a result, operators don't have to worry about regularly stopping during their shift to fuel up.
Get a Tee-rific Golf Course with John Deere Gator TX Turf
In addition to the previously mentioned features, the Gator TX Turf has operating conveniences, such as high-back seats, cup holders, a 12-volt outlet, and a fuel gauge. The seats also tip forward for dry storage, and a glove box is located in the dashboard for the storage of small tools. This Gator has everything golf course management crews need to get the job done quickly and efficiently. They'll also have peace of mind knowing that their equipment comes from John Deere, an industry leader and proven manufacturer of grounds care machinery.
Interested in improving your golf course? Contact your local John Deere Dealer to explore additional details, specifications, conditions, and more for the Gator TX Turf.
If you enjoyed this post or want to read others, feel free to connect with us on Facebook, Pinterest, Twitter, or Instagram!
You might also like: