Riding across rough terrain is made more comfortable when you have the right utility vehicles to do it in. The John Deere XUV560 and XUV590 were built for a smoother ride with impressive features designed for you.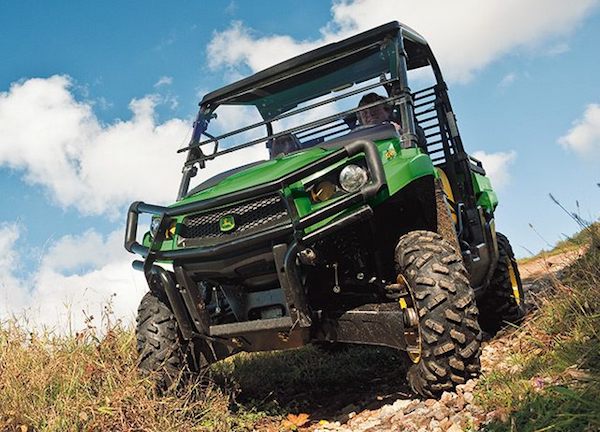 Choosing the right John Deere Gator to fit your needs is important. Let's take a look at some of the features and specifications of the XUV560 and XUV590 below.
https://www.youtube.com/watch?v=ocaVI770Ip4
Any vehicle used for working purposes needs adequate storage space. The XUV560 and XUV590 are equipped with 6-gallons of under hood storage and a dumping cargo box (400lbs.) for increased storage space. If your load needs to be secure, there are 20 tie-down points located on the vehicle to ensure it doesn't get away from you.
https://www.youtube.com/watch?v=u8MzpCj_E30
When you're bringing more people along for the ride, the XUV560 S4 and XUV590 S4 feature four seats to accommodate your group. Under-seat storage makes the most out of unused space and a folding back seat provides an extra 200lbs. of cargo space.
The cockpit of any John Deere Gator is a key part of its overall functionality. The XUV560 and XUV590 are equipped with a digital display that features a fuel gauge, speedometer, tachometer, hours meter, odometer, and a digital clock for your convenience.
https://www.youtube.com/watch?v=opoc3N03cv0
Two of the most important aspects of a John Deere Gator are how fast it goes and how powerful it is. The XUV590i and XUV590i S4 travel up to 45 MPH and have a 32HP engine for your towing needs. The independent suspension makes riding over rough terrain at high speeds comfortable all day. These vehicles were made for work and play.
Utility Vehicles with Endless Uses
When selecting a John Deere Gator, think about the possibilities and opportunities one can provide. Customers often buy utility vehicles with a specific purpose in mind, but they quickly realize that they can be used for so much more. Whether off-roading with friends or hauling across the ranch, the XUV560 and XUV590 models provide the storage, speed, and power you'll want in your vehicle. We hope these videos illustrated the capabilities of this vehicle and how it functions.
For more information about the XUV560 and XUV590, contact your local John Deere dealer.
If you enjoyed this post or want to read others, feel free to connect with us on Facebook, Twitter or Google+!
You might also like: