The John Deere XUV560 and John Deere XUV560E are two of the most versatile crossover utility vehicles John Deere has to offer. Whether you're hauling materials for a home landscaping project, trekking to the far corners of your land through extreme terrain, or keeping things running on the farm, these compact and capable machines can help you get it done right. Let's take a look at how the XUV560 and XUV560E can make your workday both more efficient and more productive.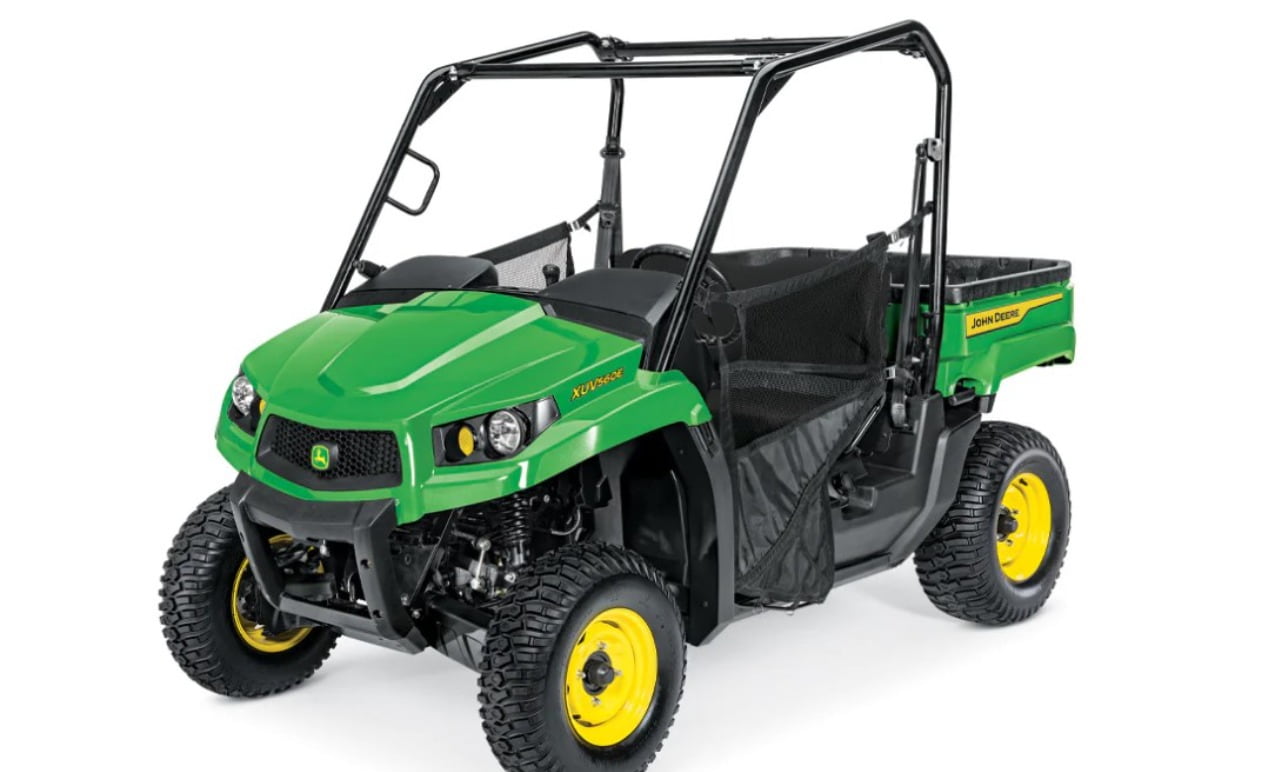 What Are the John Deere XUV560 and XUV560E, and What Can They Do?
The John Deere XUV560 and its updated version, the XUV560E, are midsize Gator™ crossover utility vehicles. For landowners, homeowners, and municipal operators alike, this means that these two machines work as a "jack of all trades" when it comes to accomplishing your maintenance and upkeep tasks, even on extremely rough terrain. From hauling and transporting to towing, snowplowing, and much more, these capable machines have the toughness and power of a larger machine in a compact and easy-to-transport design. 
What Are the Features of the John Deere XUV560?
The John Deere XUV560 is a versatile and capable crossover Gator™ utility vehicle loved by homeowners and professional users alike all over the world. Featuring a best-in-class combination of efficiency, technology, and power, this handy machine will soon become your new favorite "tool" for hauling, towing, snowplowing, and much more. Let's take a look at some of the features that make the John Deere XUV560 such a favorite around the yard and field. 
Quick Acceleration
The John Deere XUV560 is powered by a V-twin gasoline engine that allows operators to reach up to 28 miles per hour with 16 horsepower. This Gator™ can reach 15 miles per hour within 3.5 seconds and is optimized for an easy cold-weather startup. The engine has a full-pressure lubrication system and also features a high air-flow air filter, while the fuel tank can take up to 4.9 U.S. gallons at a time.
Spacious Cargo Box
The cargo box is one of the highlights of the John Deere XUV560. It is created from a high-density polyethylene copolymer composite material that resists rust and dents. Its one-piece design also has rounded inside corners that make it easy to remove material when tilted.
Premium Braking
The John Deere XUV560 has a premium braking system composed of hydraulic disc brakes with front left/rear right and front right/rear left circuits. This ensures that the vehicle can come to a stop quickly, even in the event of a damaged line. Twin-piston front calipers and single-piston rear calipers provide maximum stopping capability.
Modern Styling
The John Deere XUV560 has a modern, sleek design with a wide front bumper, curving hood lines, and high fender lines. It also includes sweeping headlights with mounting locations for an optional turn signal kit.
Multiple Tire Options
There are multiple tire options for the John Deere XUV560. Customers can choose from the Terra Hawk AT® tread tires, Ancla M-T® tread tires, and Maxxis BigHorn alloy wheels, depending on their needs and the terrain.
Four-Wheel Independent Suspension
The four-wheel independent suspension of the John Deere XUV560 ensures that operators feel fewer bumps and jostling while driving over rough terrain. Its adjustable coil-over shocks also absorb the feeling of movement, making for a more comfortable ride.
Vehicle Conveniences
With the John Deere XUV560, you'll never have to worry about comfort. This Gator™ has in-dash cup holders, a sealed glove box, optional under-seat storage, and additional legroom. Its hinged hood rotates open without tools for access to storage on the go. There is also a standard 12-volt direct current outlet located in the instrument panel.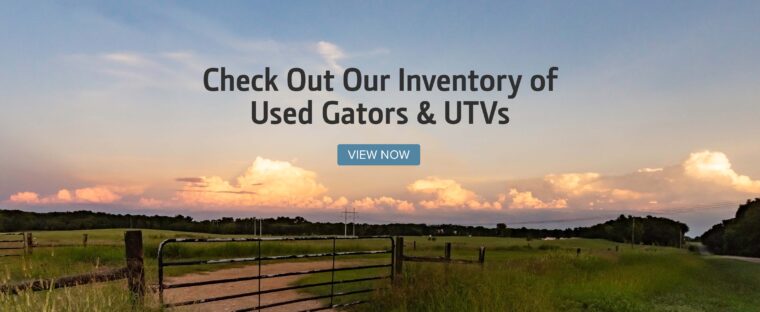 What Are the Features of the John Deere XUV560E?
An update to the popular John Deere XUV560, the John Deere XUV560E builds upon the performance, speed, and capability consumers expect from the XUV560. This midsize crossover Gator™ utility vehicle brings you enhanced shifting, operator comfort, and versatility, as well as the option for a 4-person configuration via the XUV560E S4. Read on to discover a few of the many reasons why the John Deere XUV560E may be just what you're looking for in a utility vehicle.
Compact and Versatile
The John Deere XUV560E fits comfortably in the bed of a full-size pickup, allowing you to load up and go quickly without the need for a trailer or other transport. Enhance speed and productivity by transporting your Gator™ on-road where you can, then offload it and let it take you into the backwoods where standard equipment can't reach.
Quick Acceleration and Plenty of Speed
With a powerful 570-cm3 (34.8-cu in.) V-twin gasoline engine delivering 0 to 24.1 km/h (0 to 15 mph) acceleration in 3.5 seconds and a top speed of 45 km/h (28 mph), you'll never be short of speed or maneuverability when you need it most on rough or unstable terrain.
Spacious and Durable One-Piece Cargo Box
With welded steel-ladder construction and rounded corners for easy material removal when tipped, you'll wonder how you ever lived without this tough and roomy cargo box. Its high-density polyethylene copolymer composite material eliminates rust and dents while reducing noise, making it ideal for loading, hauling, and dumping sharp materials such as gravel, brush, and debris.
Durable and Comfortable Suspension
No need to give up comfort for performance with the John Deere XUV560E. With adjustable coil-over shocks and four-wheel independent suspension, you'll enjoy excellent handling around corners and an unparalleled ride, even over rough terrain. Who says a good day's work has to include an uncomfortable ride?
Precision-Engineered Drive
The John Deere XUV560E was designed with performance of every type in mind. Take advantage of a precision-engineered, variable-speed drive with the ability to both accelerate quickly when needed and also creep along slowly for maximum maneuverability. Never get caught between a rock and a hard place again with this powerful drive, specifically designed for capability on rough terrains.
Final Thoughts About the John Deere XUV560 and XUV560E
Whether you need help with a few tasks around the farm, worksite, or yard, or you need a day-to-day workhorse to help you tackle all your toughest jobs, the John Deere XUV560 and John Deere XUV560E have you covered. Sporting a powerful combination of speed, maneuverability, and compact size, you'll soon wonder how you ever lived without one of these versatile and capable machines. To learn more about the John Deere XUV560 and XUV560E and find out how you can get your own, contact your local John Deere dealer today.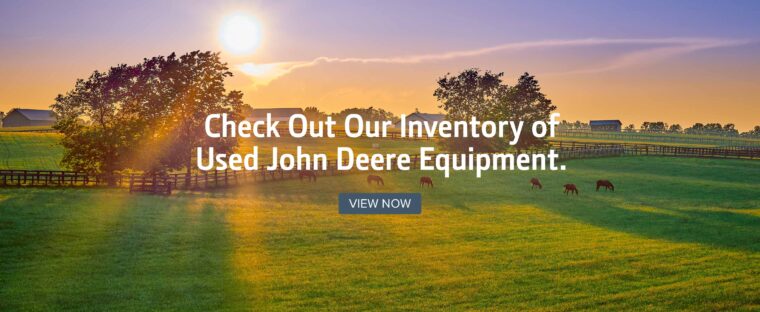 If you enjoyed this post or want to read others, feel free to connect with us on Facebook, Pinterest, Twitter, or Instagram!
You might also like: