Whether you're looking for an off-road adventure or you want to be able to explore rough terrain more easily, the John Deere XUV865R could be the answer. This crossover utility vehicle has a three-person cockpit, strong power steering, and a diesel engine system that packs a punch.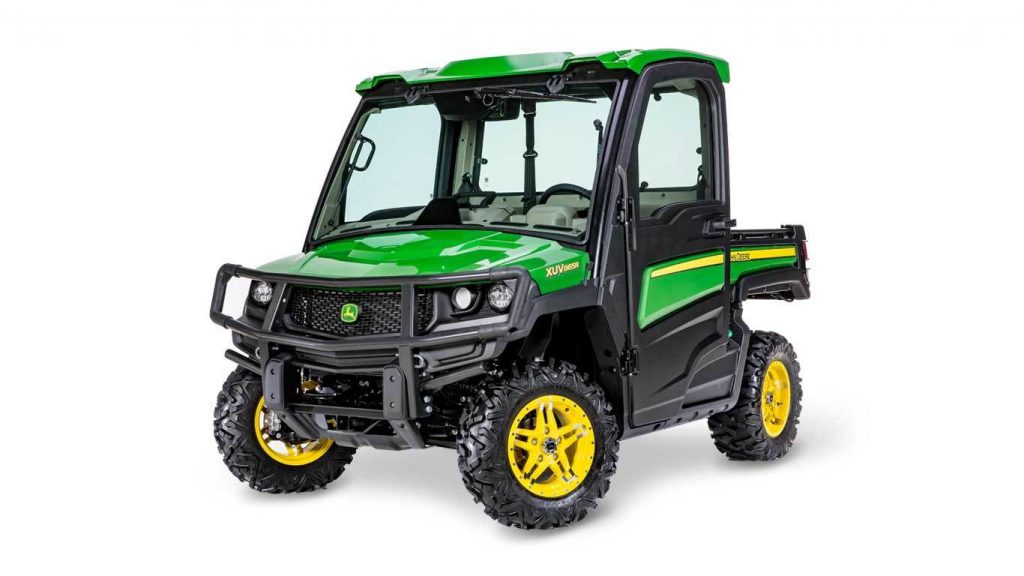 Let's take a look at some of the highlights of the John Deere XUV865R.
HVAC System
The HVAC system of the John Deere XUV865R is made to provide the utmost comfort to operators. There are automotive-style controls on the center of the dashboard, four dashboard vents, and windshield vents mounted to the top of the dash for effective defrosting. A compressor can also be turned on or off to keep airflow constant within the vehicle.
Interior Comforts
There are several items of comfort within the John Deere XUV865R to make for an enjoyable ride. Sun visors maximize visibility during the day, while an overhead dome light provides illumination as necessary in the evening. The vehicle also has an R-trim level tan interior for a chic look. The HVAC system provides adequate heating and cooling within the XUV865R for the ultimate comfort.
Dual A-Arm Front and Rear Suspension
The suspension system of the John Deere XUV865R has been made to handle rugged terrain with or without cargo. Its design ensures that ride quality and vehicle stability are not compromised based on what the machine has in tow. The heavy-duty nodular cast-iron knuckles of the system support the constant-velocity shaft and wheel. Coil-over shocks absorb the ups and downs of any field.
Drivetrain System
The drivetrain system of the John Deere XUV865R fully uses engine power to maximize acceleration, hauling and towing capabilities. Power is delivered from the engine through a clutch system to the transaxle. The engine braking system uses a tight belt, and the clutch can stay engaged to provide deceleration until about 3 miles per hour. The continuously variable transmission air intake reels in 50 percent more air compared to previous designs. This reduces heat and water ingestion in the CVT system.
Deluxe Cargo Box
This vehicle has a deluxe cargo box, which is comprised of 15 percent glass-filled polypropylene composite material, designed to eliminate rust and resist dents. The tailgate can be lowered to a 150-degree angle or completely removed for quick and easy cleanout. With its integrated handle design, the cargo box itself is simple to latch, unlatch, raise and lower.
If you have any questions on John Deere XUV865R or any of its features, contact your local John Deere dealer.
If you enjoyed this post or want to read others, feel free to connect with us on Facebook, or Twitter!
You might also like: