100 years of innovation, technology, and design have gone into making John Deere tractors what they are today. For their centennial year, John Deere is looking back at their tractors through the years to see how far they've come.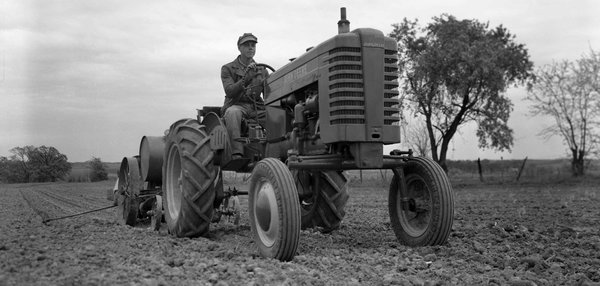 Go back in time and watch John Deere's tractor history unfold.
In 1918, John Deere bought the Waterloo Gasoline Engine Company and showcased the Waterloo Boy Tractor at trade shows around the country. This tractor revolutionized farming and was incredibly popular among farmers. Shortly thereafter, the Model D Tractor was unveiled as an improved version of the Waterloo Boy.
By 1934, Models A and B Tractors were produced. Each model had fully-adjustable wheel tread and adjustable rear row crop axles to handle crops grown at different widths. Several years later, the Model M Tractor was introduced. This particular tractor came with QuickTatch™ implements, making it easier to hook up farming attachments.
Power Steering was introduced by John Deere in 1954 and was touted as a way to increase a farm's earning potential. Tractors with this technology were easier to control and saved farmers time while increasing revenue. Several years later, Roll-over protection was included as a way to keep tractor operators safe in the event an accident occurs. As time went on, other conveniences like heating and air conditioning were added for operator comfort.
By the early 2000s, John Deere was talking about "opportunity machines" that would make farming easier and data-driven. After 100 years of John Deere tractor history, tractors are now equipped with precision ag technology, providing farmers with data to help optimize their productivity and discover ways to improve operations on their farms.
Final Thoughts
John Deere tractors have provided multiple generations of farmers with the tools they needed to produce their crops and run their farms. As technology improves, so will farming. It's exciting to think what farming will look like in the next 100 years and how John Deere will be leading the industry.
If you have any questions about tractors, contact your local John Deere dealer. You can download the app on Google Play or the App Store.
If you enjoyed this post or want to read others, feel free to connect with us on Facebook, Twitter or Pinterest!
You might also like: