When you need a machine to take on a wide variety of tasks out in the field, the John Deere 4052M might come to mind. This compact utility tractor has standard four-wheel drive, a turbocharged diesel engine, and iMatch™ Quick-Hitch for any attachments you may want to use on a whim.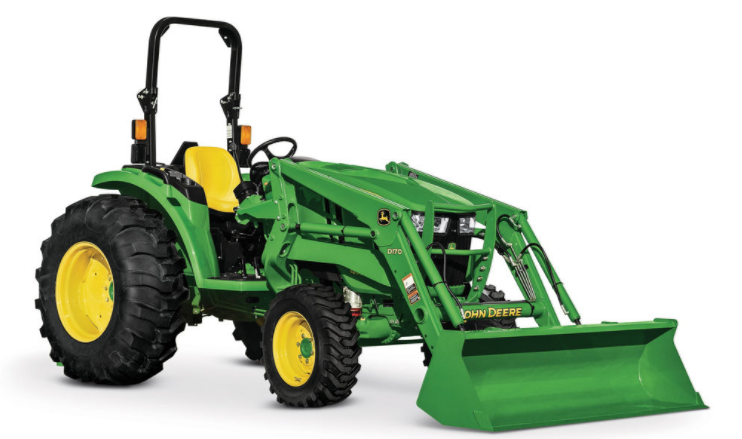 Let's take a look at some of the features of the John Deere 4052M and how it can help you with your daily tasks.
PowrReverser Transmission
The PowrReverser™ transmission of the John Deere 4052M offers a hydraulically-shifted forward-to-reverse transmission style. This means operators do not have to use a clutch to shift between forward and reverse – there is one lever that can be quickly used for easy direction change.
Yanmar Engine
The Yanmar diesel engine of the John Deere 4052M has four cylinders and offers a gross engine horsepower of 51.5. It has a cast-in-block cylinder design for optimal cooling, and hydraulic lifters are quieter than ever before. Direct fuel injection improves starting and helps develop more horsepower per gallon of fuel. The common rail system also optimizes fuel economy while reducing overall operating costs.
Operator Station
The operator station of the John Deere 4052M was specifically designed with comfort in mind. Users can easily exit and enter the tractor, and brake pedals are conveniently placed within the tractor. Repositioned operator controls make for simple directional control, and provide more legroom.
eHydro Transmission
Customers can opt for the eHydro™ Transmission with the John Deere 4052M. This transmission reduces powertrain shock loads and provides a high level of torque for startup. Fluid under pressure transmits engine power to the drive wheels, utilizing a pump and motor. With eHydro, no clutching is necessary for fast directional changes, and operators can enjoy infinitely variable ground speeds.
iMatch Quick-Hitch
The iMatch Quick-Hitch system can be installed on the John Deere 4052M, which makes for an easy hook-up of the Category 1 implements designed to meet the ASAE Category 1 Standard S278.6 guidelines.
Safety Features
The John Deere 4052M comes with several built-in safety features, such as a rollover protective structure designed for peace of mind. It also comes with taillights for safe road transportation, a turn signal and flashing warning lights, and a key switch interlock that prevents bypass starting.
If you have any questions on the John Deere 4052M, contact your local John Deere dealer.
If you enjoyed this post or want to read others, feel free to connect with us on Facebook, Pinterest, or Twitter!
You might also like: