To meet the latest demands from producers who need more versatile utility tractors, John Deere has rolled out its 4M Heavy-Duty Tractors. The 4052M HD and 4066M HD are both designed to help customers seeking a more compact machine that can still deliver an ample amount of power.
"The 4M Heavy-Duty tractor was designed with versatility and ease of use in mind. With this unit we had three main objectives – increase visibility, provide industry-leading maneuverability and reduce downtime related to changing attachments," said DeMark Cole, product marketing manager at John Deere. "With this tractor, we've achieved all of these objectives and we look forward to getting our customers in the seats."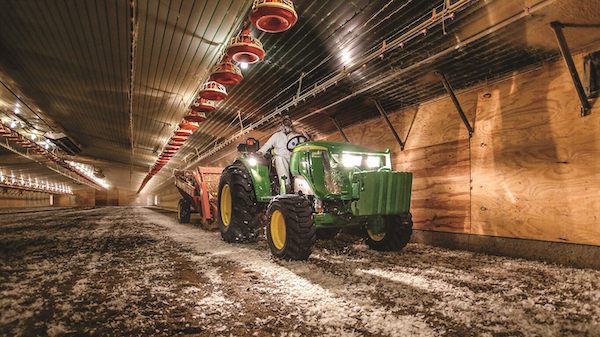 Let's take a closer look at some of the features of these machines and how they can potentially help you on the job.
Engine Power
The 4052M HD and 4066M HD both have powerful engines with varying horsepower – the 4052M HD delivers 52 horsepower, while the 4066M HD provides 66 horsepower. Both have an eHydro™ transmission with Twin Touch™ pedals for simple direction change and boosted productivity. In addition, customers will enjoy automotive-style cruise control, as well as the eThrottle™, LoadMatch™, MotionMatch™, and SpeedMatch™ systems.
Hitches
The 4052M HD and 4066M HD have category I/II hitches with telescoping draft links. This means that they can utilize a wide array of implements with varying hitch specifications. Thanks to the telescoping draft links, implement hook-up is a breeze. The factory-installed hydraulics on these machines also enables operators to connect and use multiple hydraulic controlled implements simultaneously.
Lighting Design
Both the 4052M HD and 4066M HD have innovative lighting designs for working in low-light conditions, such as barns, stalls, and poultry houses. In addition, their 73-inch wheelbase allows for a tighter turning radius while working in these small spaces.
Heavy-Duty Tires
These machines come with heavy-duty rear tires that allow operators to work in any condition. Customers have the option of either a 16.9-24 or a 19.5L-24 for their rear tires, both of which provide an ample amount of traction in wet and muddy areas.
To learn more about the John Deere 4M Heavy-Duty Tractors, watch the video below!
https://www.youtube.com/watch?v=VbAC-4YWypY
If you have any questions about the 4052M HD or the 4066M HD, you can contact your local John Deere dealer.
If you enjoyed this post or want to read others, feel free to connect with us on Facebook, Pinterest, or Twitter!
You might also like: