John Deere is known for their impressive farm equipment and long-running history of innovation and quality. However, golf courses around the country rely on John Deere equipment to keep their greens in tip-top shape as well.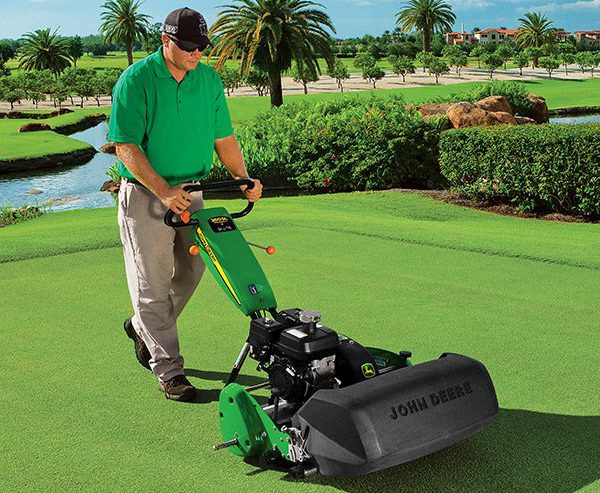 Let's take a look at some of the beautiful golf courses in Hawaii and see how they keep up with the demands of their greens.
The beautiful Nanea Golf Club in Hawaii was built over a field of volcanic rock, making the course incredibly diverse and challenging. Superintendent of the course, Clint Tolbert, relies on John Deere's Fairway Mowers for a precise cut and ease of use. Equally important to Clint is making sure parts are delivered quickly to his course. John Deere's parts service gets parts to where they need to be quick, even for customers on an island.
Big Island Country Club, located on the Big Island of Hawaii, is a mature course that features unique terrain and maintenance challenges that John Deere golf equipment was made to handle. Superintendent of the course, Steve Worley, explains that being so far away from the mainland can be difficult. However, he relies on the support from John Deere to help maintain his golf equipment and quickly receive parts needed to keep his operation going.
Mauna Kea Resort's golf course was built on top of cooled lava and as a result, doesn't have a base that can help with the moisture needed to maintain the course. Consequently, superintendent of the course, Scott Main encounters interesting challenges that he meets using John Deere golf equipment like the fairway mowers that can easily conquer the contours of his course. Scott also relies on the accessibility of parts for his mowers through his local John Deere dealer, which can often get him the parts he needs in as little as a day.
The Kona Country Club was one of the first courses built on the Big Island of Hawaii and has the most ocean holes on the island. After 3 years of recent renovations, Superintendent Derrick Watts was brought on to oversee the course. To keep up with the demands of the terrain, he invested in a four-wheel drive fairway mower. His on-site mechanic was pleasantly surprised at how easy it was to maintain and how quickly parts came in when they were needed, which aids in the success of his course.
Final Thoughts
John Deere golf equipment is not only reliable but also accessible no matter where you are. Being on an island doesn't limit golf courses from having the best equipment and parts service that courses on the mainland enjoy. With John Deere, you're never on an island.
If you're interested in learning more about John Deere golf equipment, contact your local John Deere dealer.
If you enjoyed this post or want to read others, feel free to connect with us on Facebook, Twitter or Pinterest!
You might also like: