At the John Deere Product Engineering Center (PEC), more than 1600 employees from over 15 countries work together to develop tractors, engines, and other elements essential to creating great product lines. By adhering to the company's four core values – quality, innovation, integrity, and commitment – John Deere PEC employees take a tremendous amount of pride in the work they do every day and understand the difference that it can make.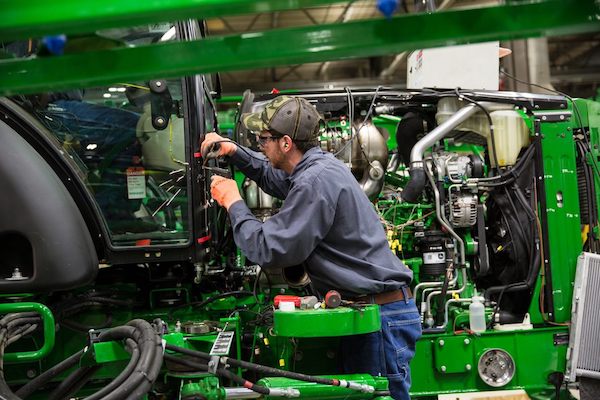 From engineers to visualization experts, the John Deere PEC promotes teamwork, with each individual having as much of a say as the last. Watch the video to learn how John Deere's core values play out every day at this location, the company's largest product engineering facility worldwide.
Innovation
By taking the time to look ahead in terms of population, infrastructure, and the future state of agriculture, engineers and analysts at the John Deere PEC are able to determine how their equipment should evolve. Collaboration is key when it comes to ensuring that this development can happen and that past successes are being seen as encouragements, not limitations.
In this environment, customer feedback and expectations play just as much of a role as science when it comes to developing equipment that will stand strong amongst the next generation of products. With a space to take a closer look at this equipment before it is developed, each John Deere PEC employee is able to get a better understanding of what each machine can truly do once manufactured.
Quality
At the John Deere PEC, it's understood that the purpose of producing equipment is not to get it out as fast as possible, but to make sure that care is being taken to ensure that the customer will appreciate what they receive. To these employees, quality work means solving problems before the equipment even reaches the customer which can mean running a variety of tests and holding onto machines until they are officially ready to hit the market.
Commitment   
A commitment to producing equipment that is as durable and reliable as possible is what sets John Deere PEC employees apart. By pushing machines to their limit in the test labs, engineers are able to prevent any issues that could potentially happen in the field before it has even been officially produced. While this requires a great amount of effort in order to make sure things are done right, this dedication is embraced by all, especially when teamwork is involved.
Integrity
To ensure customers are getting exactly what they expect from their John Deere equipment, these employees recognize the importance of asking questions and helping others if there are any issues. Throughout the company, everybody takes a tremendous amount of pride in the work that they do and the products that they put out, knowing that they have gone above and beyond to help the customer. High expectations are a result of a constant evolution that John Deere has been a part of over the course of its existence.
Putting in the effort to exceed these expectations and give customers what they need is what makes the John Deere PEC a successful environment. By living out Deere's core values every day, these employees are able to walk away from their work knowing that they have made an impact.
If you enjoyed this post or want to read others, feel free to connect with us on Facebook, Pinterest, or Twitter!
You might also like: