Once the snow starts falling, you're going to turn to your John Deere equipment to help you take on the elements. With the right snow removal attachment, you can transform your existing equipment into snow removal machinery in a matter of minutes. There are several blades and scrapers to choose from, meaning you can't go wrong.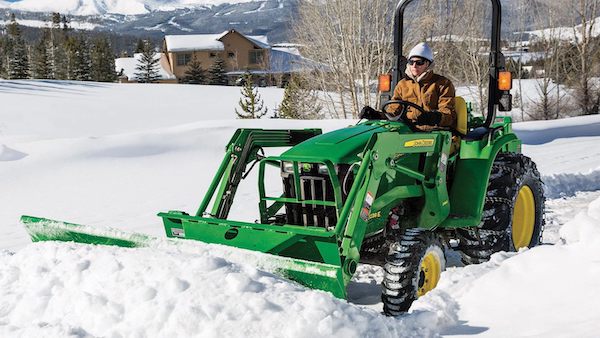 Let's take a look at some of the snow removal attachments that you can invest in to take on everything Old Man Winter throws your way.
Snow Blowers
There are seven different models of snow blowers to choose from for your John Deere machine. Their flow types range from high to standard, and their cutting widths range from 60 inches to 84 inches. In terms of weight, the snow blowers go to up 1,240 pounds, but all of it is worth the productivity of removing snow with your existing John Deere equipment. Two-stage hydraulic blowers are designed to throw snow up to 45 feet.
Snow Pushers
John Deere snow pushers can quickly and efficiently remove large amounts of snow from those hard-to-get areas, such as sidewalks and narrow driveways. They have reversible and replaceable cutting edges, and an optional pullback edge that is ideal for opening up confined areas.
Snow Utility Blades
Each snow utility blade is angled hydraulically at 30 degrees to the right or left. Four trip springs protect the machine from sudden impacts while blading the snow. The trip springs themselves can be locked out for light grading. Deere also offers utility V-blades, which are ideal for snow removal. The V-configuration is perfect for pushing through hard pack and snow stacking. Adjustable skid shoes for vertical blade productivity come standard, as well as a steel cutting edge.
Brooms
One snow removal attachment Deere equipment owners can consider is a broom. All brooms from Deere feature 50/50 poly wire brush segments, and bristle replacement is a breeze. The drive motor separates from the brush core without disconnecting any hydraulic hoses, eliminating the possibility of hydraulic-fluid spillage. A heavy-duty, high-torque drive motor is coupled to the brush core through a one-inch splined shaft.
If you have any questions about the snow removal attachments you can use with your existing Deere equipment, you can contact your local John Deere dealer.
If you enjoyed this post or want to read others, feel free to connect with us on Facebook, Pinterest, or Twitter!
You might also like: