As temperatures continue to drop, there is one thing on the mind of many across the country: snow. While it can bring joy and excitement, especially for children, home and landowners know the challenges that are often associated with snow removal. Dealing with heavy wet snow, ice, and slippery conditions requires one to take the appropriate steps to ensure they are prepared for what is to come.

When it comes to dealing with the winter elements, there are several things that landowners can do to get ahead of the game. By not only having the right equipment but also taking the right precautions, these individuals can face winter head-on. Let's take a look at some tips and considerations for snow removal and making sure your equipment stays up and running this winter.
John Deere Snow Removal Attachments
No matter the season or weather conditions, John Deere offers a range of equipment and attachments that are designed to take on any task with ease. In the case of snow removal, one has several options to choose from, including attachments for lawn mowers, tractors, and construction equipment. With John Deere's universal, self-cleaning Quik-Tatch easy-attachment system, operators can switch from one type of attachment to another in no time flat.
Snow Removal with John Deere Lawn Tractors 
For many fans of John Deere, simply putting away your piece of equipment when the weather starts to get cold isn't as easy as it sounds. With an array of snow removal attachments available for Deere lawn tractors, this doesn't have to be the case. Let's take a look at some of these attachments and how they can help one get through the winter months with ease. 
Front Blade:

This attachment is ideal for moving snow or other loose materials any which way, whether it be forward, left, or right. The curved blade surface also helps to roll material, as opposed to simply pushing it, requiring less power and increasing overall blade capacity. 

Rubber Blade Squeegee:

This squeegee is designed to clean wet or slushy snow without causing damage, including scratches, to the driveway surface. 

Snow Blower – 44 in. and 47 in.:

These John Deere snow blower attachments have the capacity to handle large jobs and are perfect for home and landowners in all snow regions.

Quick-Hitch Snow Blowers:

Similar to the 44 in. and 47 in. snow blowers, this attachment is the perfect solution for homeowners and is also ideal for those jobs in which snow must be moved across long distances.

 
Check out this blog to see just how effective John Deere lawn tractors can be when it comes to snow removal!
Tackling Snow with Offerings from Frontier
John Deere tractors are known to be extremely versatile and with the right attachments, operators can enjoy maximum productivity, no matter how snowy or icy their land may be. The Frontier attachments listed below are designed to be used on a John Deere tractor and might just be the answer to get through winter.  
3-Point Snow Blowers: With the ability to easily move snow out of the way, these attachments are the perfect size for a wide range of jobs, including large properties, commercials operations, parking lots, driveways, sidewalks, and yards. 
To learn more about these tractor-mounted snow blowers, watch the video below.
Loader-Mount Snow Blowers:

These Frontier snow blowers feature front mounting that enables greater visibility and reduces operator fatigue, even when dealing with less than ideal weather conditions and deep snowdrifts. 

Frontier™ Snow Pushes:

These snow pushes are the perfect option for moving snow away from fences, buildings, and hard-to-reach areas as quickly and as simply as possible.

Frontier™ Front Blades:

Need an attachment that is designed for small removal chores? Front blades are the perfect option. With curved blade edges, front blades roll the snow rather than pushing it, resulting in smoother, easier moving.

Frontier™ Loader-Mount Rotary Brooms:

These brooms are designed to sweep walkways, driveways, parking lots, and other paved areas with ease, saving valuable time in commercial applications.
Worksite Snow Attachments for Construction Equipment
It's no secret that John Deere construction equipment consistently goes over and beyond to help operators meet their goals and ensure maximum productivity. This is true even in the most difficult to work in conditions, including snow and icy grounds. The attachments listed below are designed to be used on a John Deere skid steer or compact track loader for efficient snow removal capabilities. 
Snow Blowers:

With two-stage hydraulic blowers, these attachments have the ability to throw snow up to 45 feet. Additionally, a simplified direct-drive hydraulic motor design removes the need for chains and sprockets. 

Snow Pushers:

These attachments are designed to remove large amounts of snow from sidewalks, driveways, and parking lots. With the optional pullback edge, operators can open up confined areas and work around vehicles, buildings, and other obstructions with ease. 

Snow / Utility Blades:

These blades come ready with a range of features that help operators increase productivity in the case of snow removal and light dirt work. This includes four trip springs that are designed to protect the vehicle from sharp impacts with obstacles when blading snow – these can also be locked out in the case of light grading and dirt work.

Snow / Utility V Blades:

These blades angle hydraulically to four positions – these include straight for larger cuts, V-configuration when pushing through hardpack, scoop for simple snow stacking, and 30-degree (right or left). 
Want to see how others get the most out of their John Deere equipment, even in the snow? Check out this media gallery that's full of images and videos submitted by our fans!
Keeping Your Snow Removal Equipment Running All Winter Long
Despite the fact that John Deere equipment is designed with quality in mind, there are a few steps that operators can take to protect their investment. By doing this, operators will not only see success in the current year but also for years to come. Let's take a look at some tips for winterizing John Deere equipment.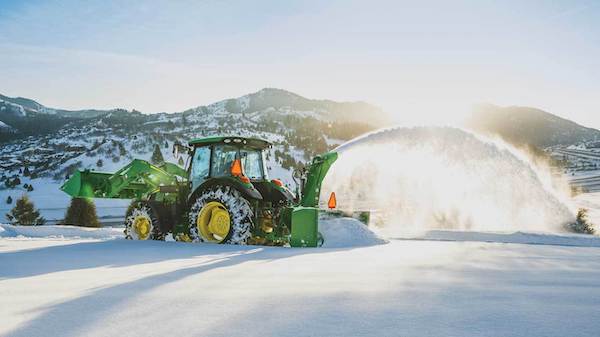 Avoid Frozen Fuel: Be sure to use winter-grade fuel, especially when temperatures drop below 32 degrees Fahrenheit.
Keep the Machine Greased: Defend against moisture, dirt, rusting, and freezing by keeping points well-greased and checking grease zerks daily.
Use Biodiesel Fuel Conditioner: When temperatures drop below 41 degrees Fahrenheit, it is a good idea to start treating biodiesel fuels with John Deere Premium Biodiesel Fuel Conditioner. 
Check Other Fluids: Maintain other fluids in the machine by referring to the operator's manual for proper engine coolant and diesel engine oil requirements.

Treat Non-Winter-Grade Fuel: Consider treating non-winter-grade fuel with John Deere Premium Diesel Fuel Conditioner (winter formula) when temperatures begin to drop below 32 degrees Fahrenheit. 
Check for Water and Residue Buildup: This is an important step as condensation builds up during the winter months and could negatively impact equipment. Check for water by draining a small amount of fluid from tanks, reservoirs, and oil pans. 
Load-Test Batteries: Ensure batteries are ready to do their job before starting the engine! 
Inspect Rubber Equipment: As rubber hardens and becomes more brittle in colder temperatures, it is more prone to cracking and breaking apart in winter. Regularly check on rubber tires, tracks, hoses, and belts for signs of cracking and dry rot before beginning operations.
Check Tire Pressure: Tire pressure may change as temperatures drop, meaning operators should ensure they are adequately filled before starting any task – guidelines can be found on the sidewall of the machine. 
Account for Warm-Up Time: It is important to give the machine fluids time to warm up before operating the equipment at maximum speed. Remember, good things take time!
How Do You Remove Snow from a Gravel Driveway?
Now that you know what types of John Deere equipment are up to the task of snow removal, there comes the concern of making sure that you are doing the right thing. It's no secret that the snow removal process can sometimes cause damage if one is not careful. Although snow blowers and other equipment designed to remove snow can offer great benefits, operators should consider the following steps before jumping in headfirst. 
1. Use a Snow Blower with Skid Shoes 
As illustrated above, snow blowers are perfect for clearing out all types of spaces, including gravel driveways. By equipping a snow blower with skid shoes, the unit will leave about an inch of snow behind, eliminating the chance of gravel being picked up and processed through the implement's chute. 
2. Start at the Upwind Section of the Driveway
As snowstorms are often accompanied by heavy winds, operators should start the snow removal process from the end of the driveway that is upwind. Additionally, the chute of the snow blower should be directed downwind so that snow is not being scattered around the area that was just cleared.
3. Remove the Top Layer First 
When faced with a large accumulation of snow on the driveway's surface, raise the snow blower up off the ground a bit in order to remove the top layer. Once this step has been taken, the snow blower can be dropped back down to clear out the remaining layer of accumulation.
4. Keep the Snow Blower Clean
Once finished clearing the driveway, be sure to remove any chunks of snow that are stuck to the machine. This will eliminate the possibility of anything freezing to the equipment that could prevent it from starting and / or operating properly the next time around. Most importantly, pay close attention to the auger and impeller during this step.
This winter, don't get caught off guard by less than ideal conditions. By taking the appropriate steps and understanding what options are out there for snow removal, land and homeowners can clear their space in as little time as possible.
If you have any questions about John Deere snow removal equipment and attachments, you can contact your local John Deere dealer.
If you enjoyed this post or want to read others, feel free to connect with us on Facebook, Pinterest, or Twitter!
You might also like: