John Deere offers a variety of snow blowers, as we've explored in our snow blowers guide. For this reason, we pulled together some of the most popular articles that highlight features of the SB11 snowblower model. Take a look and see how you can start using your John Deere SB11 snow blower to your advantage!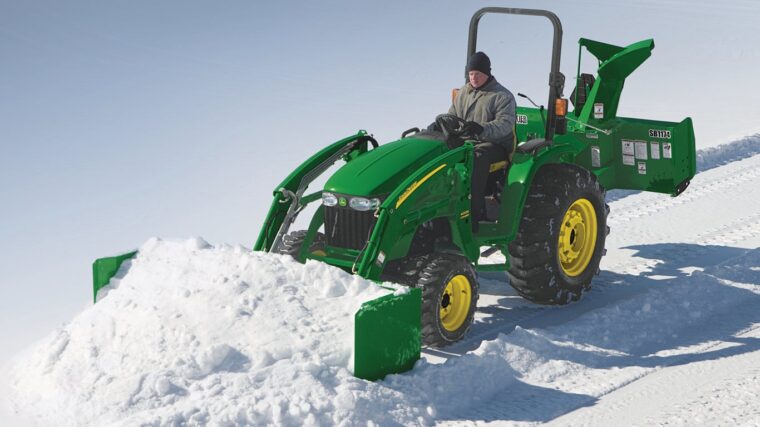 John Deere Snow Removal Equipment: 8 Attachments to Add to Your Tractor
As the weather starts to cool and the winter elements accumulate, John Deere compact and row crop utility tractor owners must check that their tractors are in an easy-to-access location. This is because these tractors, paired with John Deere snow removal equipment, such as the SB11, can be a great combination for turning massive snow removal projects into smaller tasks.
Offering 48 to 84-inch working widths, the SB11 Series Snowblower is perfect for farmsteads and other large properties. This equipment is compatible with all compact and small utility tractors that have up to 90 PTO horsepower.
How to Use a Tractor-Mounted Snowblower to Clear Some Space This Winter
John Deere tractors can be a property owner's best friend when the winter comes around. Paired with a tractor-mounted snowblower, these vehicles can be unstoppable. There are, however, some steps that should be taken by operators before, during, and after using the snowblower.
Here are some of the critical steps operators should take when using a tractor-mounted snowblower:
Hook up the snowblower in advance
Adjust the snowblower skid shoes
Adjust the snowblower's chute
Check the deflector angle
Maintain steady speed when using the snowblower
Clean out the equipment before and after use
Snow Equipment To Help You Take On The Winter
Dealing with all of the winter elements can be quite difficult. Fortunately, there are a few things landowners can do to get ahead of the game. Having the correct equipment and taking precautions allow these individuals to face winter directly.
Snowblowers can work with John Deere skid steer loaders, compact track loaders, and compact wheel loaders to maximize the versatility of these machines. John Deere has multiple snowblower models that are available to customers, including the SB11. The SB11 Series Snow Blower is perfect for farmsteads and owners with larger properties, as it works seamlessly alongside compact and smaller utility tractors.
Frontier SB11 3-Point Snowblowers for Efficient Snow Removal
When winter rolls around, no one ever wants to be caught off-guard – this means ensuring one has the proper equipment to take care of the snow. The John Deere SB11 3-point snowblowers are dependable, powerful, and perfect for landowners, meaning you'll never have to worry about taking on winter weather. They come with multiple different hitch capabilities and impeller blades that can be used for efficient snow removal.
The John Deere SB11 Series Snowblowers have a wide array of features, giving you everything you need to tackle the largest snowstorms. With different working widths as well as ample amounts of power, the John Deere SB11 makes snow cleanup a breeze.
Final Thoughts
With all the features that the SB11 Series Snowblowers have to offer, using this series of machines can help make owners less nervous about the winter. In the gallery above, you can explore all aspects of the SB11 snowblower so that you make the most of your vehicle.
If you have any questions about John Deere SB11 snowblower models, you can contact your local John Deere dealer.
If you enjoyed this post or want to read others, feel free to connect with us on Facebook, Pinterest, Twitter, or Instagram!
You might also like: