When people hear the word 'winter,' they think of the holiday season, time with family, and – often – snow. While this winter element can be enjoyable, too much of it can cause problems for home and landowners if not dealt with accordingly. That said, snow removal doesn't have to be an annoyance, so long as you have the right piece of equipment on your side, specifically a snowblower!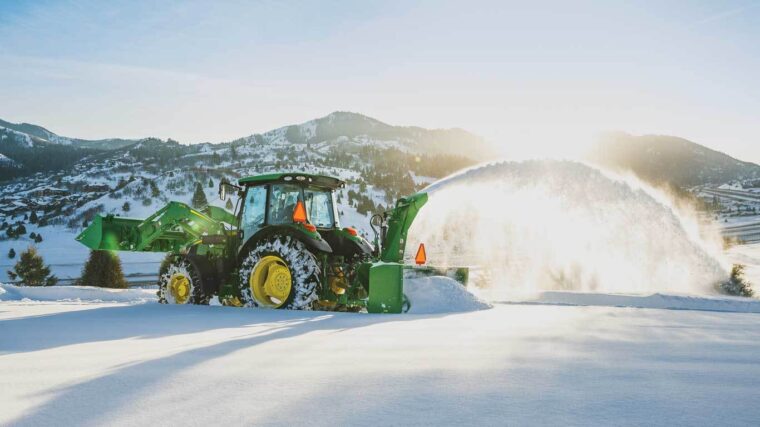 This post will outline considerations for buying a snowblower and ensure you get the most out of your purchase, whether you are getting prepared at the beginning of summer or needing something in the height of winter.
Is a Snowblower a Good Investment?
As snow piles up, it can be extremely difficult to move with a shovel alone. A snowblower allows home and landowners to take on this task with ease, throwing the snow to the side and out of the way. Similar to any landscaping task, snow removal – without the right equipment – can take a toll on your body, which can slow down the process entirely. However, while buying a snowblower can absolutely be a worthwhile investment, not all machines work for each potential scenario.
Factors to Consider Before Buying a Used Snowblower
A snowblower presents several benefits that can make operators' lives easier throughout winter. That said, one must know what to look for before making a purchase to ensure they get the most out of their equipment. Considerations include:
Typical Snow Depth
"How much snow do I normally have to shovel each year?"
This should be the first question home and landowners ask themselves when looking for a snowblower. This will help determine the required capacity of a machine – in other words, how much can the snowblower actually move?
Weight of Snow
"Is the snow light and powdery or wet and heavy?"
It's no secret that powdery snow is easier to clear than wet snow that has become compacted. When buying a snowblower, ask yourself what consistency of snow you typically see, as this will help determine the level of power that will be required to make any sort of impact come winter.
Size of Area Being Cleared
"How large of an area needs to be cleared?"
While some homeowners only need to clear a small driveway when it snows, others may need to clear a larger area, whether that be a long driveway or a driveway plus a walkway. Whatever the case may be, potential buyers should assess their personal situation to make an informed decision regarding snowblower width.
Storage Capacity
"How much space do I have to store a piece of equipment?"
This question may seem fairly unimportant and far down the list of priorities considered when deciding on which snowblower to choose. But imagine buying a snowblower and trying to use it on the first snowy day of the year just to realize that a) you cannot easily move it from the place where you originally stored it or b) you cannot put it back in its original spot. If a snowblower cannot be properly stored, there is a strong chance that it will be left outside and forced to withstand the winter elements, causing rust and other issues. When thinking about the piece of equipment that is right for you, don't forget to consider where you are actually going to be moving the snowblower in and out of, even if you only end up using it once due to a lack of snow.
Does John Deere Make Snowblowers?
John Deere entered the snow removal scene in the 1970s when it began manufacturing snowblowers. And while the company no longer produces the push-behind versions of these machines, it does offer a range of Frontier snowblower implements that can be attached to tractors to boost versatility. This includes the following.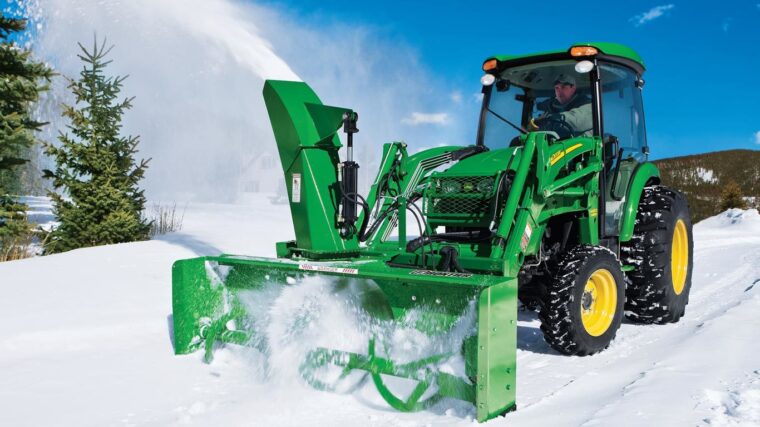 SB11 Series 3-Point Snowblowers
The Frontier SB11 Series Snowblowers are designed with a variety of features that work in sync to help tackle even the biggest snowstorms. With a range of working widths and an ample amount of power, the Frontier SB11 makes cleanup a breeze. Models in this series include:
SB12 Series 3-Point Snowblowers
The commercial-grade SB12 Series 3-Point Snowblowers are specifically designed to handle the rugged demands of contractors. Available in 74- and 80-inch working widths, these pieces of equipment offer the muscle needed to move even the heaviest piles of snow with ease. Models in this series include:
SB1274

74 in. (188.0 m)
30 – 80 hp (22.4 – 59.7 kW)
Cat. 1 and 2 hitch

SB1280

80 in. (203.2 cm)
30 – 80 hp (22.4 – 59.7 kW)
Cat. 1 and 2 hitch
SB13 Series 3-Point Snowblowers
For larger snow removal chores, the SB13 Series 3-Point Snowblowers offer an efficient way to take on big snowbanks, long driveways, and other large areas. Models in this series include:
SB1308

98 in. (248.9 cm)
100 – 150 hp (74.6 – 111.9 kW)
Cat. 2 and 3 hitch

SB1308R

98 in. (248.9 cm)
100 – 150 hp (74.6 – 111.9 kW)
Cat. 2 and 3 hitch

SB1309R

104 in. (264.2 cm)
100 – 150 hp (74.6 – 111.9 kW)
Cat. 2 and 3 hitch

SB1388

88 in. (223.5 cm)
55 – 95 hp (41.0 – 70.8 kW)
Cat. 2 hitch

SB1388R

88 in. (223.5 cm)
55 – 95 hp (41.0 – 70.8 kW)
Cat. 2 hitch

SB1392

92 in. (233.7 cm)
75 – 125 hp (55.9 – 93.2 kW)
Cat. 2 hitch

SB1392R

92 in. (233.7 cm)
75 – 125 hp (55.9 – 93.2 kW)
Cat. 2 hitch
SB21 Series Loader-Mount Snow Blower
For those who own a large piece of land, winter can bring about a significant amount of stress when one considers how they are going to clear this space after a snowstorm. But with equipment like the John Deere SB21 Series Snowblower, these individuals can rest assured knowing that they can tackle the winter elements with ease. This snowblower implement is available in a 64-inch model, which pairs perfectly with the John Deere 3 Family Tractor, or a 76-inch model, which is compatible with the John Deere 4 Family Tractor. Models in this series include:
SB2164

64 in. (162.6 cm)
25-34 hp (18.6-25.4 kW)
300 Series Loader

SB2176

76 in. (193.0 cm)
25-34 hp (18.6-25.4 kW)
400 Series Loader
How to Properly Store a Snowblower
Now that you've found the perfect snowblower, it's time to learn how to take care of it. And while snowblower storage may seem as simple as just putting the machinery in an enclosed space, it actually requires more planning and consideration.
Clean the Implement with a High-Pressure Washer: This will help remove any dirt buildup that accumulated when the equipment was in use.

Protect Scratched Areas to Prevent Rust: Scratched-up areas should be protected to prevent rust – this can be accomplished with wax or paint to mitigate further damage.

Lubricate Moving Parts: This step should include checking all grease points.

Store in an Enclosed Shed or Under a Tarp: This is crucial to protecting equipment from the element.
Take on Winter with a Used Snowblower
Similar to buying a used car, buying a used snowblower requires some extra research to ensure you are still getting a quality piece of equipment even though you are paying less than you would for something that is brand new. By considering the tips above and checking out the implement in-person before purchasing, if possible, you can set yourself up to spend more time enjoying the holiday season and less time figuring out how to clear snow.
If you have any questions about John Deere used snowblowers, you can contact your local John Deere dealer.
If you enjoyed this post or want to read others, feel free to connect with us on Facebook, Pinterest, Twitter, or Instagram!
You might also like: