As the longest and coldest winter days approach and the snow begins to fall, it's time to rev up the engine on your John Deere riding mower. While these pieces of equipment are ideal for the warmer months performing lawn-care duties and tackling yard-work tasks, they can quickly become a residential home owner's best friend, clearing areas that may quickly be inundated by snowfall.
So, as fall comes to a close, the grass has been cut, and the leaves have been removed from the yard, be sure to keep your John Deere riding mower in a spot where it can be easily accessed, as it's only a snow plow attachment away from being a snow removal workhorse during even the toughest conditions. These snow removal and snow plow attachments may include any of the following:
Basic Snow Blade for Plowing:

Snow blade attachments are similar to

snow plows

on trucks, but are perfect for clearing medium amounts of snowfall.

Markers

: Heavy snow can make it hard to see the edges of your snow blade when plowing. Adding markers to your blade will make it easier to see the edges and remain in control of your blade, especially when using it as a snow plow.

Poly Wear Bars:

Attaching a wear bar allows operators to plow snow with confidence.

Deflector Shield:

Snow can climb up over the snow plow and into the windshield without a deflector shield.

Rubber Squeegees:

Adding squeegees to Gator blades make it easier to plow snow from fragile surfaces which could be damaged from the composition of a metal blade.

Skid Shoes:

Cast-iron shoes let operators utilize the machine with three times the wear resistance that standard steel shoes provide.

Lawn Tractor Snow Blower:

These snow blowers are perfect for landowners in all regions where snow and plowing may be a problem.

Quick-Hitch Snow Blowers:

Similar to other snow blowers, this attachment is a perfect solution for homeowners.

Brooms: Another snow removal attachment is a snow broom. John Deere snow brooms have many features that are great for homeowners.
Take a look at these ten pictures of John Deere mowers doing what they do best: Clearing the way for operators that need to remove and plow snow from the surface efficiently and comfortably.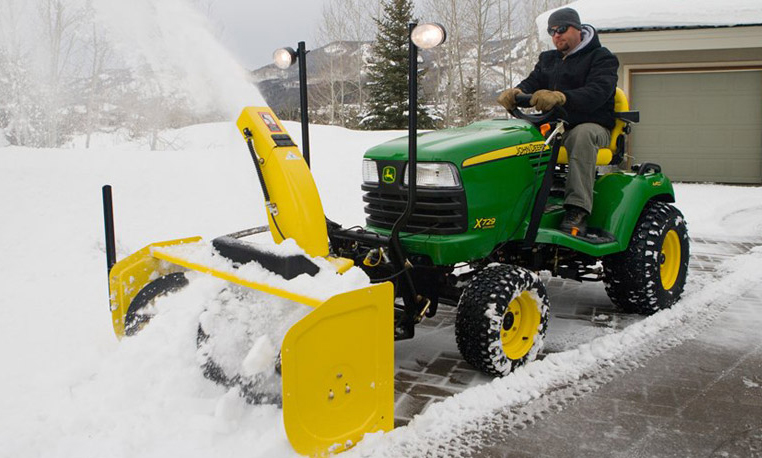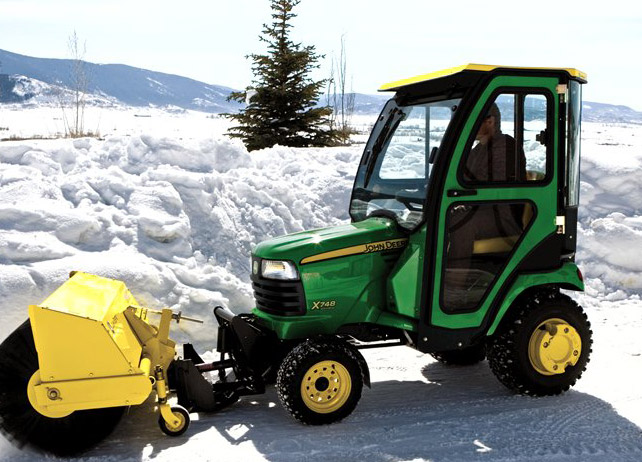 We hope these images have served as a reminder of how helpful John Deere riding mowers can be when snow plows are needed this winter. John Deere riding mowers are not only efficient pieces of equipment for work around the house in the warmer months, so be sure to keep your mower in a safe, easy-to-access location this winter.
If you enjoyed this post or want to read others, feel free to connect with us on Facebook, Pinterest, Twitter, or Instagram!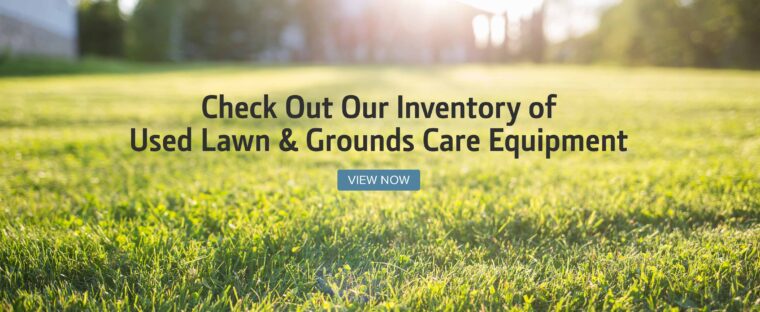 You might also like: