When temperatures drop, it typically isn't long before the ground is covered in snow; however, John Deere has many snow attachments for your lawn mower that can make winter easier. For those that get snow, sleet, and ice during the winter, there is an irreplaceable value to equipment that keeps us going. John Deere has all the winter equipment and accessories you need to help you achieve necessary tasks despite the weather conditions.
Ready to experience the power and precision of John Deere machinery? Contact your local John Deere dealer today!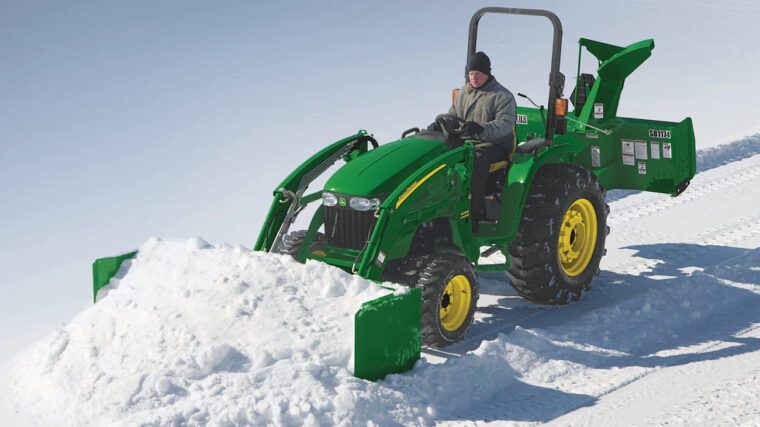 What are John Deere Lawn Mowers?
Used lawn mowers help you tackle different jobs that range from gardening projects to snow removal, so you can get your yard looking just the way you want. With different attachments for winter, you can remove snow and more. Since John Deere has such a long history of producing riding mowers, they have introduced hundreds of different models that each play a role in the evolution of their lawn and garden equipment.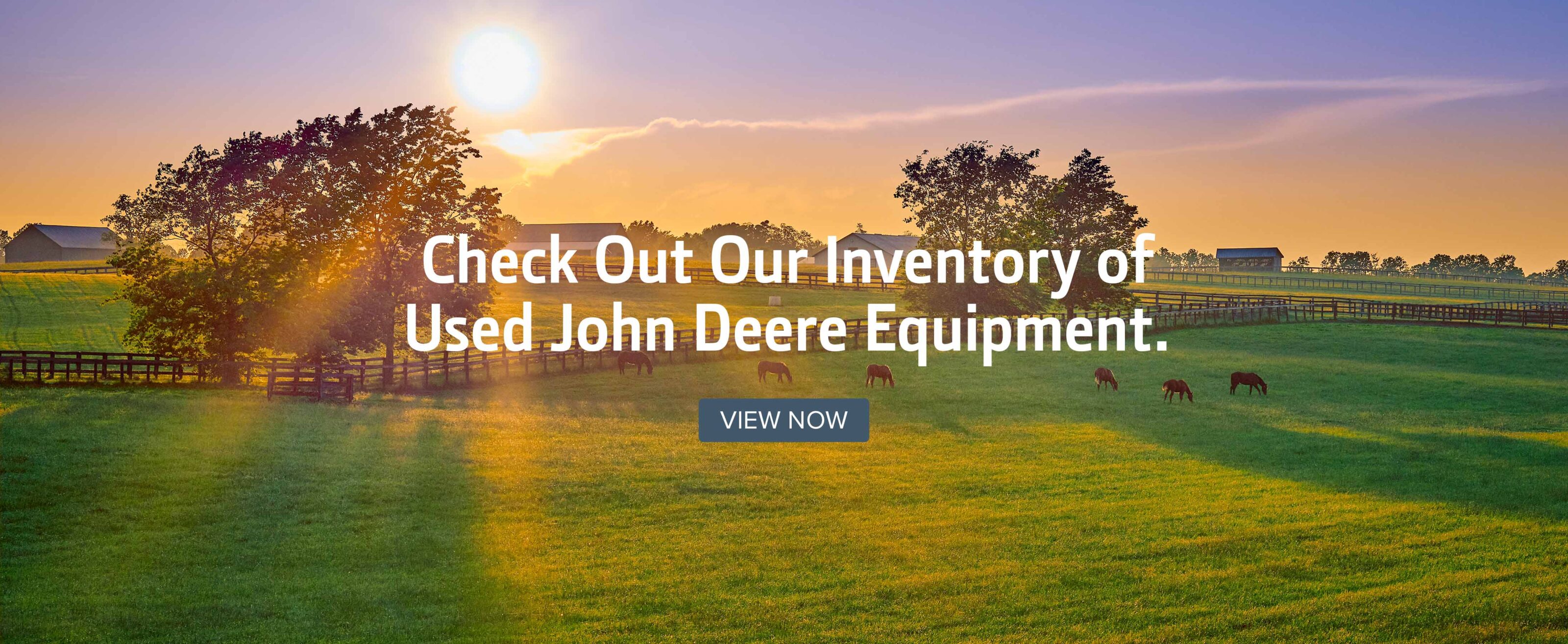 What are John Deere Snow Attachments for Lawn Tractors?
When long, cold winter days approach, it is time to start up your John Deere riding mower. While lawn mowers are pieces of equipment ideal for warmer months, they can also be used during the winter to clear areas that may quickly be inundated by snowfall. They are known for performing difficult lawn-care duties as well as tackling yard-work tasks and can quickly become a homeowner's best friend.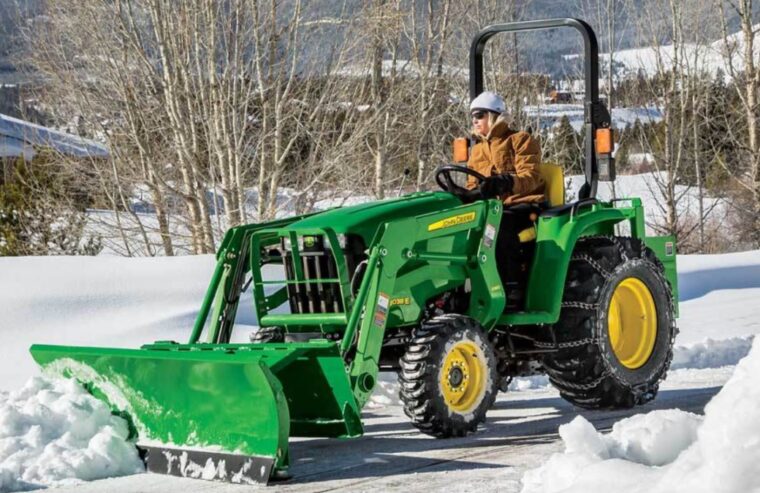 Basic Snow Blade for Plowing
Snow blade attachments can be compared to snow plows that are used on trucks; however, they are perfect for also clearing medium amounts of snow. A snow blade attachment for a riding mower has blades with a 30-degree angle to the left and the right, so you can easily relocate snow away from smaller areas, such as driveways and sidewalks.
Markers
Heavy snowfall makes it difficult to see the different edges of your snow blade when you're plowing. Adding markers to your blade makes it easier to see those edges so you can remain in control of your blade, especially when you're using it to plow snow.
Buckets
John Deere bucket attachments help with plowing driveways and sidewalks, making them a simple task. John Deere buckets are beneficial because they can be used for many purposes in addition to snow removal. That way, you can make sure to get a job done without putting any physical strain on yourself.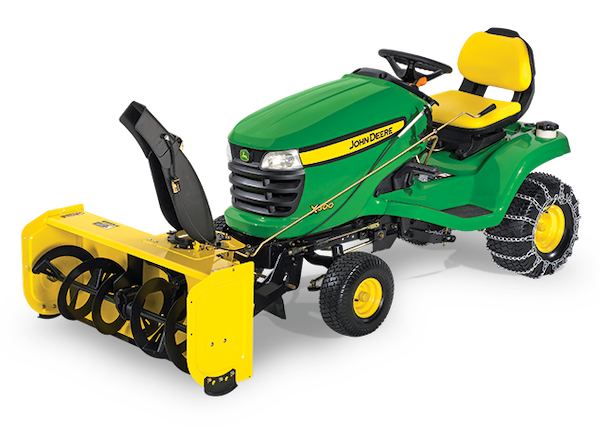 Poly Wear Bars
Attaching a poly wear bar lets operators plow snow with confidence. This bar also makes sure you will not damage equipment when it comes to road or land obstacles. It is highly flexible, has an extended work life, and is non-damaging to surfaces.
Deflector Shield
Unfortunately, snow can climb over the snow plow and onto the windshield if you do not have a deflector shield. Operators who deal with large amounts of snow should consider utilizing this attachment in order to keep their view clear.
Rubber Squeegees
Adding a squeegee to your snow blades makes it easier to plow snow from fragile surfaces. This rubber squeegee is made to clean wet and slushy snow without causing damage. If a metal blade is used, it can cause scratches to the driveway surface.
Skid Shoes
Cast-iron skid shoes allow operators to utilize the machine with three times the wear resistance that steel skid shoes provide. If you have attached a blade or snow blower to your lawn tractor, you may want to consider adding skid shoes. For front snow blades, adjustable skid shoes allow the driver to set the blading height in order to match the task at hand. They can be adjusted to eight different heights.
Lawn Tractor Snow Blower
Lawn tractor snow blowers are perfect for landowners in areas where snow and plowing are a problem. This snow blower can cut through all kinds of heavy snow and ice while blowing it 45 feet away. Similar to the broom, this snow blower has a deflector that ensures snow won't be thrown into your face.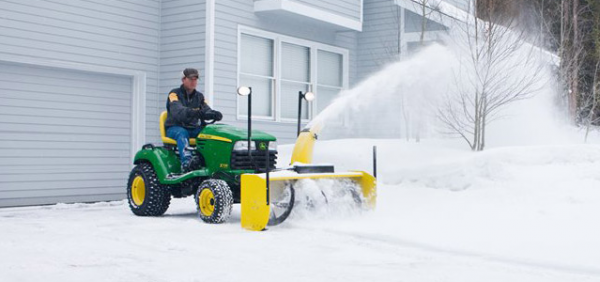 Brooms
Another common winter attachment is a snow broom. John Deere snow brooms have different features which are great for homeowners. The broom attachment is beneficial because it helps shovel a light dusting of snow when a snow plow or blower might be too much. John Deere brooms attach easily to machines, turning them into an instant help.
Additional John Deere Snow Equipment
If you're thinking about winter and how to tackle the snow, John Deere has a large number of attachments that help you with the tasks at hand. They also have many machines, such as snow pushers, snow blades, and weather enclosures. Let's take a look at these other pieces of equipment and how they can help you.
John Deere Snow Pushers
When sidewalks are frozen, it may not be the best idea to use a snow blower. Alternatively, John Deere offers snow pushers because they are capable of pushing large amounts of snow off of messy sidewalks, parking lots, and even driveways. The SP8C and SP10C snow pushers are necessary for efficiently removing large amounts of snow.
John Deere Snow Blowers
John Deere has a few snow blower models that are available to customers, which include the SB60B, SB72B, SB72H, SB84B, SB78H, SB78B, and SB84H. The flow types range from Standard to High, while also having cutting widths that range from 60 to 84 inches.
Snow/Utility Blades
John Deere also offers the BL6B, BL9B, BL8B, BL7B, and BL10B snow blades for productivity when it comes to snow removal. These blades oscillate five degrees to the left and right. Each of these snow blades works with different machines, such as the John Deere D-Series Skid Steers, the Compact Track Loaders, and even the 110 Tractor Loader Backhoe.
Snow/Utility V-Blades
The BV6, BV8, and BV9 versions of the snow and utility V-blades can hydraulically angle into four different positions. Their electrohydraulic valves let the independent blade function from the cab. These blades work with John Deere G-Series Skid Steer Loaders, as well as Compact Track Loaders, and even L-Series Compact Wheel Loaders.
Weather Enclosures
When winter weather is on the horizon, John Deere equipment owners and operators will want to think about different ways to transform their equipment. Adding alternate forms of equipment to mowers allows owners to remain productive each day of the year. Here are some of the different forms of weather enclosures you can use:
Hard-Sided Cabs: Hard-sided cabs, also known as weather enclosures, can be attached to X-Series Tractors. They come standard with seat belts to provide operators with more safety. When this cab is added to your vehicle, it looks like it is a part of the machine because of its molded body panels. The doors and windows are also sealed so that the cab is kept quiet and warm.
Soft-Sided Cabs: Soft-sided cabs also come standard with seat belts, and are compatible with X-Series Tractors. These doors are made from steel, with windows made of vinyl. The handles for the doors can be key locked, making sure operators have peace of mind leaving their cab.
Soft Weather Enclosure: Soft weather enclosures are also available and built for quick installment. The frame is made of steel, and the roof is made from plastic, which lets it protect operators from harsh winter elements.
Frequently Asked Questions about Snow Attachments
What is a Snow Blade?
A snow blade is an attachment that is used for the front of a vehicle to provide a clean scrape of snow from flat surfaces. It also usually has multidirectional functionality. This means it is very efficient when it comes to moving snow and directing it into a wide open space.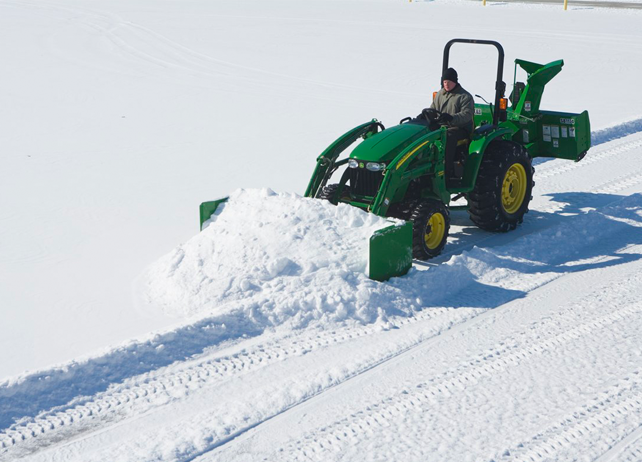 What Are Snow Blades Used For?
A snow blade is a piece of equipment that is used as an alternative to snow pushers or snow buckets. Since it can be adjusted directionally, it is ideal for situations where snow must be moved to specific areas. It can be more efficient since it maintains contact with the snow's surface.
What is the Difference Between a Snow Blade and a Snow Pusher?
A snow blade easily moves snow in various directions, whereas a snow pusher has trouble shifting snow off to the side. It typically plows only in one direction. That said, snow pushers have sidewalls, which keep snow more contained when straight plowing.
What is a Snow Pusher?
Snow pushers are used to move snow by pushing it straight forward. They are constructed with a curved moldboard that lies perpendicular to the travel direction and a sidewall on either end that keeps the snow contained.
Is a Snow Pusher Better than a Snow Plow?
In many cases, operators who use skid steer, backhoe, or wheel loaders with angled snow plows typically outperform snow pushers when it comes to efficiency.
Is a Snow Pusher Better than a Tractor Bucket?
You'll want to go with a bucket in wet snow on softer surfaces because the elongated bottom will skim better than a pusher. If snow conditions are drier and the surface of your driveway or lot is solid, using a pusher is recommended.
Is Plowing Snow Hard on a Tractor?
It's important to make sure you don't push your tractor too quickly. If the snow is very deep, it is probably better to make multiple passes instead of trying to get all the snow cleared in one pass. Plowing can be difficult on your tractor – especially for the transmission.
What Speed Should You Plow Snow?
Snow plows have to go around 35 miles per hour in order to do a proper job. This slow speed might make you impatient as a driver, but you'll need to drive at a safe distance behind them. Snowplows may need to stop or swerve abruptly in order to avoid obstacles.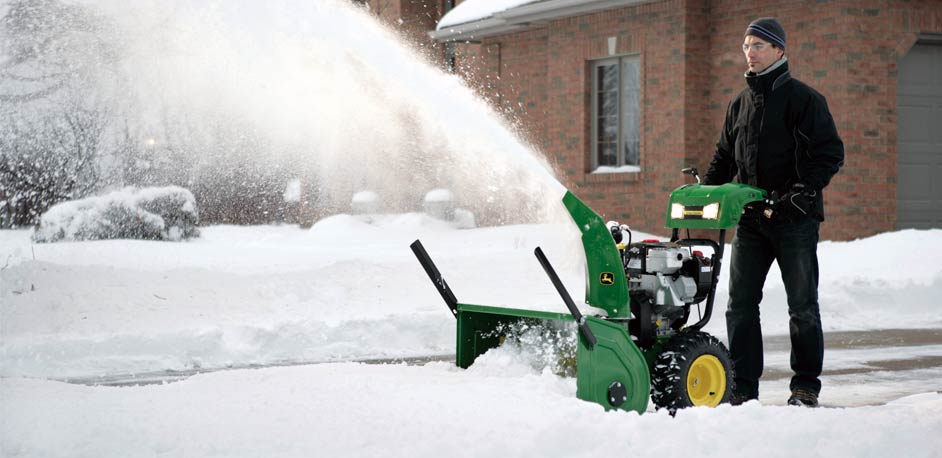 Can a Lawn Mower be Used as a Snow Blower?
Clearing snow can be exhausting if you're trying to do it with a shovel. That said, clearing knee-high amounts of snow can be easy when you are using a riding lawn mower. By converting a lawn tractor into a snow blower, you can clear snow away without putting in much effort.
Can you Turn a Riding Lawn Mower into a Snow Blower?
If you already own a riding lawn or garden tractor, you can definitely add a snow blower attachment to it. This allows you to use your lawn tractor for multiple purposes while letting its powerful engine do the work.
Final Thoughts
As we've seen, John Deere lawn mowers have a wide range of features, which make it a simple and easy-to-use machine for winter. If you have any questions about John Deere backhoes or would like to know more about how you can get your own, you can contact your local John Deere dealer.
If you enjoyed this post or want to read others, feel free to connect with us on Facebook, Pinterest, Twitter, or Instagram!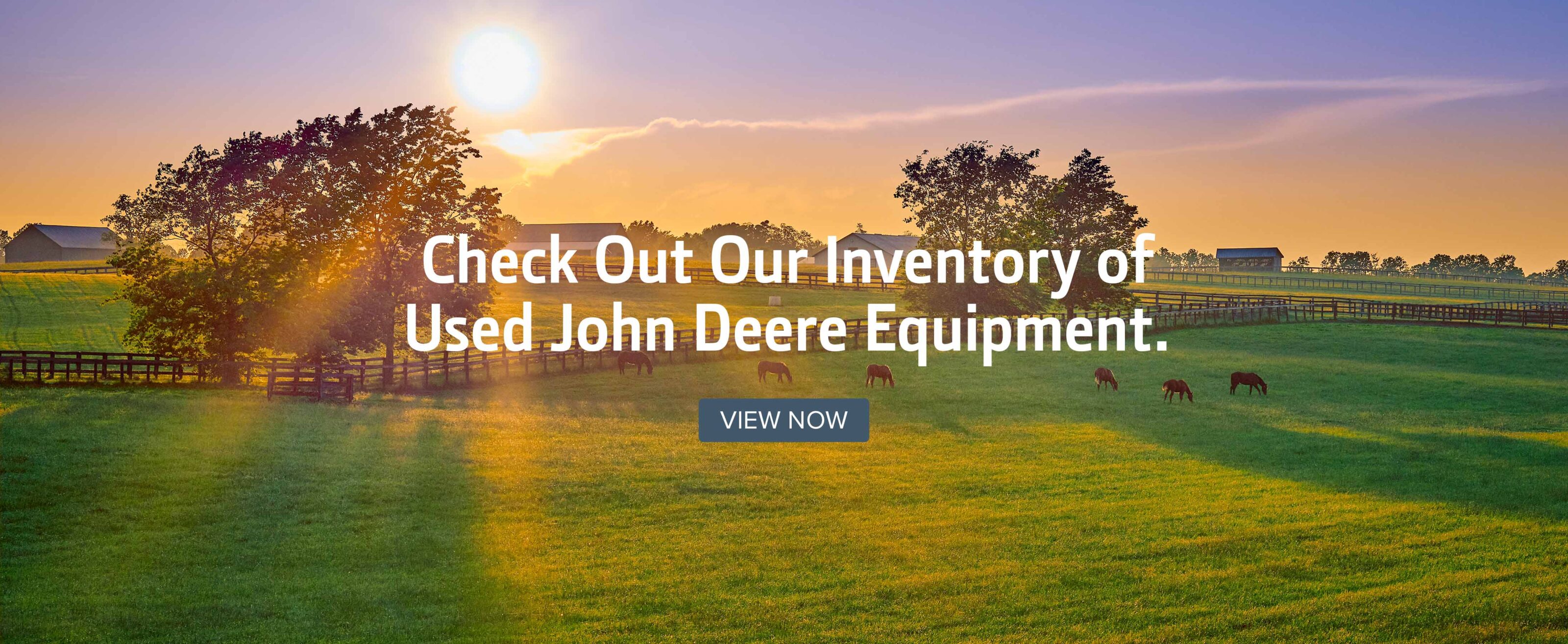 You might also like: