It's hard to believe that the fall season is already approaching. As the summer winds down, it's important for homeowners to start turning their attention to what types of equipment they will need for the fall. With that in mind, we have outlined a list of seven John Deere riding mower attachments that can be easily added to make life easier.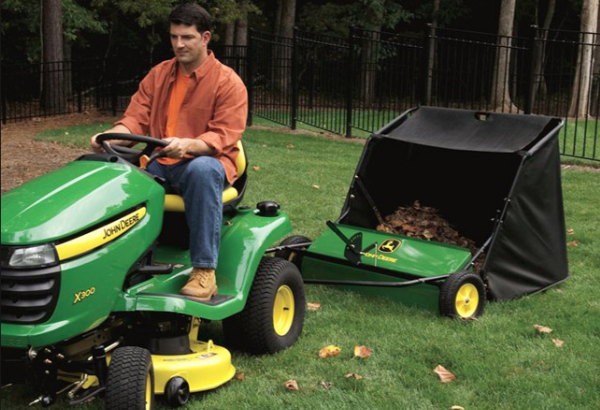 Without any further delay, let's take a look at this list:
1. Striping Kit: Many John Deere riding mower owners want to keep their lawn looking fresh all the way up until winter arrives. With this in mind, John Deere offers a flexible, long-lasting and non-weight bearing lawn striping kit that makes it a great option for pattern mowing.
2. Material Collection System: All current John Deere riding mower owners can add a material collection system to their equipment. This attachment will serve as an extremely helpful aid when picking up that layer of leaves that gathers on the green grass come fall.
3. Lawn Sweeper: The winds of the fall season can blow all kinds of things around the neighborhood and onto your lawn. To help combat this issue, John Deere offers lawn sweeper attachments for its mowers that have a high tip velocity to provide more force and to easily lift some of the smallest objects off the ground and into the bagging system.
4. Front Brush Guard: There's a chance you could encounter some bumps along the way when taking on fall cleanup projects. The front brush guard will not only protect your equipment from dings and bumps, it will also give your riding mower an aggressive and distinctive look.
5. Sun Canopy: The sun can still be fairly strong in some parts of the country when fall rolls in. Operators that want to stay protected from the rays can add this sun shade and stay cool all day long.
6. Front Blades: Whether you're working with gravel or looking to move other loose materials around the lawn, adding any front blade option to your riding mower will allow you to push with ease. The blade surfaces are curved to roll along the ground.
7. Riding Mower Covers: When the day or season's work is done and it's time to put the riding mower away, don't forget to toss on a standard or deluxe cover. These all-season covers have vents to prevent the cover from inflating with air from wind as well as an elastic cord to hold it in place.
This list is just a quick look at a few of the many John Deere riding mower attachments available to customers. Adding any (or all) of these attachments to your mower will make you more prepared to take on fall projects than ever before.
If you enjoyed this post or want to read others, feel free to connect with us on Facebook, Twitter or Google+!
You might also like: