With the fall season in full swing, it's important for homeowners to start turning their attention to what types of equipment they will need for the fall (and after that, the winter!). With that in mind, we have outlined a list of 7 John Deere riding mower attachments that can be easily added to make life easier.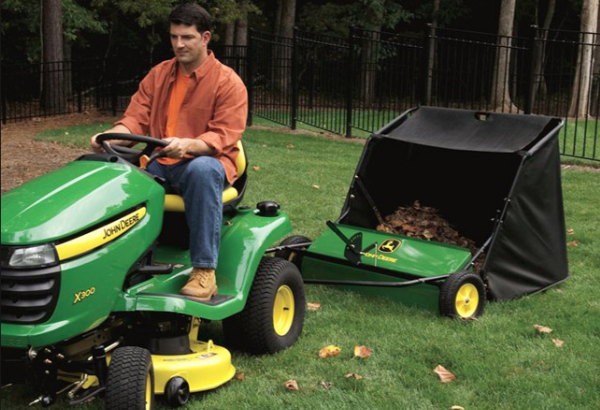 What is a Riding Mower Attachment?
A riding mower attachment is a tool or implement which can be hitched or attached to a John Deere riding mower, such as a blade, sweeper, or material collection system. Each type of attachment can help an operator perform tasks other than mowing. This makes the riding mower more than just a mower, but also a multi-purpose machine that can help accomplish many kinds of tasks around the yard and farm.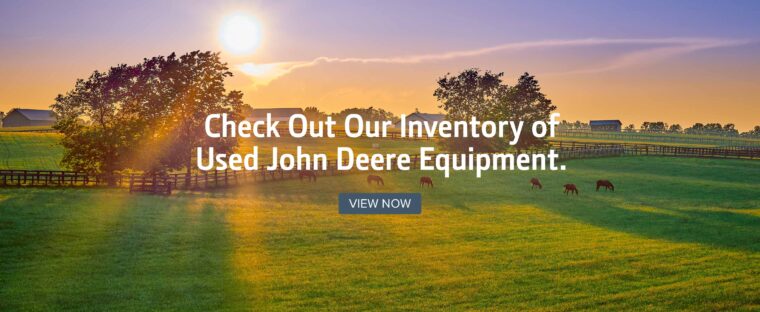 What Are the Different Kinds of John Deere Riding Mower Attachments for Fall?
While there are many useful varieties of John Deere riding mower attachments, the 7 types of attachments outlined below are among the most essential for completing your fall chores quickly and easily. Let's take a closer look at the features and uses of these 7 popular types of John Deere riding mower attachments: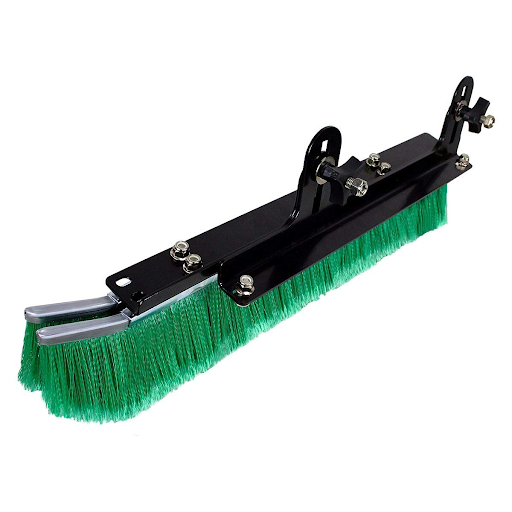 1. Striping Kit
Many John Deere riding mower owners want to keep their lawn looking fresh all the way up until winter arrives. With this in mind, John Deere offers a flexible, long-lasting, and non-weight bearing lawn striping kit that makes it a great option for pattern mowing during the fall and all year round.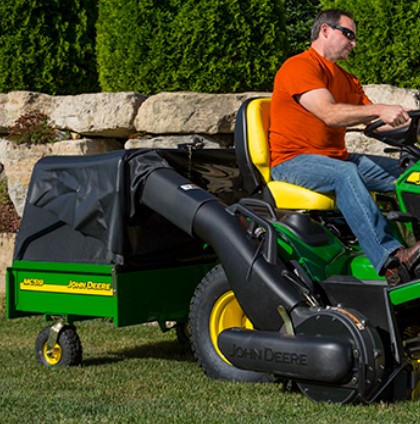 2. Material Collection System
All current John Deere riding mower owners can add a material collection system to their machine. This attachment will serve as an extremely helpful aid when picking up that layer of leaves that gathers on the green grass come fall.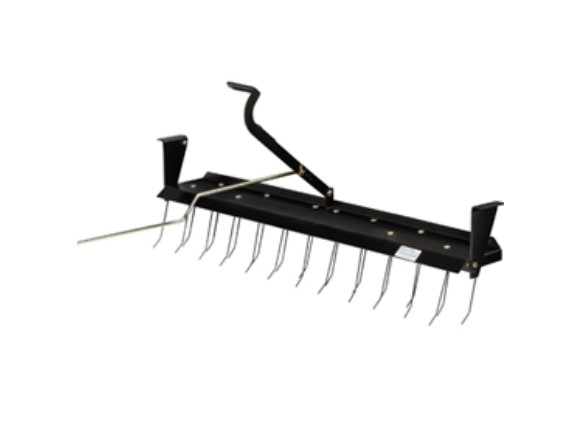 3. Lawn Sweeper
The winds of the fall season can blow all kinds of things around the neighborhood and onto your lawn. To help combat this issue, John Deere offers lawn sweeper attachments for its mowers that have a high tip velocity to provide more force and to easily lift some of the smallest objects off the ground and into the bagging system.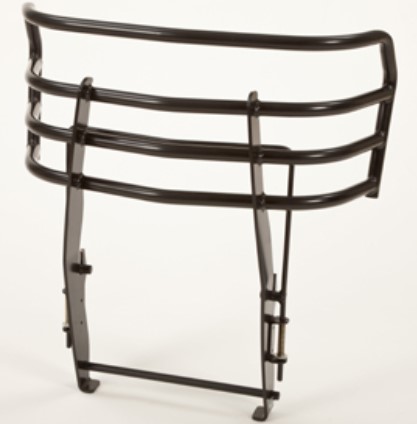 4. Front Brush Guard
There's a chance you could encounter some bumps along the way when taking on fall cleanup projects. The front brush guard will not only protect your equipment from dings and bumps, but it will also give your riding mower an aggressive and distinctive look.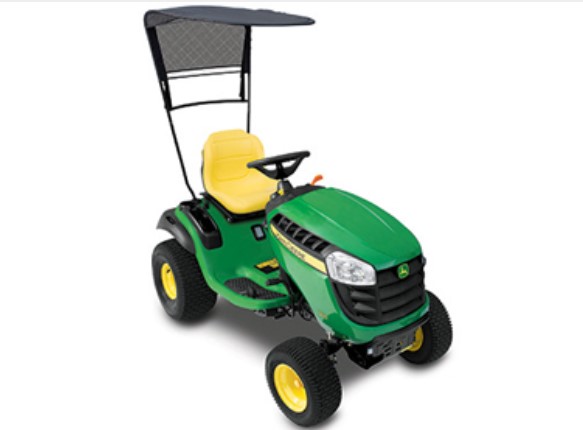 5. Sun Canopy
The sun can still be strong in some parts of the country when fall rolls in. Operators that want to stay protected from the rays can add this sun canopy to their John Deere riding mower and stay cool all day long.
6. Front Blades
Whether you're working with gravel or looking to move other loose materials around the lawn, adding a front blade option to your John Deere riding mower will allow you to push with ease. The blade surfaces are curved to roll along the ground.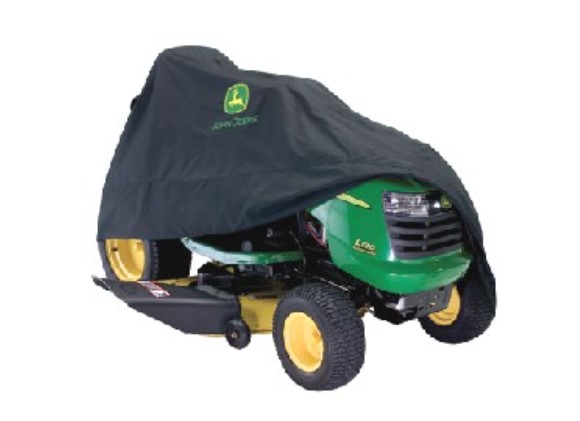 7. Riding Mower Covers
When the day or season's work is done and it's time to put your John Deere riding mower away, don't forget to toss on a standard or deluxe cover. These all-season covers have vents to prevent the cover from inflating in the wind as well as an elastic cord to hold it in place.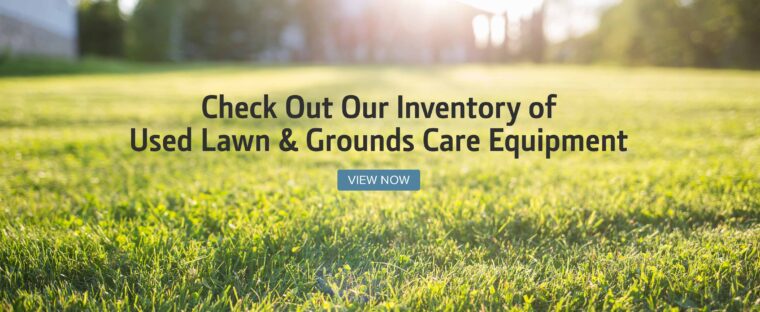 Commonly Asked Questions About Riding Mower Attachments
With all the options for John Deere riding mower attachments, some riding mower owners might wonder where to start or what attachments would be best for them. Fortunately, we've put together a list of common questions to help you pick the best John Deere riding mower attachment quickly and easily.
What Attachments Can You Put On a Riding Lawn Mower?
John Deere riding mower attachments range from the obvious, such as a striping kit for pattern mowing, to the surprising, such as snowblowers. This wide range of options for your John Deere riding mower ensures that you get optimal use out of your riding mower not just during the spring and summer months, but all year round.
What Can I Do With a Riding Mower?
While you might think a riding mower is limited to just mowing grass and weeds, that's not the case anymore! With the wide range of John Deere riding mower attachments available to John Deere customers, operators can do everything from leveling gravel driveways to snow removal to collecting fallen leaves and debris from your lawn. The possibilities are endless with a John Deere riding mower on your side!
Do Riding Mowers Have Attachments?
Yes, they certainly do! Thanks to the broad selection of John Deere riding mower attachments available to operators, you can now take on tasks that range from mowing and pattern mowing to hauling, spreading, leveling, and snow removal. With the right attachments, your John Deere riding mower just might turn out to be the most versatile piece of machinery you own.
Can You Attach a Plow to a Riding Mower?
When it comes to plowing snow as the weather turns frosty, your John Deere riding mower has you covered! You can attach either a snow plow or a snowblower to your riding mower and clear a path anywhere you need to on your land, even in deep, thick snow.
Final Thoughts
This list is just a quick look at a few of the many John Deere riding mower attachments available to customers. Adding any (or all) of these attachments to your mower will make you more prepared to take on fall projects than ever before.
For more information relating to riding mower attachments and John Deere's riding mower selection, contact your local John Deere dealer.
If you enjoyed this post or want to read others, feel free to connect with us on Facebook, Pinterest, Twitter, or Instagram!
You might also like: