When the snow starts falling, you know you can rely on John Deere equipment to help you take care of the cleanup once the storm is over. There is a wide array of attachments and machines to choose from, regardless of the size of the job.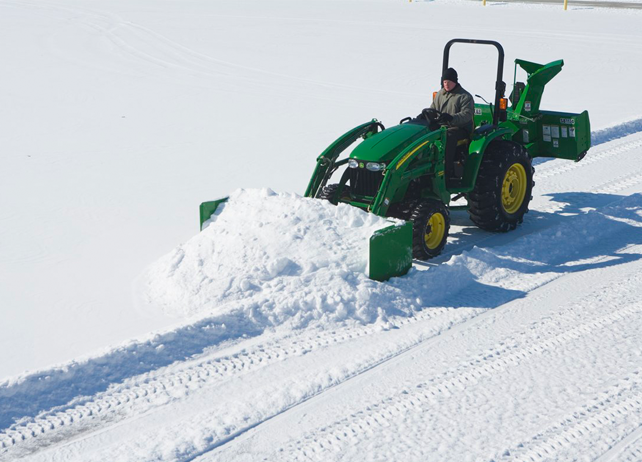 Here are some snow removal tips you can keep in mind as you prepare for cleanup with a front blade, rear blade and materials bucket.
Insert the loader carrier into the top hangers on the front blade, then lift and roll back the carrier. The front blade should fall into place.
Insert the locking pins to securely fasten the attachment.
Your front blade will offer five angled positions for moving snow. It can be easily adjusted with the pin-and-clip system. The trip edge feature protects the blade, the loader, and the tractor if the blade edge comes into contact with an obstacle.
Be mindful of your plow guides, which let you know where the outside edges of your blade meet the snow.
Use skid shoes to protect the reversible cutting edge of your blade if you're working on a gravel surface.
When using the rear blade, use the pin-and-clip system to adjust the angle. The blade can be pivoted 360 degrees if necessary.
Offset the blade up to 12 inches to the left or right if you're clearing a soft shoulder.
Attach the Frontier broadcast spreader to your three-point hitch if you are tackling ice. This spreader can be used to lay ice melt and sand over slick areas. Its polyethylene and stainless steel construction are durable enough to handle the material, as well as the elements.
Use the optional PVC cover with the Frontier broadcast spreader to keep salt, sand, and ice melt moisture-free.
Control the output with the feed rate lever, located within the cab of the machine.
With a front blade, rear blade and materials bucket, moving snow is a breeze. A Frontier broadcast spreader is perfect for handling icy spots and adequately covering terrain with salt and sand. It's the combination of Deere equipment that can revolutionize the way you handle snowfall and ultimately improve productivity on the job.
If you have any questions about snow removal tips or your particular attachments, visit the John Deere Tips Notebook site for more info or contact your local John Deere dealer with questions.
If you enjoyed this post or want to read others, feel free to connect with us on Facebook, Twitter or Google+!
You might also like: