John Deere is known for its reliable machines and the efficiency it provides its customers out in the field, but have you ever thought about the people behind the name? John Deere employees span across more than 30 countries, providing valuable input based on individual experiences and backgrounds.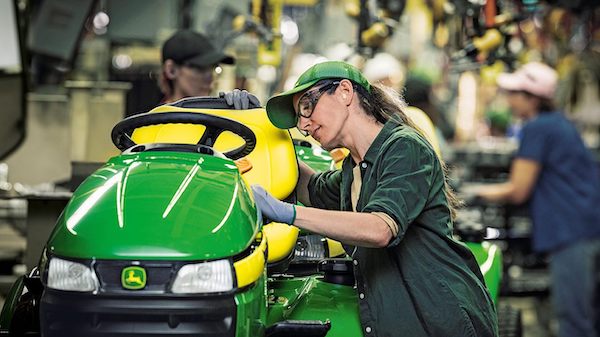 In 2019, John Deere was named one of the "Best Places to Work" by Glassdoor. In the past, it has won awards such as the Society of Women Engineers Prism Award, Company of the Year from the Society of Hispanic Professional Engineers, and 50 Best Places to Work in the U.S. by Indeed.com.
"I have been employed with John Deere for 18 years," says Chris, a supply council-manager with Deere. "I have spent over 15 years recruiting various universities and national conventions. I enjoy sharing with our students all the opportunities available at John Deere and the impact our company has on society."
John Deere also prides itself on diversity – no matter what race, religion, gender, age, disability or sexual orientation employees are, they are welcomed at the company. This is just one of the many reasons why workers choose to come to Deere to jump-start their careers.
Citalli Rincon, a product engineer at Deere, is just one example of an employee who has found the perfect niche for herself at the company.
"Every time I touch a component, I think about how my customer is going to be using the product," she says.
Her job involves solving any issues on the operation station that happens after the product has been put into production.
"It makes a difference when we try to deliver the best product available for the customer," she says.
Labor Foreman Michael Sharp is tasked with making sure his team builds quality machines before they are shipped out to the customers.
"Before it gets off to the customer, we want to make sure that the tractor that comes off the line is 100 percent perfect," he says.
Deere employees pride themselves on the work they do, which means that each machine is not complete until it passes their highest standards.
If you have any questions about John Deere equipment, you can contact your local John Deere dealer.
If you enjoyed this post or want to read others, feel free to connect with us on Facebook, Pinterest, or Twitter!
You might also like: