John Deere has a strong relationship with the PGA Tour, and for good reason. With John Deere golf quipment, the PGA Tour is able to ensure that its fairways, roughs, and greens are all properly maintained out on the course for the world's best players. "This sponsorship has significant impact in many important areas for John Deere," said James Field, president, Worldwide Agriculture and Turf Division. "The agreement helps our company sell equipment, build relationships with customers and dealers, and promote the John Deere brand worldwide."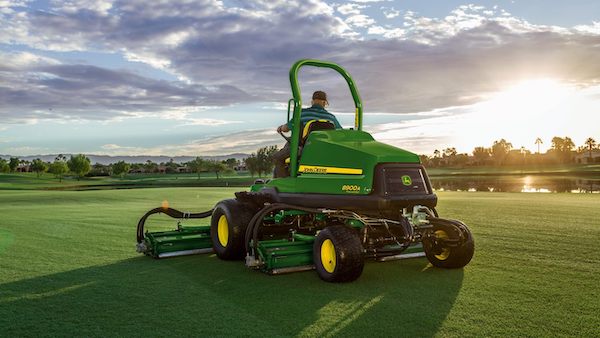 Additionally, hundreds of community organizations have benefited from the contributions made through the John Deere Classic, one of the most anticipated championships of the year. Recently, Deere announced that it will continue its role as title sponsor of professional golf through 2023. This extension includes the continuation of the John Deere Classic and multiple designations for John Deere in the PGA Tour's official marketing partner program.
"The Board of Directors for the John Deere Classic are thankful for the tremendous support provided by Deere & Company," said tournament director Clair Peterson. "We want to provide not only great sports competition but also an event which the community can be proud of, be involved in, gain benefit from and support as a spectator or volunteer."
TPC Scottsdale Preparation
John Deere played a role in the preparation of the course for the TPC Scottsdale in a big way. As Director of Golf Course Operations Blake Meentemeyer explains, the work began in the fall with the arrival of equipment.
"Our team consists of 55 individuals right now," he said. "We'll add another 35 professional superintendents from all over the world, so we'll have about 90 folks here that will help us mow out all the services and prep the golf course both day, morning, and night during tournament week."
As Meentemeyer goes onto explain, Deere is on hand whenever a change in equipment is needed, meaning everything goes off without a hitch.
John Deere 9009A: An Overview
One of the pieces of equipment used out on the course is the John Deere 9009A. The five gang, 27-inch independent rotary deck mower has a nine-foot cutting width for all-day productivity.
"The 9009A was designed with our customer's needs for productivity and cut quality in mind," said Tracy Lanier, Manager, Product Marketing, John Deere Golf. "It's this customer-driven approach to product design that inspired many of the advancements featured in this machine and the entire A Model line, and we're honored to be recognized."
For more information about John Deere golf and other types of equipment, you can contact your local John Deere dealer.
If you enjoyed this post or want to read others, feel free to connect with us on Facebook, Pinterest, or Twitter!
You might also like: