Just because you don't have a commercial lot doesn't mean you can't enjoy a commercial-grade zero-turn mower from John Deere. The company has launched its new Z700 Series mowers for the residential market, bringing commercial quality and comfort to homeowners.
"Homeowners with large properties need durable, easy-to-use machines that also keep them comfortable throughout long mowing sessions," said Kim Ridel, tactical marketing manager, John Deere. "The new Z700 Series hits the mark for these customers with commercial-grade construction, an integrated park brake, and an adjustable foot platform."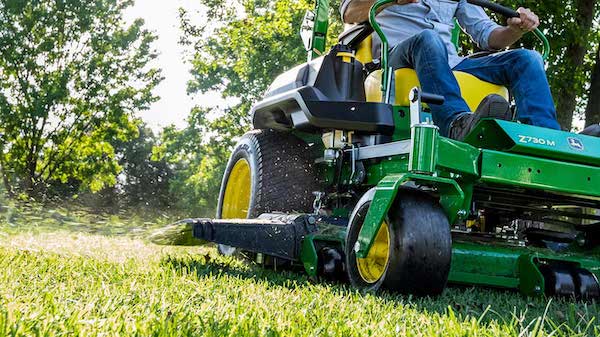 Let's take a look at the features of the Z700 Series mowers and how these pieces of equipment can help customers maintain their lawns like the pros.
Heavy-Duty Design
Each of the Z700 Series mowers has a heavy-duty design with the purpose of delivering strength and durability. The rear frame also provides support and protection for the engine, giving operators peace of mind.
Caster Wheels
Large front caster wheels on these machines provide a smooth ride and a level cut. The rear wheels of the Z700 Series mowers have high-quality tread and optimum size for superior traction.
Adjustable Foot Platform
The adjustable foot platforms on the Z700 Series mowers can be placed in three positions to accommodate different size operators. The platform is also large in size, allowing for a wide range of foot positions.
V-twin Engine
Each of these mowers comes with a smooth, powerful professional-grade V-twin engine for ultimate performance and long life. The V-twin cylinder design allows for quick starts and smooth operation. It also has a full-pressure lubrication system and an engine oil cooler, which reduces oil temperature, improves lubrication and extends oil change intervals.
Transmission
Depending on the model, the Z700 Series mowers can travel between 8 and 10 miles per hour. This maximizes mowing efficiency, and the dual transmission design gives operators both forward and reverse steering capabilities.
Operator Station
The operator station of each mower is entirely adjustable for superior comfort. They come with adjustable foot platforms, seat positions, armrests, and motion-control levers.
Fuel Capacity
Every Z700 Series mower has at least an 8-gallon fuel capacity, which reduces the time needed for refills. There is also a sight gauge on the tank, which quickly and easily gives operators an idea of how much fuel they have left on the go.
If you have any questions about any of the Z700 Series mowers, you can contact your local John Deere dealer.
If you enjoyed this post or want to read others, feel free to connect with us on Facebook, Pinterest, or Twitter!
You might also like: