Having a farm to operate on a daily basis comes with a load of responsibilities. Mitch Zumbach and his father, Doran, know this – they own the Z Valley Grain farm near Coggon, Iowa, and they love what they do. With John Deere machinery on hand, they can continue their operations, regardless of what life throws their way.
"It's always been difficult for me to run a skid steer or CTL," says Mitch, who lost the use of his right arm in a childhood accident. "We had a competitor machine that we modified so I could use it, but that made it difficult for anyone else to run. My father often wondered if it might be possible with today's technology to design a machine we could all use."
Enter John Deere. While Doran was visiting a dealership in Monticello, Iowa back in 2017, he discovered the G-Series compact track loader.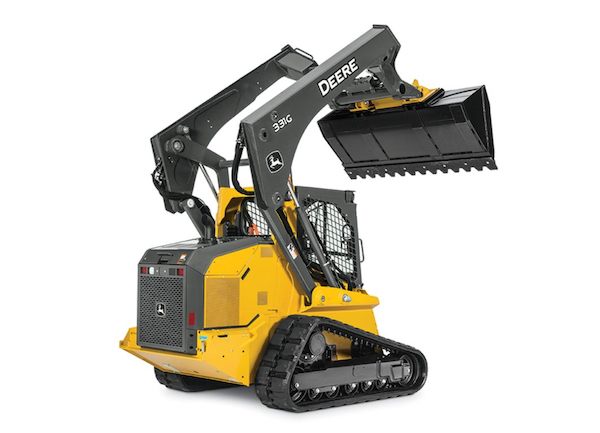 "I was not aware that Deere offered foot controls as part of their push-button selectable controls," he explains.
Mitch needed a machine that would allow him to control the machine with his left hand and his feet. A Deere employee told Doran that a new ISO and foot-control option was on the way for the 330G and 332G Ski Steers, as well as the 331G and 333G compact track loaders, and the rest was history.
"It works like a charm," said Mitch, who got a hold of a 331G compact track loader in September 2017. "Just get in, push a button to select the desired control pattern, and away you go. Now we only need one machine around here."
Exploring the Features of the 331G Compact Track Loader
The 331G Compact Track Loader from John Deere has a wide array of features that can help any farm owner with the tasks at hand.
Vertical Lift Boom. The vertical lift boom offers more lift height and reach at the top of the lift path for additional stability.
The 331G comes with a Final Tier 4/EU Stage IV diesel engine that packs an ample amount of power and torque.
Cab and controls. The CTL has a large entryway, tightly sealed swing-out door, and ample foot and legroom for getting in and out.
Tank capacity. Generous tank capacity and fuel-efficient diesel engines make for longer, more efficient workdays.
If you have any questions about the 331G or any other CTL model, you can contact your local John Deere dealer.
If you enjoyed this post or want to read others, feel free to connect with us on Facebook, Pinterest, or Twitter!
You might also like: