To meet the growing demands of Deere customers, the company has rolled out the John Deere 850L Dozer for more productivity, reliability, and durability on the job. This dozer features customer-inspired updates, such as a larger displacement engine and increased operating weight.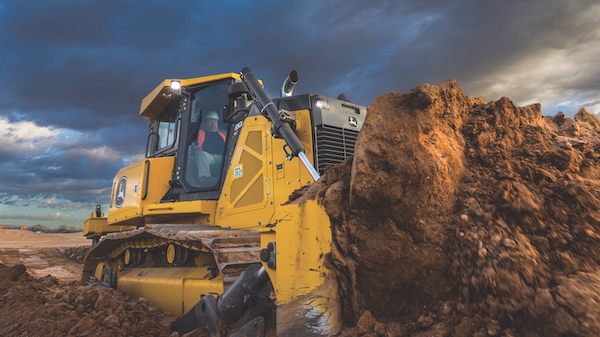 "Our K-Series dozers are a favorite with customers, and thanks to their ongoing feedback, the next generation of Deere dozers are our strongest, most durable and productive yet," said Nathan Horstman, crawler product marketing manager, John Deere Construction & Forestry. "The 850L combines muscle, efficiency and balance for impressive new levels of performance. Coupled with an extraordinary focus on reliability and uptime, you have the winning combination our customers are asking for."
Let's take a closer look at some of the features of the John Deere 850L Dozer and how it can help you on the job.
Engine
This dozer has a PowerTech PSS 9.0L diesel engine, which is specifically designed for fluid efficiency and reliability. It offers 225 horsepower, more than any other dozer in its size class.
Power Angle Tilt (PAT) Blade
The PAT blade of the John Deere 850L Dozer is 172 inches in size, which ultimately means more productivity for machine users, particularly in grading applications.
Grade Control-Ready Electrohydraulic Valves
With the grade control-ready electrohydraulic valves, customers can easily add a grade control system to the machine. They also have the option to purchase the John Deere 850L Dozer with SmartGrade, which eliminates the need to install blade-mounted sensors and components to the equipment.
Operator Station
The brand new operator station of the John Deere 850L Dozer has 15 percent more space and the interior operator noise has been reduced by 27 percent, as compared to the K-Series model. An angled seat provides more comfort to customers, and the new HVAC system improves airflow.
Ergonomic Control Joysticks
The John Deere 850L Dozer has new ergonomic control joysticks for the transmission and hydraulic functions. The transmission joystick, in particular, has a rocker switch to control the forward-neutral-reverse direction of travel. Meanwhile, the hydraulic control lever includes a proportional thumb roller precise blade angle or power pitch adjustments.
For more information on the John Deere 850 Dozer, check out this video below.
If you have any more questions about the John Deere 850L Dozer, you can contact your local John Deere dealer.
If you enjoyed this post or want to read others, feel free to connect with us on Facebook, Pinterest, or Twitter!
You might also like: