To provide loggers with reliable equipment for different worksites and operational needs, John Deere has introduced the John Deere 910G and 1010G Forwarders. These machines come with ultra-comfortable cabs, as well as a variety of boom, load space, axle, and cabin options.
"With the addition of the new 910G and 1010G Forwarders, we are rounding out our forwarder product line to offer a solution for every logging operation," said Niko Solopuro, product marketing manager WCTL Forwarders and Automation. "Compact in size, these versatile machines deliver power and productivity, even in the most demanding conditions. When in the woods, it is critical to have reliable equipment that ensures operators can efficiently finish jobs, no matter what they may face."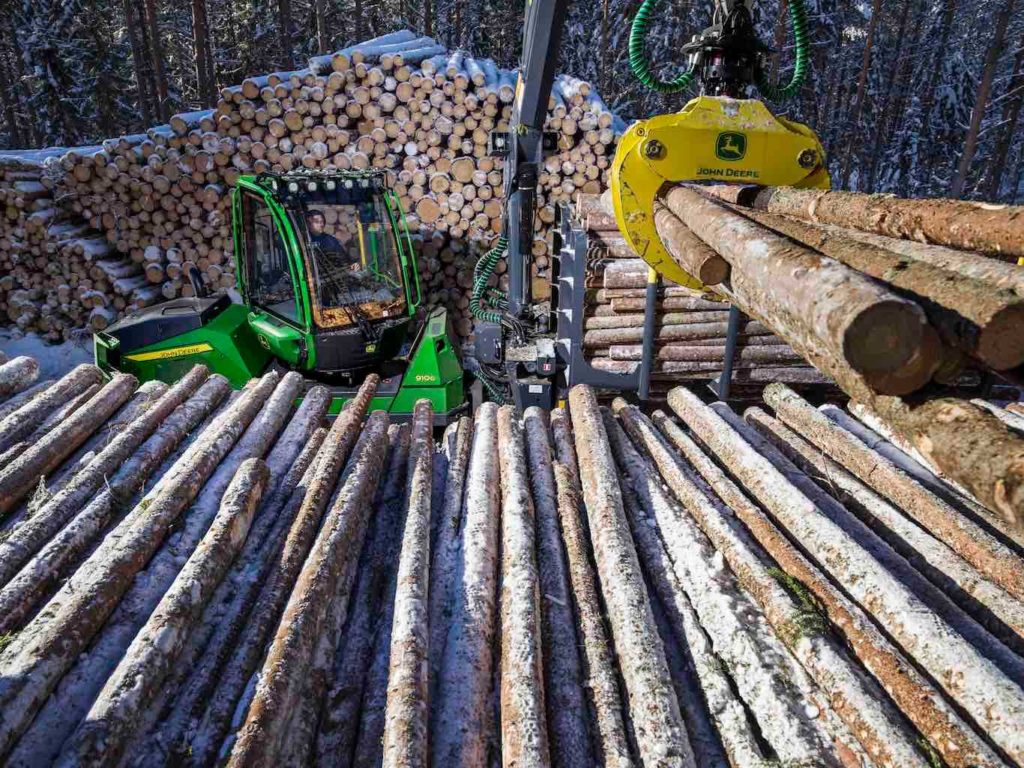 Let's take a look at some of the shared features of the 910G and 1010G Forwarders, as well as their differences, and how they can help customers with specific tasks.
Six- or Eight-Wheeled Configurations
Both the 910G and 1010G Forwarders are available in six-wheeled or eight-wheeled configurations. They feature an improved design, including a shorter frame in the front of the engine to reduce overhang.
Soft Soil Operation
The 1010G Forwarder, specifically, is optimal for use on soft soil. It is available with a low-ground pressure rear bogie axle option.
Load Space Options
The 910G and 1010G Forwarders can be equipped with one of two large load space options – narrow and wide. The headboard also offers better visibility to the load area.
Fixed or Rotating and Leveling Cab
These forwarders are available with a fixed or rotating and leveling cab, depending on the operator's needs. The rotating and leveling cab reduces vibration during operation, and its 290 degrees of rotation provides a better view of the boom and grapple.
Precise Boom Control
Both the 910G and 1010G Forwarders come standard with precise boom control and the CF5 boom is available with Intelligent Boom Control (IBC). This eases boom operations and makes them more precise. Joysticks are configurable to user preference as well.
Adaptive Driveline Control (ADC)
The 910G and 1010G Forwarders feature transmissions with high tractive force and ADC. With ADC, drivability is improved by giving operators the option to work in their desired RPM setting (Eco, Normal, Power).
If you have any questions about these machines, you can contact your local John Deere dealer.
If you enjoyed this post or want to read others, feel free to connect with us on Facebook, Pinterest, or Twitter!
You might also like: