What do the John Deere 1510G, 1210G and 1110G have in common? They are more than just a machine, they are reliable, durable and made for the dirt. From the outstanding operator comfort to the ease of transportation and faster lift and stacking times, the John Deere G-Series machines are made for the toughest jobs around.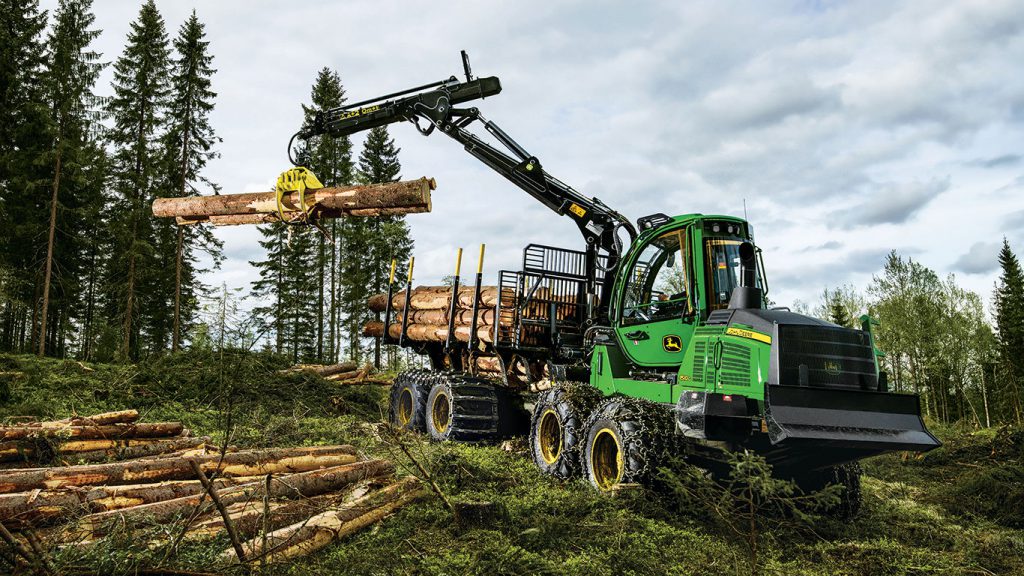 The 1510G has a self-leveling cab that not only rotates but turns at a 290-degree angle for a full view when loading. The forwarder comes equipped with the Exclusive TimberLink™ automatic monitoring system built to track operating costs while analyzing machine performance and efficiency during the job at hand.
The Exclusive Timberlink on these machines makes for more efficient spend and faster job times. It also enables job information corresponding to loading and driving times that can be implemented into machine settings and improve the technique of the operator. The boom reach for each of the three machines is 23.6 by 27.9 by 32.8 feet. However, the load rating and engine power on the 1510G are the largest and strongest of them all coming in at 41.9 lbf and more than 33 thousand pounds.
From superior boom and handling accuracy to its reliable performance in soft soil, like the 1510G, the 1210G TimberMatic F-12 control system delivers fine-tuned hydraulics for effortlessly smooth forwarder functions. These two G-Series forwarders come with a long-bogie delivering more ground pressure in soft terrain and better stability in rocky conditions.
These three forwarders each come with optional boom control that can be used to ease boom operations, resulting in a more precise as well as a more productive job done. The incomparable drivability with adaptive driveline control makes these forwarders a must have for your machinery army.
If you are looking for a perfect forwarder for loading all while making efficient cost decisions with an increased technique for the operator, the G Series is for you.
For more information about the 1510G, 1210G and 1110G or other equipment within the G Series, contact your local John Deere dealer.
If you enjoyed this post or want to read others, feel free to connect with us on Facebook, Twitter or Google+!
You might also like: