When you need more control on the job to boost your productivity, you know you can count on John Deere to deliver. Now, the company has rolled out Intelligent Boom Control (IBC) for many of its harvesters, and customers are rejoicing at the benefits.
"After using an IBC-equipped machine, the boosts to productivity and efficiency are undeniable, making IBC a must-have feature for any logging operation," said Sakari Suuriniemi, product marketing manager for John Deere. "Understanding the demands of the logging industry and the labor challenges, IBC allows operators – new or seasoned – to work faster, even in difficult conditions."
With IBC, the operator no longer has to control each independent boom joint movement separately. Instead, the operator maneuvers the harvester head while the technology of the IBC automatically guides the boom accordingly. Through the use of this technology, work is more precise, efficient, and enjoyable for operators of all skill levels.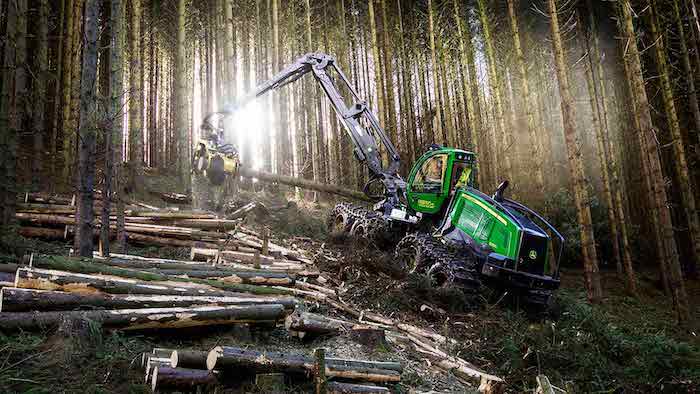 Let's take a look at some of the other benefits of Intelligent Boom Control on John Deere equipment.
Tuning Parameters and Durability
With IBC, operators can reduce necessary tuning parameters and increase the durability of boom and cylinders.
Adjustable System Speed
The IBC system speed can be easily and quickly adjusted to suit operator needs.
Boom Tip Adjustments
The slew speed of the boom tip can be simply adjusted by the operator as necessary, and vertically and horizontally put into place.
Easy Switching
With the press of a button, operators can go between IBC and conventional boom control.
End Damping
Thanks to IBC, operators no longer have to worry about the blow-like loads of the cylinder ends, meaning he or she also doesn't have to monitor boom positions. Work is ultimately more fluent and the boom structures and hydraulic cylinders last longer.
Short Learning Curve
In addition to boosting productivity, IBC offers a short learning curve. This means that training times are shortened, and operators can get back to work, increasing the overall bottom line.
Simple Maneuvering
Maneuvering between trees is much easier with IBC – the boom responds smoothly and the system controls the boom movement.
Optional for Forwarders
IBC is available for forwarders and can be adjusted accordingly to suit each operator's needs.
If you have any questions about John Deere equipment that is compatible with Intelligent Boom Control, you can contact your local John Deere dealer.
If you enjoyed this post or want to read others, feel free to connect with us on Facebook, Pinterest, or Twitter!
You might also like: