John Deere launched Intelligent Boom Control (IBC), taking forestry operations to new heights. With this groundbreaking forwarder technology, controlling the boom is easy and extremely accurate – increasing the smoothness of operation and operator comfort, while at the same time, decreasing strain on the boom and cylinders.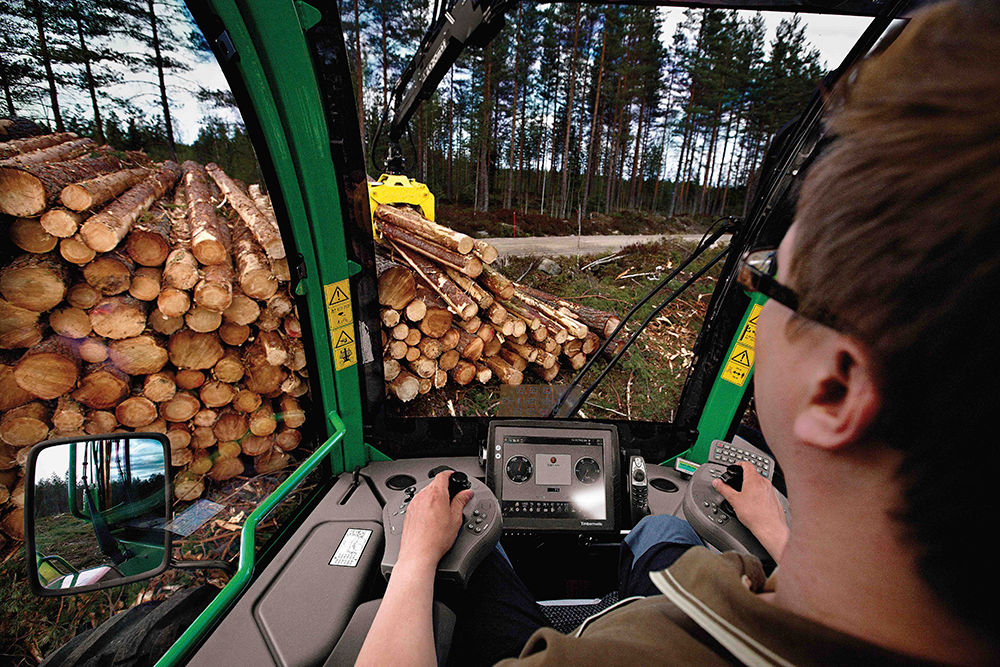 The revolutionary intelligence provides not only increased loading speed, maximized boom control and enhanced operator comfort, but greater productivity, and longer boom-component wear life.
https://www.youtube.com/watch?v=YUAs4JrIEWY
The system has electronic cylinder end damping for all principle moving directions. Extreme movements at the end of the cylinder are end-damped, preventing jerky movements and making operations smoother and increasing the durability of the boom. Operators are then able to adjust the speed of the Intelligent Boom Control system individually, according to their needs.
The Intelligent Boom Control allows the operator to direct the reach and height of the boom tip parallel to the ground. There are two joysticks – one moves the boom tip horizontally, while a second guides it vertically for faster cycle times and more precise control. The added sensors actively dampen and protect boom structures for additional wear life.
In this video, see John Deere IBC in action and understand the impact it has through two different stories and uses while also taking a closer look at the revolutionary new tool – changing the way you work, increasing production and leaving you with a more efficient process.
https://www.youtube.com/watch?v=5TWBkxx7TD8
Intelligent Boom Control has two modes, Normal mode and a preset program known as Unloading mode. Unloading mode makes the handling of heavy loads easier and can simply be turned on by the press of a single button.
John Deere-exclusive software innovations help deliver improved control for greater productivity. In doing so, the operator controls the system and the boom automatically adjusts the boom joint movements and combines them into a continuous movement, making the process easy and accurate.
Enjoy this fun video that highlights the ins and out of the technology and background of the revolutionary John Deere IBC.
Final Thoughts
If you're looking to change the way you operate your forestry equipment and build a more efficient process saving you time and enhancing production, John Deere Intelligent Boom Control might be perfect.  We hope this video gallery helped you learn more about IBC and if it's right for you.
If you enjoyed this post or want to read others, feel free to connect with us on Facebook, or Twitter.
You might also like: