When you're on the hunt for a shovel logger that can take on felling and log handling on difficult terrain, you know that John Deere has a machine for you. The company has rolled out the John Deere 959ML Shovel Logger just for this purpose, and it has a wide array of features that can help with even the toughest challenges Mother Nature throws your way.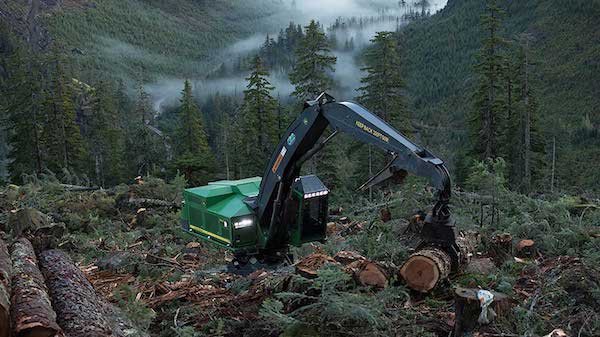 "The new 959ML Shovel Logger leverages the top features from our M- and MH-Series models, including the best-in-class leveling control system, to produce a new machine specifically designed for steep slope operations," said Jim O'Halloran, global product marketing manager, John Deere Construction & Forestry. "We are excited to bring a new solution to the market that helps our customers be more productive, regardless of where they work."
Let's take a closer look at some of the features this piece of equipment has to offer customers.
Enhanced Boom and Attachment
Available in two configurations, the 11-meter live heel shovel logger boom and the 9.12-meter and 10.34-meter directional feller booms are specifically designed for high performance. Steep slopes are no problem for the 959ML Shovel Logger – all boom options have excellent downhill reach capability. The 11-meter shovel logger boom is designed to incorporate grapples up to 1.5 meters in size.
Leveling Control System
The patented leveling control system of the 959ML Shovel Logger utilizes sensor technology. This means it can maximize the forward tilt angle while electronically preventing any mechanical interference when tilting to the size. In addition, the leveling envelope boundaries are automatically set.
Powerful Engine
This shovel logger has a 9.0-liter Final Tier 4 engine and can operate up to 330 horsepower. It is also specially designed to reduce Diesel Exhaust Fluid consumption while in use.
Comfortable Cab
The cab of the 959ML Shovel Logger is roomy, large, and has an upward viewing skylight, as well as a downward viewing window for increased visibility. The high leveling capability of the system increases overall operator comfort, regardless of the steepness of the terrain.
Add-On Compatibility
Customers have the option of ordering a variety of add-ons when they purchase this shovel logger, including the weld-on tether-ready hitch field kit, slope indicator, and four-point seat harness.
For more information on the new John Deere 959ML Shovel Logger, watch the video below.
If you have any questions about the 959ML Shovel Logger, you can contact your local John Deere dealer.
If you enjoyed this post or want to read others, feel free to connect with us on Facebook, Pinterest, or Twitter!
You might also like: