If you're already thinking about winter and how you're going to tackle the snow, you should know that John Deere has a wide array of attachments to help you with the task at hand. The company recently rolled out three new single-motor, high-flow snow blower models that are compatible with compact track loaders, compact wheel loaders, and skid steers. This is in addition to the other John Deere snow removal attachments that are designed to take on the winter elements with ease.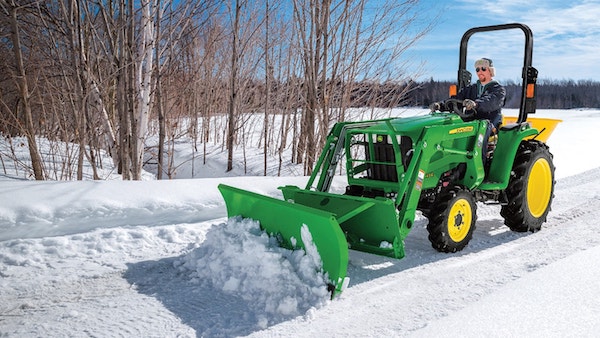 Let's take a look at some of these components and how John Deere snow removal attachments and equipment can help you this winter.
Snow Blowers
John Deere has several snow blower models available to customers, including the SB60B, SB72B, SB72H, SB78B, SB78H, SB84B, and SB84H. Their flow types range from Standard to High, and they have cutting widths ranging from 60 inches to 84 inches. They are optimized to work with John Deere Skid Steer Loaders, Compact Track Loaders, and Compact Wheel Loaders for the utmost convenience.
Snow Pushers
The SP8C and SP10C snow pushers are must-haves for efficiently removing large amounts of snow from sidewalks, parking lots, and driveways. They have reversible rubber cutting edges that can be easily replaced, and they have an optional pullback edge for opening up confined areas and maneuvering around obstructions.
Snow/Utility Blades
John Deere offers the BL6B, BL7B, BL8B, BL9B, and BL10B snow/utility blades for additional productivity in snow removal. Adjustable skid shoes are standard, and these blades oscillate five degrees to both the left and right. Four trip springs work to protect the vehicle from sudden impacts with obstacles while maneuvering through the snow. Each of these blades works with John Deere D-Series Skid Steers, Compact Track Loaders, the 244J Loader, and the 110 Tractor Loader Backhoe.
Snow/Utility V-Blades
The BV6, BV8, and BV9 snow/utility V-blades can angle hydraulically into four different positions, depending on the customer's needs. They have adjustable skid shoes for vertical blade productivity, and they come standard with a steel cutting edge. Furthermore, their electrohydraulic valves allow for independent blade function from the cab. Similar to other Worksite Pro attachments, these blades are designed to work with John Deere G-Series Skid Steer Loaders, Compact Track Loaders, and L-Series Compact Wheel Loaders.
If you have any questions about the John Deere snow removal attachments, you can contact your local John Deere dealer.
If you enjoyed this post or want to read others, feel free to connect with us on Facebook, Pinterest, or Twitter!
You might also like: