John Deere X Series Combines have been recognized for their innovative technology, design, and engineering in the past. Now, they are being honored with a CES Award from the Consumer Technology Association, which hosts the CES Innovation Awards program. The program is an annual competition that honors outstanding design and engineering across a multitude of consumer technology products. It is meant to recognize honorees in several different categories and distinguish the highest rated in each. For 2021, John Deere has been awarded the Best of Innovation honor for its X Series Combines. The association notes Deere's commitment to innovation as a means to help farmers grow crops more efficiently and sustainably.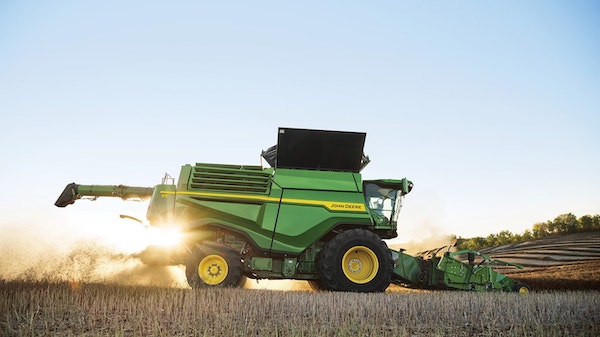 "Technology and innovation are at the core of how John Deere helps farmers overcome uncertainty and improve efficiency," said Jahmy Hindman, chief technology officer for John Deere. "To make our customers the most profitable and sustainable farmers in the world, John Deere challenges the status quo to deliver smart, highly autonomous, and connected machines, like our X Series combines that unlock opportunities for them to make more informed and accurate decisions at scale, which in turn supports the greater goal of feeding a growing world population."
Let's look into the specifics of the John Deere X Series Combines that helped the company take home the honor.
Artificial Intelligence
The John Deere X Series Combines are renowned for their AI, computer vision, in-field machine-to-machine communication, integrated sensors, and self-driving capabilities. This ultimately boosts productivity for farmers out in the field.
ActiveVision Camera Technology
With ActiveVision, farmers can see inside of their combine's grain tank and observe tailings. This means that they can keep an eye on all of their harvested grain, right down to the kernel.
Increased Harvest Capacity
The John Deere X Series Combines help farmers harvest faster without risking grain loss or quality. All of the machines are designed to thresh, separate, and clean more bushels per hour, or harvest more acre per day, regardless of unpredictable conditions.
Self-Monitoring Capabilities
These combines are designed to monitor themselves, giving farmers and John Deere service technicians the opportunity to manage concerns remotely. This minimizes downtime and supports the overall bottom line for producers.
If you have any questions about the John Deere X Series combines, you can contact your local John Deere dealer.
If you enjoyed this post or want to read others, feel free to connect with us on Facebook, Pinterest, or Twitter!
You might also like: