To help farmers who are looking to adopt new practices to boost their productivity out in the field, John Deere is rolling out updates to its 8 Series Tractors for the 2022 model year. The John Deere 8 Series includes wheel 8R, two-track 8RT, and four-track 8RX models. Specialized options for the 8R Tractors include the Central Tire Inflation System (CTIS), and the ExactRate™ Tractor Tanks for 8RX Tractors.
"Using CTIS, operators can monitor and adjust tire pressure as quick as 2 PSI/min, from the cab, push-button easy," said Ryan Jardon, tactical marketing manager for John Deere. "CTIS makes it easy to adjust and optimize inflation pressures regardless of the task."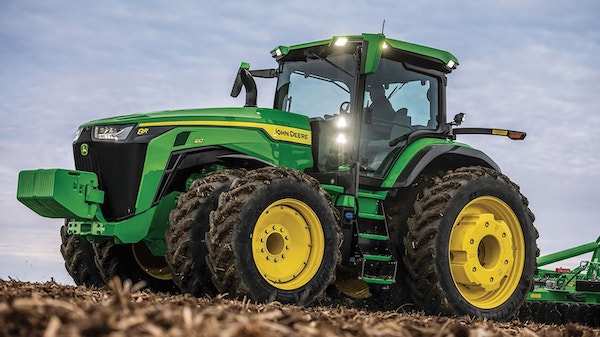 Let's take a look at all of the highlights of the updated John Deere 8 Series tractor lineup and how they can benefit operators out on the job.
Central Tire Inflation System (CTIS)
With CTIS, operators can make adjustments directly from their cab. Inflation pressures can be adjusted on a whim, giving producers more options as they work on several different types of terrain throughout the workday.
JDLink
All John Deere 8 Series tractors now come equipped with JDLink connectivity, in addition to a StarFire 6000 GPS receiver, a Generation 4 CommandCenter™ display, and AutoTrac guidance. These technologies make it easier for operators to reduce overlap and maximize inputs in general.
ExactRate Tractor Tanks
The 8RX Tractor now comes equipped with the new integrated 1,000-gallon capacity ExactRate Tractor Tanks. These tanks provide seamless fluid transfer to the planter, as the plumbing and tank hardware are factory installed. It is easily monitored from the John Deere Generation 4 Display.
Horsepower
Wheel 8R Tractors come in seven models ranging from 230 to 410 horsepower. Four models of two-track 8RT Tractors are offered from 310 to 410 horsepower, while 8RX models come within the same range.
Transmission
The type of transmission operators receive will depend on their specific needs. The options they will be able to choose from include the 16-speed PowerShift, e23™ PowerShift, or the Infinitely Variable Transmission (IVT™) with optional CommandPRO™ control. All of these options put the tractor controls directly into the hands of operators.
To learn more about the latest updates to the John Deere 8 Series Tractors, watch the video below!
If you have any questions about the John Deere 8 Series tractors, you can contact your local John Deere dealer.
If you enjoyed this post or want to read others, feel free to connect with us on Facebook, Pinterest, Twitter, or Instagram!
You might also like: