John Deere rolled out the 9000 Series Self-Propelled Forage Harvesters (SPFH) about three years ago. Now, the company is looking to expand upon this series in order to cater to operators who want more assistance harvesting high-quality forage. For model year 2022, Deere will be adding the 9500 model to its lineup of self-propelled forage harvesters. In addition, the 9500 and 9600 models will have an 18.0L John Deere 18X engine for more power.

"Customers want rugged, high-capacity forage harvesters that provide constant maximum throughput with fewer blockages and downtime for service and maintenance, along with the ability to monitor, adjust and document processing of the forage for optimal feed value," said Chase Milem, John Deere marketing manager for forage harvesters. "From top to bottom, 9000 Series Self-Propelled Forage Harvesters deliver on those needs with comfort and performance."
With new features, the 9000 Series Self-Propelled Forage Harvesters will help producers improve crop flow and ultimately boost efficiency.
What is a Self-Propelled Forage Harvester?
A self-propelled forage harvester is typically used to make food for livestock. Forage that is created with these machines can deliver a better feed value, which puts the animals in a better position to produce. John Deere's self-propelled forage harvesters make serviceability a breeze while improving crop flow.
John Deere 9000 Series SPFH Updates
Numerous updates have been made to the 9000 Series Self-Propelled Forage Harvesters. The new 9500 specifically has a rated power of 690 horsepower, as well as a HarvestMotion™ Plus rating of 755 horsepower, which is generated by its inline six-cylinder 18.0L John Deere 18X engine.
Introducing the New John Deere 9500 Combine
The model year 2022 9500 was also designed with improving crop flow in mind. Operators now have more visibility and control during the unloading process. With HarvestMotion Plus, engine speed, crop flow, and power are all synchronized to maintain consistent crop throughput at low RPMs. There is also less fuel consumption, and no diesel exhaust fluid required.
Enjoy Maximum Power with the John Deere 18X Engine
The 18.0L John Deere 18X engine provides unmatched performance. It is a diesel engine, meaning operators don't have to concern themselves with diesel exhaust fluid. This engine also meets Final Tier 4/Stage V emission regulations, giving operators peace of mind. HarvestMotion Plus allows it to achieve unique power and torque rise in the 700- to 800-PS power class for the utmost efficiency. It also has a long engine oil service interval, peaking at 750 hours, meaning less downtime for operators.
Additional Changes to John Deere 9000 Series Self-Propelled Forage Harvesters
Some of the other features that have been added to the 9000 Series Self-Propelled Forage Harvesters include the 4G JDLink™ MTG and AutoTrac™ RowSense™. The 4G JDLink MTG (modem) allows operators to stream their machine and crop data to the John Deere Operations Center. Additionally, they can monitor their equipment from the Operations Center mobile app to receive real-time updates, regardless of their location.
AutoTrac RowSense can be field activated to keep machines in the proper row, no matter what the field conditions may be. In the end, this helps maximize time out in the field, improving harvest efficiency and yield quality. Operator fatigue is reduced over time.
The 9000 Series Self-Propelled Forage Harvesters also come with Dura Line™ wear parts. These components have a coating that is wear-resistant for longevity. In tests, they have been shown to last four times as long as, or longer than, standard parts. Operators can expect the time and money associated with replacing parts to significantly drop.
The HarvestLab™ 3000 sensor is mounted to the top of the discharge spout to take accurate dry matter and ingredient readings for the utmost convenience. With AutoLoc™, these machines can automatically vary the length of cut according to desired crop-dry matter correlation settings.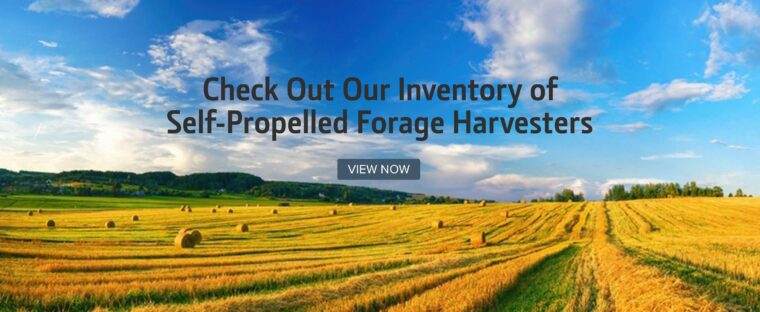 If you have any questions about the John Deere 9000 Series Self-Propelled Forage Harvesters, you can contact your local John Deere dealer.
If you enjoyed this post or want to read others, feel free to connect with us on Facebook, Pinterest, Twitter, or Instagram!
You might also like: