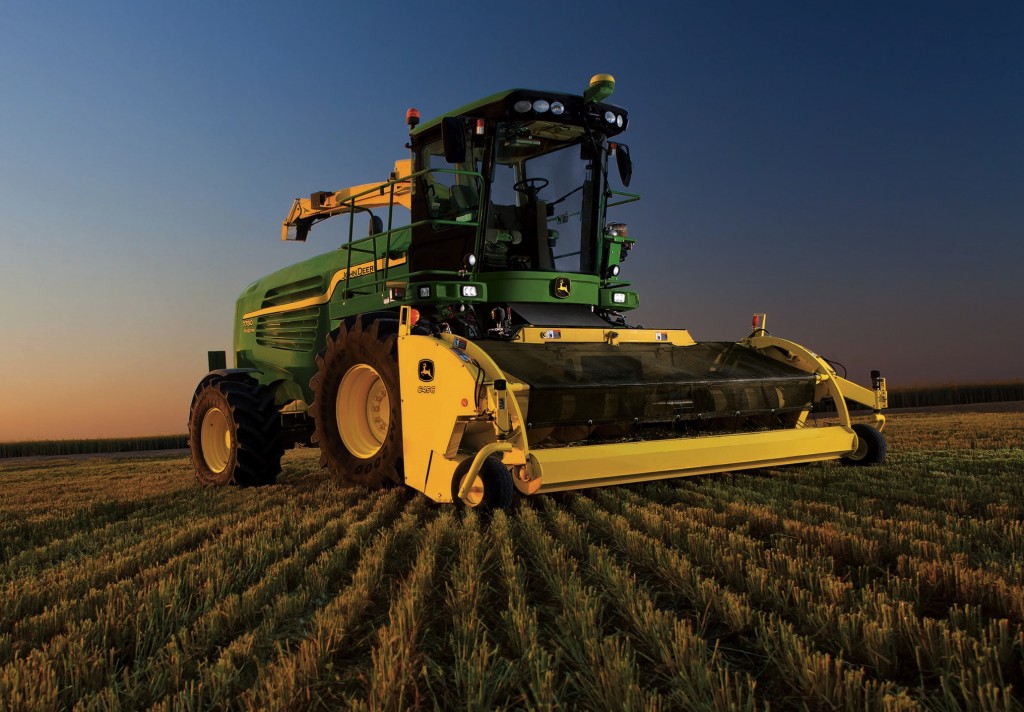 As it looks to comply with the stringent Interim Tier 4 emissions standards, John Deere has developed a new line of Self-Propelled Forage Harvesters for the 2013 farming season.
A total of six new machines will be available, all of which will feature new engines that not only meet IT4 requirements, but offer the same power John Deere users have come to love over the ages. All models come with factory-installed dual tire options, a new sprout turning system and kernel processing technology – all of which works together to greatly improve overall field operating performance.
The machines range in size from the smaller John Deere 7180 to the massive John Deere 7980, allowing grain and forage producers to use the exact machine for the right job, depending on the scale and needs of their operations.
"We've taken the power and productivity of the previous 7050 Series Forage Harvesters, and added our single-fuel solution IT4 engines and the exclusive KernelStar kernel processor technology that improves kernel processing without slowing down harvest," said Shaun Fritchey, product marketing for John Deere Ottumwa Works. "In addition, we now offer a dual-wheel option that provides better in-field traction and a more comfortable ride at higher speeds. And, we've included a more robust spout turning system with faster rotating speed for greater reliability and ease in getting all the forage into the trucks and wagons."
The bulk of the models come standard with infinitely variable length-of-cut transmission, a Dura-Drum cutterhead and Duraline high-wear parts. What's more, as a testament to Deere's commitment to innovative technology, the new line of forage harvesters features the company's HarvestLab with Constituent Sensing capabilities.
Customers who want to enhance their Deer experience even further can choose from a number of optional features, including four-wheel drive, advanced header-height control and an automatic lubrication system.
Fritchey added that no matter which size 7080 Harvester a customer chooses, it will have the necessary horsepower to tackle all types of grain and forage crops.
These products will help John Deere further itself as the foremost maker of reliable and durable farming equipment and tractors. The company has already made a name for itself in the forage harvesting market with its acclaimed 7050 and 7050i harvesters, which have proven to chop top quality silage and higher amounts of biomass, ultimately leading to improved profits.
You might also like: