Growing hay crop can be a challenging task, but the payoff is often well worth it once you have the feed you need to make it through the winter season. Agricultural producers know the importance of cutting, drying, raking, and baling their hay crop properly to maximize quality. John Deere has all of the machinery needed to take care of hay throughout the entire year. With that being said, let's take a look at some of the tips you can take into account once it comes time for bale storage.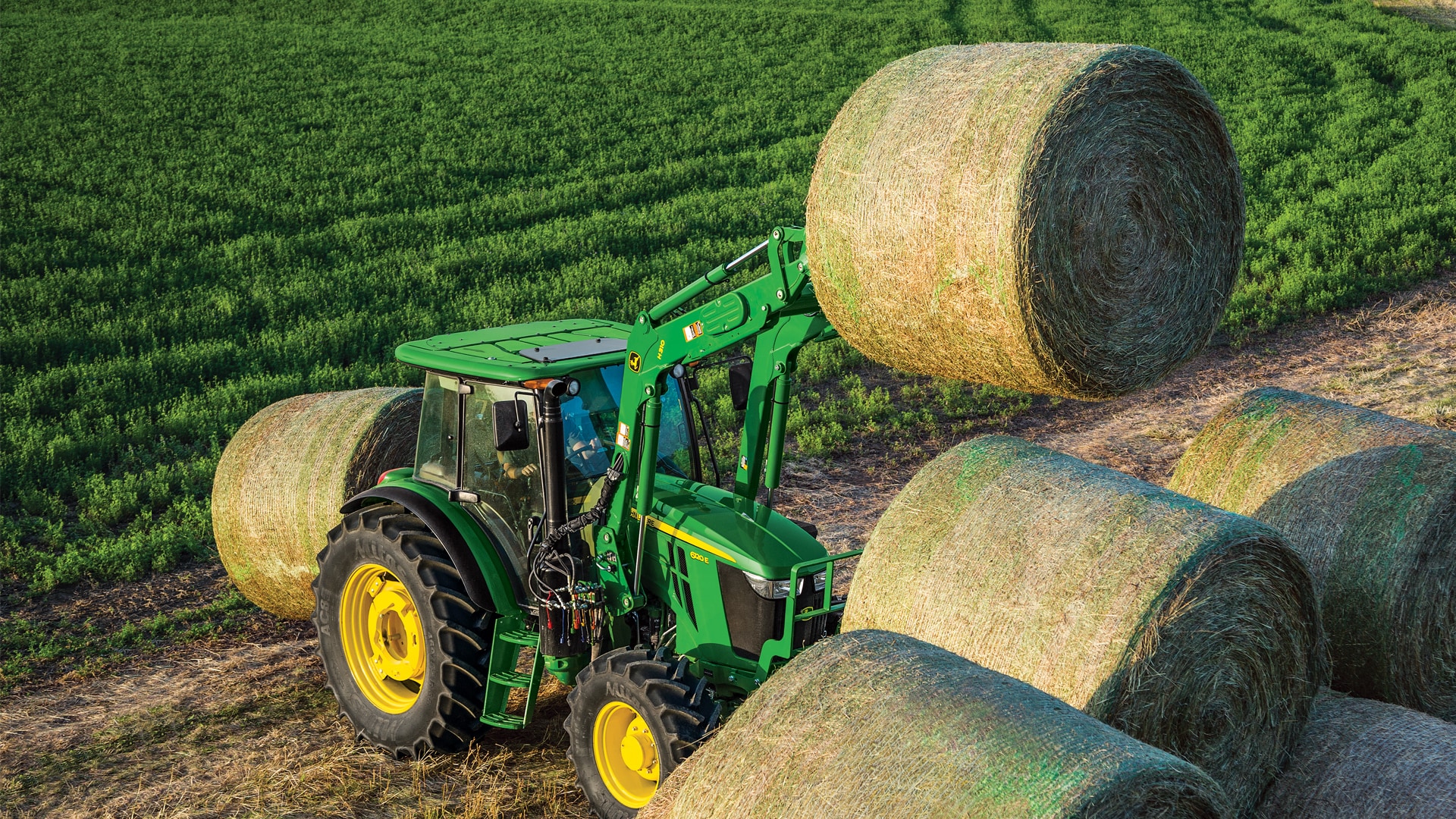 How Should Round Bales Be Stored?
To ensure that your storage task goes as smoothly as possible, you'll want to familiarize yourself with the basics in terms of taking care of your round bales. This means knowing how to prevent moisture from penetrating your bales and learning how to shape them properly. Here are a few tips you can take into consideration while prepping your round bales for storage.
Take a moment to consider the shape of the bale you are you trying to create. Round bales should ideally be dense in order to shed rain water effectively. In turn, this protects the inside of the bale from moisture.
Whether you're using a John Deere 6130M Utility Tractor, 620R Loader, or another round baler for the task at hand, read your Operator's Manual before using or storing any piece of equipment. This will give you insight into all of the operating and safety instructions.
In the event that you do not have an indoor space to store your round bales, find a well-drained sunny area outside for them. The sunlight will encourage water evaporation, preventing moisture from causing damage to the bales. This can also help the round bales maintain their nutrition quality over time. Try to avoid a shady area for bale storage when possible.
Keep in mind that round bales should be stacked tightly to help them maintain their shape. Placing them in long rows can keep all of the bales organized and intact while limiting their contact with the ground.
Try to leave at least three feet of space between rows of bales to allow for air circulation, as well as exposure to sunlight. By providing some space, you'll also prevent rot from affecting the ends of the bales.
Many experts believe that placing rows in a north-south orientation is best for bale storage. However, orientation is not as important as the storage area itself — remember, a well-drained, sunny area is best for bale storage. The prevention of moisture penetration is essential to maintaining the quality of round bales over the course of a season.
Tight storage can help immensely when it comes to maintaining the nutritional value of round bales. This is because the outermost four inches of a six-foot-round bale makes up approximately 25% of the bale's total volume. Prioritizing storage can reduce overall losses when it comes time to put the round bales to use.
If you enjoyed this post or want to read others, feel free to connect with us on Facebook, Pinterest, Twitter, or Instagram!
You might also like: