If you're looking to maintain grounds with ease over the course of the spring, summer, and fall, John Deere has a wide array of equipment to help you achieve your goal. The John Deere 636M is one example of a commercial-quality stand-on mower that can tackle long days of mowing. With its hydrostatic drive system and compact design, operators will have no trouble maneuvering this mower around any expanse of grass.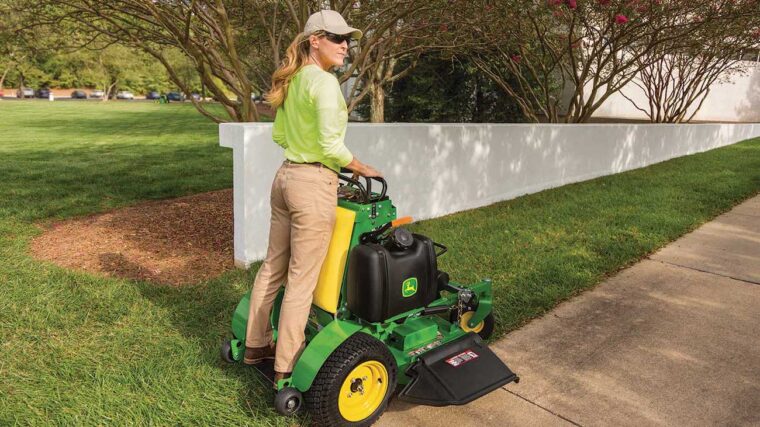 What is the John Deere 636M QuikTrak™ Stand-On Mower?
The John Deere 636M QuikTrak™ Stand-On Mower is a John Deere mower designed with durability in mind. This machine is meant to stand the test of time while delivering ample power throughout even the longest workdays. The 636M never compromises on stability, even while being directed over challenging terrain. Its compact design is also ideal for working in small spaces.
What Can the John Deere 636M Mower Do?
The John Deere 636M mower has several features that set it apart from other standing mowers on the market. Its commercial-grade features and durable frame make it ideal for those who intend to spend an ample amount of time engaged in grounds care.
Large Operator Platform
This mower features a large operator platform, which is designed to absorb shock — no bumpy rides. Additionally, there is a leaning pad for users, which doubles as insulation against heat from the mower.
Reliable Commercial-Quality Engine
The engine of the John Deere 636M features 19 horsepower at 3,600 rpm, and it is automatically air-cooled for reliability and durability. Its overhead valve design provides more horsepower and torque per cubic inch of displacement. Additionally, its V-twin design allows for quick starts and smooth operation throughout the workday. Full-pressure lubrication reduces wear and tear on the engine over time, which is also compliant with emissions standards. The cleanout ports are easy to access when it comes time to remove debris, and the mower's aluminum cylinder block is designed to protect the engine from high temperatures over time.
Compact Design for Easy Hauling
With a compact design, the John Deere 636M can maneuver around tight areas with ease. Because it's a stand-on mower, operators can use their bodies to control the mower as well. When it comes time to haul the machine, less space is needed on the truck, thanks to the configuration of the mower.
Enhanced Mowing Performance
Customers who invest in the John Deere 636M will enjoy features such as adjustable height-of-cut and more maneuverability. It's these small but impactful aspects of the mower that make it optimal for big and small grounds maintenance tasks alike.
What Are the Important Features of the John Deere 636M Mower?
The 636M has several features that may be of interest to John Deere customers who are looking for a mower to simplify the workday without sacrificing productivity.
Compact Design for Easy Hauling
This mower from Deere has a compact design, which means it's not only easy to use in tight spaces but simple to haul when the time comes.
Hydrostatic Drive System
The 636M has a heavy-duty hydrostatic pump and wheel-motor drive system, which are specifically designed to take the wear and tear of commercial usage. The wheel motors receive hydraulic power from two Hydro-Gear™, 0.61-cu in. axial piston variable-displacement pumps. The pumps are connected to levers that are controlled by the operator, who can then make speed and direction changes as necessary. Additionally, the QuikTrak™ can be leveraged without the engine running, thanks to transmission bypass valves that are on each hydrostatic pump.
Commercial-Quality Engine
The engine of the John Deere 636M mower offers 19 horsepower and features a V-twin design. This allows operators to quickly start the machine when necessary, and the mower can operate seamlessly over challenging terrain. The overhead valve design boosts fuel efficiency as well, and the oil filter of the engine is replaceable, extending the lifespan of the machine. The standard cleanout ports can be easily accessed to eliminate debris in the cooling fins of the engine. Additionally, the oil filter, oil drain, and engine oil fill/check tube are all positioned close together for convenience.
Easy Maintenance
Maintenance is a breeze with the 636M mower, thanks to features such as its dual-stage air cleaner. Engine oil service points also make it easy to check and change the oil as needed. The service access shields on the mower deck can be easily removed when necessary, and the hydrostatic pumps and motors are available at the back of the machine. With the transmission bypass valves, the mower can be moved without needing to run the engine.
What Are the Key Specs of the John Deere 636M?
The John Deere 636M mower has several specs that make it one of the most efficient, reliable machines on the market for lawn and grounds maintenance.
36 in. Mower Deck
The mower deck of the 636M is composed of seven-gauge steel for durability, and it features fewer sharp corners, which reduces material buildup. Because of its compact design, operators can maneuver around tight spaces with ease. The deep deck design provides maximum airflow, and the vacuum effect pulls more grass upright for an even cut. With a wide discharge opening, clippings are dispersed to create a more polished appearance.
19 HP Engine
The engine of this Deere mower is a commercial grade, meaning it is meant to stand the test of time. With a V-twin design, heavy-duty air cleaner, and filtered oil, it's one of the best in its class. The engine itself also provides up to 19 horsepower to ensure that the mower can operate on any terrain.
20.8 L Fuel Tank Capacity
The 636M has a fuel tank capacity of 10.8 liters or 5.5 U.S. gallons. This means operators can spend less time stopping to refuel during the day. The fuel cap is also sealed and tethered, reducing vapor loss and the chances of losing the cap itself. Operators have an easy-access fuel shut-off valve for when QuikTrak™ is not in use.
Hydrostatic Transmission
The hydrostatic pump and wheel-motor drive system of the John Deere 636M mower give operators consistent, reliable performance. It is also composed of heavy-duty components, which make the machine suitable for commercial use. The integrated high-pressure shaft seal provides more reliability, and large bearings help the mower compensate for heavy loads. The hydraulic fluid reservoir is also positioned directly behind the leaning pad. This makes it easy to access for servicing.
18×8.5-10 Turf Master Drive Wheels
This mower features Turf Master drive wheels, which are meant to provide operators with a smooth ride, regardless of the terrain.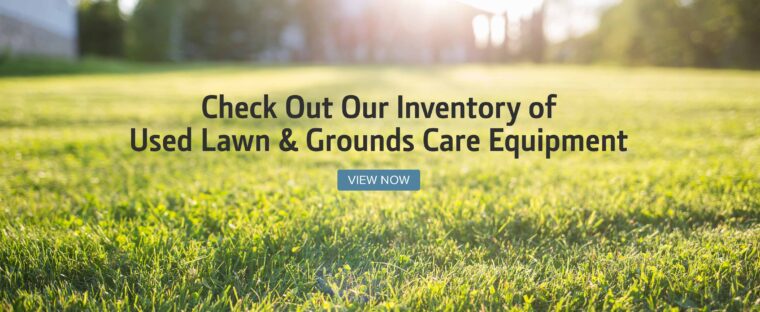 Commonly-Asked Questions About the John Deere 636M
With all of the features of the John Deere 636M mower, it's not uncommon for customers to have questions as they look into investing in this machine.
What is the Warranty on a John Deere 636M?
This mower comes with a QuikTrak™ two-year, bumper-to-bumper warranty for peace of mind.
Search for the John Deere 636M on MachineFinder
If you're interested in a commercial-grade stand-on mower with a wide array of features, the John Deere 636M is one you may want to consider. With a powerful engine and hydrostatic drive system, this machine can handle varying terrain conditions. Its compact design not only makes it easy to maneuver but also simple to haul away at the end of the day. Whether you want a stand-on mower for your yard or grounds care maintenance, the 636M may surprise you with what it has to offer.
If you have any questions about the John Deere 636M or any of the other stand-on mowers Deere has to offer, you can contact your local John Deere dealer.
If you enjoyed this post or want to read others, feel free to connect with us on Facebook, Pinterest, Twitter, or Instagram!
You might also like: