When you have a long list of tasks to complete and you know you'll be working on rough terrain, John Deere has the equipment you need to get it all done. With the XUV590M Gator, for instance, you don't have to worry about getting trapped in the mud or lacking the steering power to maneuver around trees. Similar to other Gators from Deere, the XUV590M is designed to easily maneuver around tight areas and can be controlled with ergonomic controls. Its quiet operator station and easy-to-read dashboard also make it a comfortable off-roading vehicle to use on a daily basis.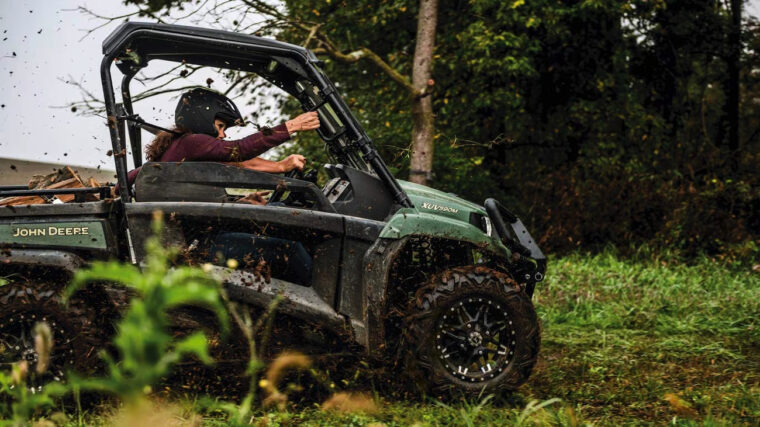 What is the John Deere XUV590M UTV Crossover Gator?
The John Deere XUV590M is a crossover utility vehicle that is simple to operate and drive in a wide array of conditions. Whether users anticipate needing to work in muddy conditions or over high grasses, this Gator can take on any terrain without missing a beat. It features a precision-engineered drivetrain system, which makes everything from hauling to hill climbing a breeze. Its one-piece cargo box is also composed of a high-density polyethylene copolymer composite material, which means it will stand the test of time.
What Can the John Deere XUV590M Do?
The XUV590M was created with balanced acceleration and easy handling in mind. This means that operators can rest assured that the Gator Utility Vehicle can be maneuvered wherever they need to work. The XUV590M has a four-wheel drive, as well as plenty of storage for tools. Its cargo box is composed of a durable material that is resistant to both rust and dents, and it can be easily loaded and emptied as needed. Best of all, it has LED lights that can brighten even the darkest areas, meaning operators can continue working after the sun goes down.
What Are the Important Features of the John Deere XUV590M Gator?
The John Deere XUV590M Gator has several features, which make it one of the most versatile utility vehicles on the market. Its automotive-like power steering, durable cargo box, four-wheel drive, and informative dashboard panel are just some of the reasons Deere customers love this piece of equipment.
Variable-Speed Drive
As one of John Deere's Mid-Size Crossover Series Utility Vehicles, the XUV590M features a precision-engineered drivetrain system. This means that power is moved from the engine through a variable clutch system to the transaxle. When the engine speed increases, the drive clutch closes. As this occurs, the speed that is transferred to the transaxle increases as well. Operators also don't have to worry about the drive clutch, which can automatically sense load differences and adjust the drive speed as necessary. Stainless steel disc brakes provide the utmost safety while the Gator is in use.
Large Cargo-Box Tailgate
The cargo box of the John Deere XUV590M Gator is composed of a high-density polyethylene copolymer composite material. This makes it resistant to dents and rust while ultimately reducing noise when the Gator is in operation. Because the box also has rounded inside corners, the material can be easily removed when it is tilted. The welded, steel-ladder structure of the composite box enhances its longevity as well. For durability, the tailgate's pivot point is comprised of steel, and the tailgate itself can be opened or removed when it's time to clean. Its center truck-style latch is easy to operate on a whim.
Four-Wheel Independent Suspension
The four-wheel independent suspension of the XUV590M not only makes for a more comfortable ride, but it simplifies handling — specifically around tight corners — for operators on the move. Precise steering also makes this Gator easier to drive, and there is also a camber during compression to compensate for body roll. The coil-over shocks absorb vibration while driving over rough terrain, and the wheels of the XUV590M provide traction, as well as heightened vehicle control. Customers can opt for Terrahawk four-ply rating steel wheels, which can handle anything on or off the trail, or Maxxis Bighorn six-ply rating steel wheels. Both options come in various colors to suit the finalized design of the Gator.
Improved Power Steering
The John Deere XUV590M Gator has rack and pinion steering with power steering. This gives it the handling characteristics of an automobile for familiarity, and it reduces how much effort needs to go into steering. The system is also designed to sense speed and make adjustments as the vehicle operates. With a torque sensor that measures steering wheel input, the onboard computer can ensure that operators always have the appropriate output whenever they're driving.
Colorful, Easy-to-Read Dash Panel
The dashboard panel of the XUV590M is bright and colorful, making it easy to read on the go. It features information, including the Gator's gear position, RPM, and service interval reminders for the ultimate convenience.
What Are the Key Specs of the John Deere XUV590M Gator?
The John Deere XUV590M Gator Utility Vehicle has several key specs that customers will want to familiarize themselves with prior to making the investment. By doing so, they can ensure that the Gator is the perfect fit for their specific needs.
32 hp Engine Power
The engine of this Gator operates at 5600 rpm with 32 horsepower, and it allows the vehicle to reach a top speed of up to 48 miles per hour. It utilizes electronic fuel injection, and it's liquid-cooled as well. The muffler of the XUV590M is approved by the U.S. Forest Service, and the engine is compliant with the Environmental Protection Agency and California Air Resources Board.
500 lb Cargo Box Capacity Weight
The cargo box of the John Deere XUV590M Gator can hold up to 500 pounds of material with ease. Because of its composite material, operators don't have to worry about their items denting the cargo box while they're on the move. Deere also offers an optional two-inch rear bumper for those who want extra protection.
1500 lb Towing Capacity
The XUV590M features a towing capacity of up to 1,500 pounds. This allows operators to relocate heavy items and materials without concern.
7.4 U.S. gal. Fuel Capacity
With a fuel tank capacity of 7.4 U.S. gallons, the XUV590M can embark on long rides without needing to be refilled. This means that users can cross off tasks on their to-do list without constantly having to stop to refuel during the workday.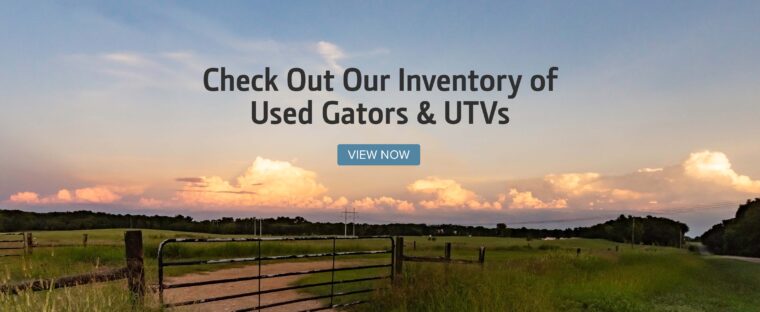 Commonly-Asked Questions About the John Deere XUV590M Gator
Because the John Deere XUV590M has several features, it's not uncommon for customers to have questions about everything it can do out in the field.
How Much Does a John Deere XUV590M Weigh?
The XUV590M has a total operating weight of 1,423 pounds.
Does the John Deere XUV590M Have Power Steering?
One of the highlights of this Gator is its power steering, which allows operators to maneuver the vehicle with ease. The system is also designed to automatically adjust according to the terrain. This means that all users can focus on maneuvering the Gator around obstacles while on the go, rather than any challenges posed by the great outdoors.
Check the Availability of John Deere XUV590M on MachineFinder
With everything from a durable cargo box to an all-wheel drive, the John Deere XUV590M Gator is a utility vehicle designed for a wide array of jobs. Whether you need to handle farm work or tend to tasks in the nearby woods, the XUV590M could be just what you need to streamline everyday operations. Best of all, it's a reliable, durable investment that you can be confident in owning for years to come.
If you have any questions about the John Deere XUV590M Gator or any of the Gator vehicles that Deere has to offer, you can contact your local John Deere dealer.
If you enjoyed this post or want to read others, feel free to connect with us on Facebook, Pinterest, Twitter, or Instagram!
You might also like: