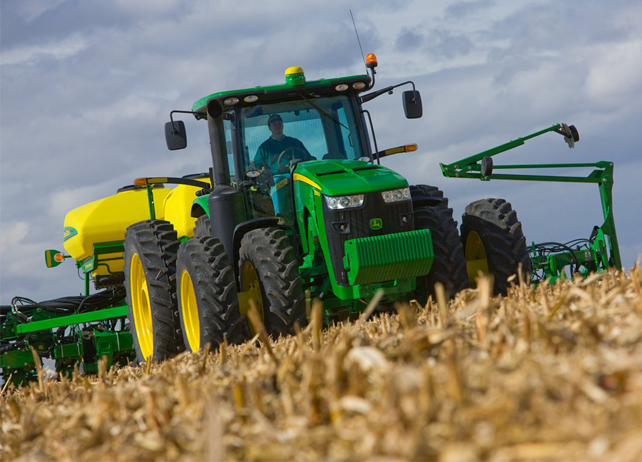 John Deere has provided the American farmer and families across the U.S. with the necessary resources to plant crops and protect their investment for years, as the company has a variety of tools to increase yields and limit costs.
The agricultural company is a one-stop planting resource for the American farmer, as it helps to get an investment in the ground faster and with more accuracy. This allows for impressive, picket-fence and perfect-stand results.
John Deere has tools for every type of grower, as the variety of planting tools and technology accommodate farmers of all shapes and sizes. This allows for a customized Total Planning Solution that is specific to each operation.
The SeedStar XP, the company's monitoring technology, offers the American farmer a chance for greater operational efficiency, due in part to a more efficient system for information gathering. The monitor displays performance indicators for the planter, as the user can see the population, the down force, singulation, seed overlap and other aspects that are identified by the technology.
People who are using the SeedStar can touch the monitor screen to zoom in on specific aspects of their planting operation or to see individual row units. The technology also allows the operator to calculate how close they are to their performance-level goals and to adjust in order to achieve them.
The agricultural company also has the best parts to coax exceptional yields from any field, ranging from heavy residue, tightly compacted soil to light and sandy soil. John Deere boasts a range of row cleaners and openers, helping a farmer choose a product that fits their operation.
John Deere also offers some of the most accurate and dependable seeding parts in the industry, helping to produce picket fence and perfect stands. These include the VacuMeter and the Flush-Face Seed Tube.
The VacuMeter metering system helps to deliver precise seed spacing and population control due to the design of the product. The vacuum suction singulates and holds seeds until these are released directly above their target area.
The Flush-Face Seed Tube is translucent and allows the seed-tube sensor to be mounted externally. This also helps to ensure the accurate delivery of the seeds, as they can drop uninterrupted down the smooth surface of the tube.
You might also like: