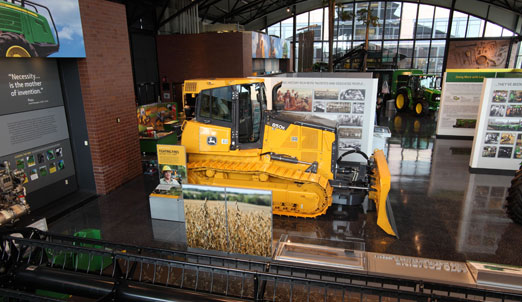 The newly renovated John Deere Pavilion is an amazing destination for families who are traveling in and around the Moline, Illinois area, as the site holds a number of attractions, exhibits and fun for all ages.
The transformation that the site went through led to the addition of several new exhibits, allowing families to explore the many facets of the iconic brand. People can take a look at the company's global business and products, the work being done by John Deere to provide food for the growing population of the world and the rich history of the business that was started by an ambitious American from Vermont.
Interactive displays, original artifacts from every era of American history, product simulators and a variety of other media are available for guests to look at during their time at the Pavilion, as the site balances fun and education for people from all walks of life.
Also present at the site are the exhibits that are centered around the global impact of John Deere, as the company's push to feed families around the world is explained in an interactive experience.
This impact on global families is in the same site as the company's Innovative Solutions section, which offers a glimpse into the inventions and progress made by John Deere in order to help families sustain their business.
The Legacy of John Deere is one of the new exhibits at the site, which profiles the American innovator himself and the decision makers at the company who followed in his footsteps during the progression of the brand.
History buffs will be thrilled by the number of exhibits and old machinery that is available at the Pavillion, but the brand offers them an alternative site to get their fill. The John Deere Historic Site in nearby Grand Detour, Illinois, offers a chance for guests to see a replica of the blacksmith shop where the innovator himself building the first plow that started the company.
For those who want to stay in and around Moline, there is the Harvester Works Factory Tour and Visitors Center, located in the eastern part of the city. This gives fans of the brand a chance to see the massive machines up close and to purchase merchandise revolving around the equipment from the gift shop.
You might also like: