John Deere attractions are not only educational, but they also provide bonding opportunities for families that can last a lifetime. Situated at easy-to-get-to locations, these attractions all have convenient hours for visiting and are completely free to the public.  As the weather cools down and kids are getting ready to be done with school for the holidays, there is no better time to plan a trip to these attractions than now.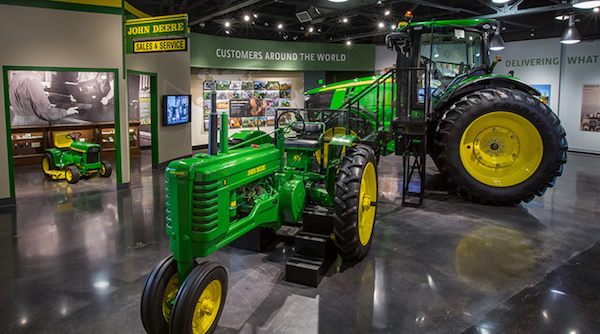 Let's take a look at some John Deere attractions and what they have to offer for families of all sizes.
John Deere Historic Site
Located in Grand Detour, Illinois, this attraction takes visitors back to the good old days by giving them an opportunity to see a real-life blacksmithing operation. This site is where Deere originally began with its first commercially successful steel plow.
8334 South Clinton Street
Grand Detour (Dixon), IL 61021
Open March–December
Monday–Saturday: 9am–5pm
Sunday: Noon–4pm
John Deere Pavilion
This attraction is located in Moline Illinois. It comes with state-of-the-art simulators for visitors to learn and explore some of John Deere's most popular machines.
1400 River Drive
Moline, IL 61265
Monday–Saturday: 9am–5pm
Sunday: Noon–4pm
*The Pavilion will be closing early at 4pm on Thursday, December 13, 2018.
The John Deere Store
Also located in Moline, Illinois, this retail shop has everything you need to take home to show off your Deere pride. There are officially licensed John Deere toys, apparel, collectibles, housewares, books, and videos at the store, and it houses the largest collection of ERTL-produced John Deere toys found anywhere else in the world.
1300 River Dr.
Moline, IL 61265
January – February:
Monday – Saturday, 10 a.m. – 5 p.m.
Sunday, Noon – 4 p.m.
March – December:
Monday – Friday, 10 a.m. – 6 p.m.
Saturday, 10 a.m. – 5 p.m.
Sunday, Noon – 4 p.m.
Deere and Company Headquarters
While you're visiting Moline, Illinois, don't forget to stop by John Deere's headquarters. Overlooking Rock River Valley, this facility is a must-visit for any fan of the brand. Collectors and history buffs alike will be wowed by the 180-foot, three-dimensional mural that traces the history of Deere, as well as the 2,200 pieces of authentic memorabilia. The headquarters is open daily and features both antique and state-of-the-art Deere equipment.
One John Deere Place
Moline, IL 61265
Monday–Saturday: 9am–5pm
Sunday: Noon–4pm
John Deere Tractor and Engine Museum
Located in Waterloo, Iowa, this museum has interactive displays, classic machines, and rare John Deere artifacts. Visitors will gain insight into how Deere grew from a horse-drawn operation to a horsepower fueled one over the years. The museum's gift shop also offers several John Deere branded items for sale, including clothing, toys, and memorabilia.
500 Westfield Ave
Waterloo, IA 50701
Monday – Saturday 9 a.m. – 5 p.m.
Sunday – Noon – 4 p.m.
More information on John Deere attractions, including locations, hours of operation, and special events, can be found on www.VisitJohnDeere.com.
If you have any questions about John Deere equipment, you can contact your local John Deere dealer.
If you enjoyed this post or want to read others, feel free to connect with us on Facebook, Pinterest, or Twitter!
You might also like: