Several John Deere attractions have announced they will be hosting several special events throughout the year, specifically designed to entertain family members of all ages. More importantly, these events are free and open to the public. Let's take a look at some of the events that will be taking places at the John Deere Historic Site in Grand Detour, The John Deere Tractor & Engine Museum in Waterloo, and the John Deere Pavilion in Moline.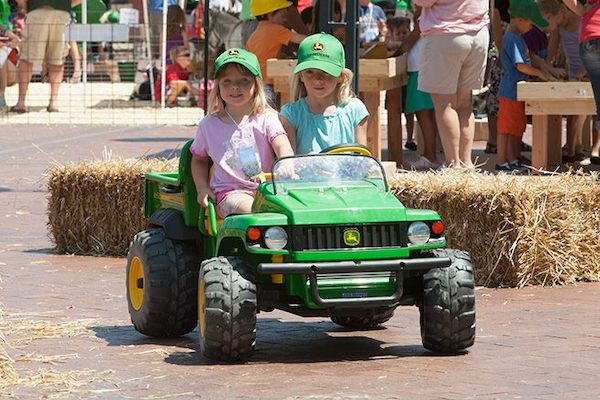 Duck Hatching: April 13-14
John Deere Pavilion
This event will give visitors an opportunity to watch little ducklings hatch before their very eyes, an ideal chance to welcome spring as a family. Hours: 9 a.m. – 5 p.m.
This event is specifically designed to help families understand how everything is handled from the farm to the table. Kids will also enjoy the petting zoo, and there will be blacksmith demonstrations, as well. Hours: 9 a.m. – 5 p.m.
Local bands will be on hand to perform music as the backdrop to pioneer-era crafting demonstrations. Hours: 9 a.m. – 5 p.m.
Learn and Play Day: July 20
John Deere Pavilion
This event includes a petting zoo for kids, a pedal tractor pull, gator obstacle course, and activity tables for little ones. Hours: 9 a.m. – 5 p.m.
Hundreds of vintage John Deere tractor owners will be on hand, displaying their collections at the historic site. Hours: 9 a.m. – 5 p.m.
Throughout downtown Moline, heritage tractor owners will ride their machines to give onlookers a closer look at John Deere throughout history. Hours: 9 a.m.  – 5 p.m.
This celebration includes pumpkin decorating, bobbing for apples, and covered wagon rides. Kids will also enjoy visiting farm animals. Hours: 9 a.m. – 5 p.m.
Kids will have the opportunity to meet Santa Claus, and families can make crafts and enjoy the sounds of the season as performed by local choirs. Hours: 9 a.m. – 5 p.m.
If you have any questions about John Deere machinery, you can contact your local John Deere dealer.
If you enjoyed this post or want to read others, feel free to connect with us on Facebook, Pinterest, or Twitter!
You might also like: